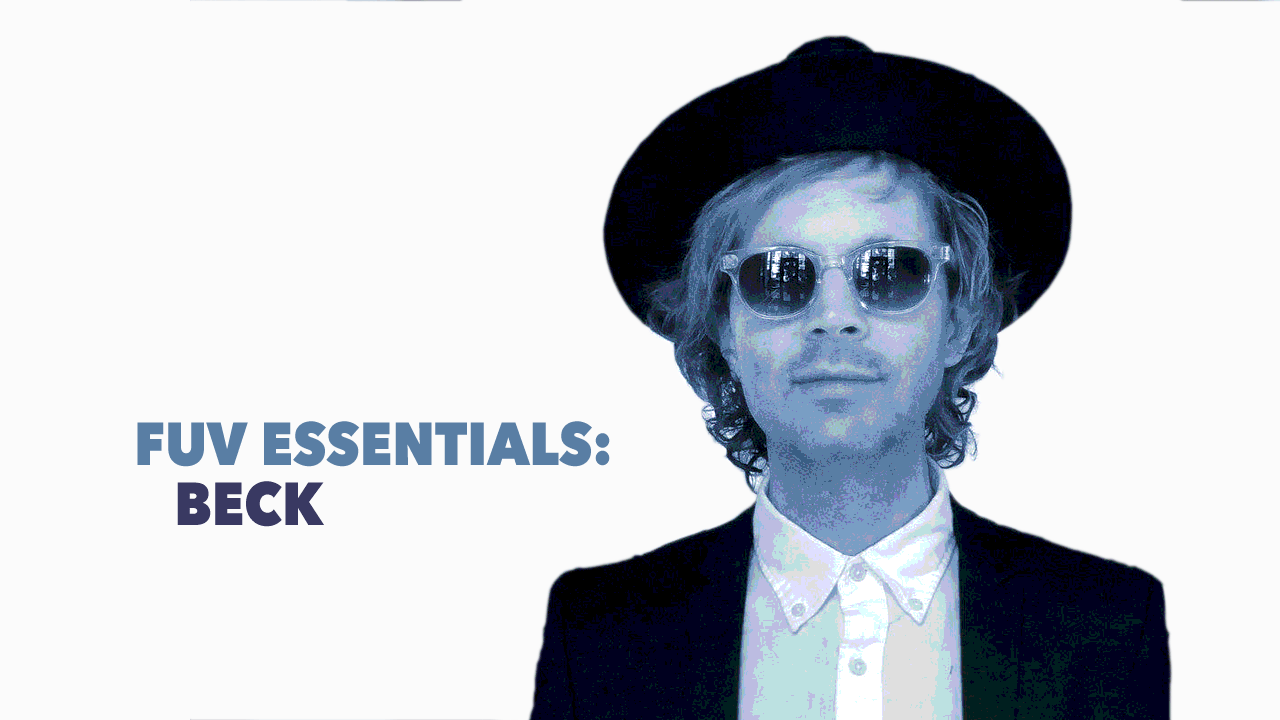 [July 2019 update: Beck, who turned 49 on July 8, released a new single, "Saw Lightning," this past spring from what he teased as a forthcoming album, Hyperspace. Although, per a press release, the completed record is "at an as yet undetermined point in the space time continuum," it would be a relatively swift follow-up to 2017's Colors, which won a Grammy for Best Alternative Music Album.
The single might also signal more intriguing collaborations ahead: "Saw Lightning" features Pharrell Williams, who not only plays drums and keyboards plus sings on the track, but Williams also co-produced and co-wrote it. In fact, "Saw Lightning" is one of several curious Beck tangents of late. He joined his Colors producer and former bandmate Greg Kurstin and Inara George, both of the Bird and the Bee, for a jazzy interpretation of Van Halen's "Hot for Teacher" for the pair's album, Interpreting The Masters: A Tribute To Van Halen (Beck contributes a spoken word interlude). Beck also covered Colourbox's 1982 song "Tarantula" for the soundtrack of director Alfonso Cuarón's "Roma" and released "Super Cool," featuring Robyn and the Lonely Island, for the "Lego Movie 2" soundtrack.]
As a poor teenager growing up in Los Angeles, Beck found comfort in his local library's music section, discovering old folk, country and blues records. In a 2015 "Letter To My Younger Self" for "The Big Issue," Beck recalled those pre-internet days and how his restless search for information led him down unlikely roads—a spontaneous trip to London without a suitcase or coat (he had to borrow money to get back home), watching spaghetti Westerns in two-dollar movie theatres, or working a minimum wage job. 
"Almost everyone I knew worked menial labor on minimum wage – we all had jobs, we took whatever we could get," wrote Beck. "We didn't have any money. The whole slacker thing was just incredibly condescending and wrong. It was a way to marginalize an entire generation."
The sardonic bite of "Loser" might have helped vault Beck Hansen into a label deal and a career, but it was almost regarded as a novelty song. Its loopy, self-deprecating refrain—"I'm a loser, baby, so why don't you kill me"—wasn't a confession, but a challenge, especially by mid-1994 as rock music reeled from the tragic loss of Kurt Cobain, the grunge scene's most definitive voice, to suicide. Beck's genial, surreal humor, laced with his clever union of hip hop, electronic and folk music, was a resurrection and a much-needed diversion from grunge's self-destructive streak. Beck's "official" debut album, Mellow Gold (actually his third, not counting his early '90s indie releases, Golden Feelings and Stereopathic Soulmanure) was released in March 1994. Just weeks after Cobain's death in early April, "Loser," first released in 1993, charted in Billboard's Top 10.
That humor and resilience bridged Beck to 1996's Odelay and allowed his eccentric brilliance to take flight. Like the Beastie Boys or DJ Shadow, Beck sampled and experimented, bringing trinkets of blues, jazz, punk, folk, country and rap to his songs like an industrious magpie. From the arrhythmia of "Derelict" to the groove-slathered "The New Pollution" or the bluesy slide of "Hot Wax," Odelay boggled radio too, throwing virtually every genre into the mix and daring programmers to figure it out (it's likely Beck didn't care much if they did).
Rather than staying on course with that formula, he shifted direction with 1998's Mutations, a release that was virtually cast off by Geffen, his record label. In retrospect, the album elevated Beck's stature as a serious songwriter. Sweetened with woozy psychedelic drifts like "Nobody's Fault But My Own" and even a Brazilian pop confection, "Tropicalia," Mutations proved, almost more than the impressive Odelay, that Beck was here for the long haul. His nimble ability to shapeshift, from smart-ass party kid to introspective adult, might have dismayed his record label at the time, but it set up Beck's trajectory, leapfrogging from the neon, Prince-influenced extravagance of Midnite Vultures to the somber, lovelorn beauty of 2002's Sea Change.
That latter album again teamed him with Radiohead producer Nigel Godrich, who had also worked on Mutations, and it allowed Beck to return to his most emotionally expressive place, adrift between dreamy alt-folk, gentle blues and country. He worked with his father, the composer David Campbell, who arranged several tracks, but it was the candid maturity of Sea Change that attracted a new league of fans, beguiled by its romantic arc. Beck worked again with Godrich on 2006's The Information, but that concept album circling mortality was far different than Mutations or Sea Change. It wasn't until Beck self-produced 2014's gentle, reverb-drenched Morning Phase, nearly a dozen years later, did he again return to that space he'd inhabited on those two earlier albums—a languid sigh of an album that seemed to complete an intimate trilogy. It also won Beck, much to his amazement, a Grammy for Album of the Year.
Beck has also made the most out of his tangents and quirky collaborations too. On 2012's Song Reader (full title: Warby Parker Presents Beck Song Reader), a sheet music project became a cover album of his own songs, interpreted by a batch of different artists, like Jarvis Cocker, Jeff Tweedy, Norah Jones and Beck himself. His amusing Record Club project, which launched in 2009, found him in his studio with friends like Devendra Banhart, Leslie Feist or St. Vincent, exploring classic (or not so classic) albums in just a day, like The Velvet Underground and Nico, INXS's Kick or even Yanni Live at the Acropolis. Beck's soft, unhurried vocals also lends a pretty, dreamy quality to his friends' albums: in 2015, Beck appeared on the Chemical Brothers' expansive centerpiece "Wide Open" from Born in the Echoes and in 2016, M83's Anthony Gonzalez utilized him for his album Junk, singing on the '80s-blurred pop track "Time Wind."
Beck released his 13th album, the Greg Kurstin-produced Colors, in October 2017 after releasing a series of teaser singles over the course of a year, including "Wow" and "Dreams." It was a two-year odyssey to record and release Colors, and as Beck told Rolling Stone in 2017, it's an album that he would have liked to have released earlier. "But these are complex songs all trying to do two or three things at once," he said. "It's not retro and not modern. To get everything to sit together so it doesn't sound like a huge mess was quite an undertaking."
The title track "Colors," was accompanied by an Apple Music-exclusive video directed by Edgar Wright of "Baby Driver" fame (it co-starred Beck and "Community" star Alison Brie). Beck's 2018 tour was career-spanning show of nearly two hours (and Aussie fans were lucky enough to get a cover of Prince's "Raspberry Beret").
"The best songs make you glad to be alive," Beck told Rolling Stone in that same interview. "It doesn't matter if it's Beethoven or the Monkees. That's what I was thinking about a lot."
Over the course of more than dozen albums, some self-released, Beck has revealed himself as an innovator, a historian and a revivalist. It was easy to take his youthful genius for granted: early songs with titles like "A**hole," from One Foot in the Grave, or "Jack-Ass" from Odelay looped Beck back to that scruffy, ready-for-MTV "Loser" persona.
But Beck was always far more complex. A man on a long road of self-discovery, he's not easy to pin down to any particular path. His ability to attract fans from all corners, from Laurel Canyon acolytes to old school ravers, is testament to his mutability and mobility as an artist. He's an idiosyncratic musician who made his way into the mainstream —or perhaps a reluctant mainstream artist for cult music connoisseurs. He is a marvelous mystery—and it's why Beck is one of our FUV Essentials.
More on Beck:
Car Seat Headrest's Five Essential Beck Songs
FUV Essentials: Alisa Ali on Beck
Beck mixtape:
Listen
#FUVEssentials: Beck (Spotify playlist compiled by FUV's Russ Borris)