The Beatles: FUV Essential Covers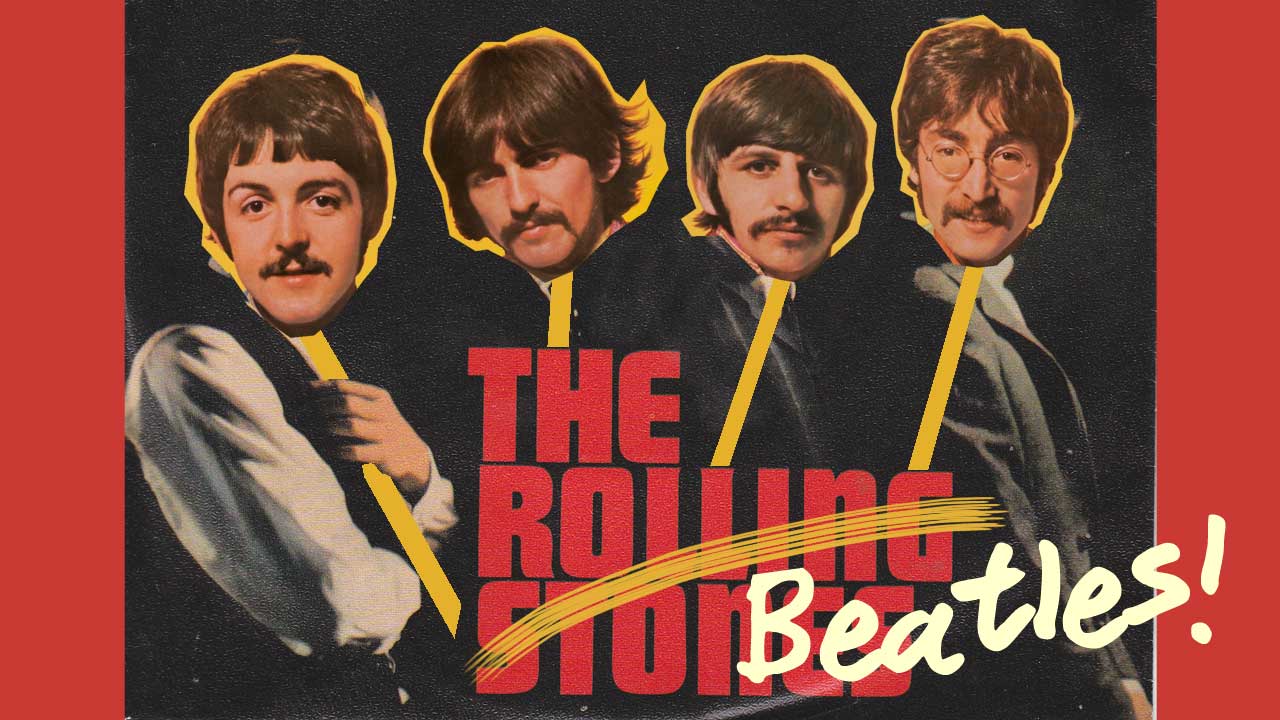 Just about every musician has covered the Beatles in some form, from David Bowie's "Across the Universe" to Prince's incendiary guitar solo reinventing "While My Guitar Gently Weeps," unleashed at the 2004 Rock and Roll Hall of Fame. (Prince was also joined by Jeff Lynne, Tom Petty, Steve Winwood, Dhani Harrison and others, but it's all about the Minneapolis guitar god practically levitating while shredding, no?)
There's a Beatles song to match every hue of artistic temperament too: romantic (Florence and the Machine's "Oh Darling"), raucous (St. Vincent's "Dig A Pony"), reverent (John Legend and Alicia Keys' "Let It Be"), and pretty ridiculous (Steve Martin's "Maxwell's Silver Hammer").
Inspired by that wealth of choices, FUV staff hemmed and hawed over their fave Beatles covers for FUV Essentials, and made one pick each. We've created a Spotify list of those FUV Essentials Beatles covers too:
Rita Houston, Program Director and host of "The Whole Wide World"
Emmylou Harris, 'Here There and Everywhere," Elite Hotel (1975)
One of the greatest songs of all time gets a flawless country ballad delivery from one of the finest interpreters of our time. Emmylou Harris recorded this Revolver classic just ten years after the Beatles for her Elite Hotel album, signaling what would become her career-defining quality of covering all kinds of songs. The song is rearranged with Emmylou's hushed vocals instead of the original, layered vocals. The best quality of a cover song is one that makes you hear a song anew and this does that for me.
Corny O'Connell, FUV Morning Host
The Cactus Blossoms, "This Boy," Minnesota Beatles Project, Vol. 5
I discovered this duo of brothers through this collection of various artists. They bring the Everly Brothers' harmony and twang to this melancholy tune (also known as "Ringo's Theme").
Carmel Holt, Assistant Music Director and FUV Midday Host
The Breeders, "Happiness Is A Warm Gun," Pod
I always love a cover that breathes new life into a song, rather than a faithful recreation. To begin with, this far-from-faithful, grungy cover doesn't even bother with completing the entire song. Instead, it comes packing a powerful and dynamic punch. The always-deadpan Kim Deal delivers an interpretation that gives this "White Album" classic, which already came loaded with questionable meanings, another round of pondering.

Dennis Elsas, FUV Afternoon Host
Yes, "Every Little Thing," Yes (1969)
Totally unexpected when it first arrived and still great to hear despite the incongruity of taking a two-minute pop classic and turning it into a six-minute mini-opus.
Alisa Ali, FUV Evening Host
Stevie Wonder, "We Can Work It Out," Signed, Sealed & Delivered (1970)
Stevie's version of this song is just so joyous and wonderful. It makes you feel like any problem is just a temporary obstacle. He brings funk, soul, and his signature harmonica sound to this classic Beatles song.
Darren DeVivo, FUV Night Host
Vanilla Fudge, "Ticket To Ride," Vanilla Fudge (1967)
The first song on their first album, Vanilla Fudge introduce themselves by bending, twisting and warping this Beatles' pop standard into a molten psychedelic freak-out.
Russ Borris, Music Director and Host of "The Alternate Side"
Jim Carrey, "I Am The Walrus," George Martin: In My Life (1998)
A curveball for sure, this version won me over towards the end where Carrey admits to having just "defiled a timeless piece of art."
Sarah Wardrop, Assistant Program Director and FUV Overnight Host
Joe Cocker, "With A Little Help From My Friends," With A Little Help From My Friends (1969)
This song is an obvious choice for this list, but whether it recalls Woodstock or "The Wonder Years" for you, Cocker's performance is a high-water mark for the art and power of song interpretation. Actually, I think I didn't recognize it as the Beatles' tune the first time I heard it. Joe more than made the song his own, trading the bounce of the original for a slow-building explosion of pain, celebration and the feeling of getting by, but just barely.
Eric Holland, FUV Overnight and Guest Host
Elliott Smith, "Because," American Beauty soundtrack (1999)
Somehow the genius of Lennon and Smith in 2:22: aaaaahhh!
Don McGee, Host of "Mixed Bag" 
"While My Guitar Gently Weeps," Kenny Rankin, The Kenny Rankin Album (1976)
Rankin heard possibilities in the Beatles' songs that perhaps even they didn't. How many musicians can say that?
Paul Cavalconte, Host of "Cavalcade"
The Rolling Stones, "I Wanna Be Your Man, single (1963) and Milestones compilation (1972)
Written by Lennon and McCartney for the Rolling Stones, this track is the genetic link between the two. Although they would guest on each others records going forward, this song forges the bond. Jagger and Richards did not yet have the songwriting acumen to bang out such a Tin Pan Alley-ditty on their own, but the Beatles could never have cooked up the Stones' grinding proto-punk take in their own early "Fab" days.
Marshall Crenshaw, Host of "The Bottomless Pit"
Esther Phillips, "And I Love Him," Burnin' (1970)
I love the old 1960s UK TV special, "The Music of Lennon and McCartney" (excerpts can be found on YouTube). As per John Lennon on that program, the Beatles' own favorite was "And I Love Him" by Esther Phillips. It's pretty great.
Kara Manning, Host of "UKNY"
Damon Albarn, Paul Weller, and the Orchestra of Syrian Musicians, "Blackbird," Africa Express Presents: The Orchestra of Syrian Musicians and Guests (2016)
Paul McCartney wrote the original song as his reflection on the Civil Rights Movement in the 1960s. As resurrected last year in an Africa Express-sponsored concert at London's Royal Festival Hall with Damon Albarn, Paul Weller and 50 former and present members of the Syrian National Orchestra for Arabic Music (many of whom are refugees from their own war-ravaged country), the song is particularly poignant and powerful.
John Platt, Host of "Sunday Supper"
K.J. Denhert, "She Loves You," Girl Like Me (2003)
A most creative unconventional cover by a Hudson Valley artist who slows it down and gives it a jazzy groove.
Chuck Singleton, General Manager
Booker T. and the MGs,  "Day Tripper," McLemore Avenue (1970)
The Fab Four sieved through gritty Memphis soul jazz.
Laura Fedele, New Media Director
Gomez, "Getting Better," Abandoned Shopping Trolley Hotline (2000)
One of the first things I ever heard from one of my all-time favorite bands was a cover of "Getting Better" done for a Philips commercial in 1998. Gomez was just bursting onto the British rock scene, and they were at their best studio rat selves here: playing with layered vocals and a loopy arrangement that tucked sitar-ish nods into the guitars and let Ollie Peacock's percussion veer on and off-kilter for fun. Bring in the secret-weapon voice of Ben Ottewell and it adds up to a cover that earns its own earworm status.