Amy Winehouse: Back to Black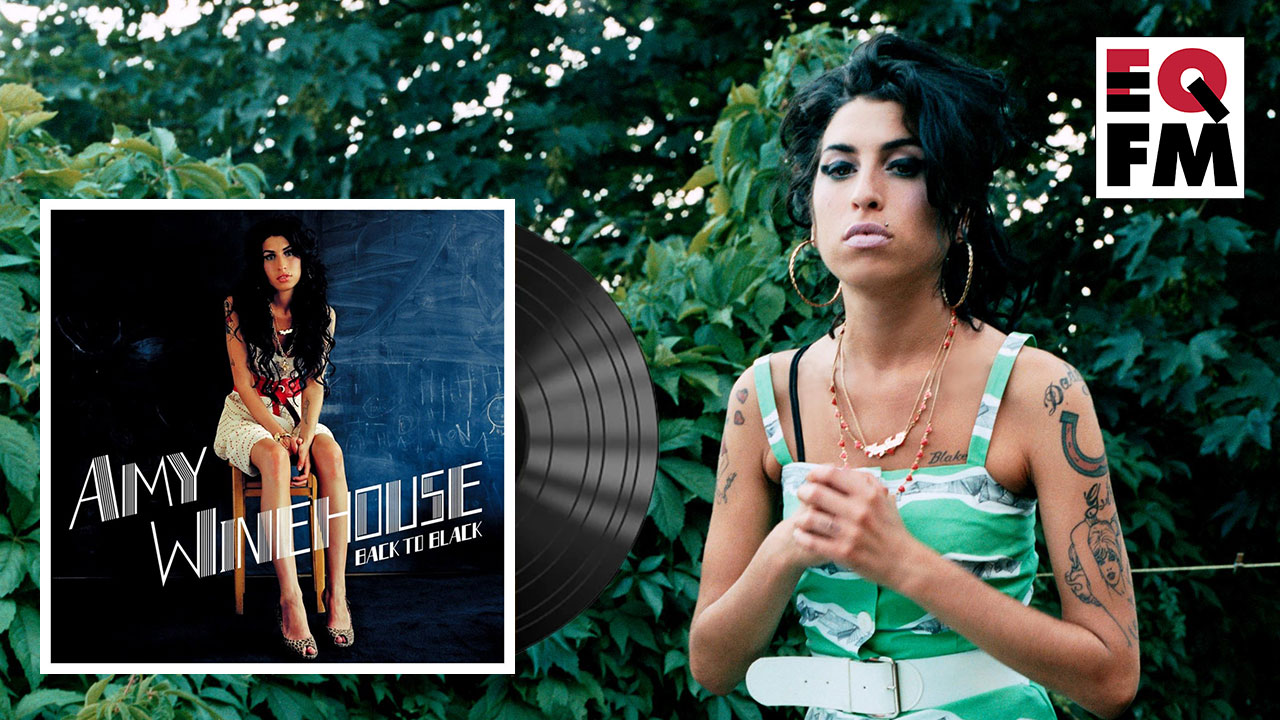 Album ReCue, a part of FUV's EQFM initiative, takes an on-air and online look back at influential releases by women that altered our perspective not only of the artist, but her invaluable impact on music history. Above, listen to a conversation with Alisa Ali and Binky Griptite about Amy Winehouse's 2006 album, Back to Black (Binky played with Amy as a member of The Dap-Kings) and below, Kara Manning's overview. WFUV gratefully acknowledges the support of EQFM by The Public Theater.
Amy Winehouse's second — and final — studio album, 2006's Back to Black, landed as one of the most universally loved albums across the board in our recent "Your Greatest Albums of All Time Ever" poll. A flood of listener votes pushed it to No. 12 on the list, and the album was cited by four of FUV's own DJs as the greatest release of the '00s (including an insider's vote from our own Binky Griptite who, as one of The Dap-Kings, backed Amy on the album and on tour). 
Of course our polls were just a cursory glance at Back to Black's impact, but it's an unarguably brilliant release. In retrospect, after her death in 2011, all 11 songs share the bittersweet task of documenting Winehouse's tortured inner dialogue; her lyrics are sometmes brutally dark, but always artfully conveyed. Whether hilariously profane ("What kind of f**kery is this?) or agonizingly poetic ("He swims in my eyes by the bed/Pour myself over him/Moon spilling in/And I wake up alone"), she also knew that pain was the catalyst for outstanding songwriting.
"She had real confidence in her writing," Winehouse's former manager Nick Shymansky told WFUV in a 2015 interview. "Probably [it was] the only part of her that was truly confident. I never saw her nervous about or debating a lyric, or even asking anyone's opinion. She'd ask, 'Do I look good in this top?' or 'Does this sound all right to you, do you like that vocal?' She'd want reassurance on everything, but never on a lyric. That was her thing."
So for all of its hit singles, multiple Grammys, and Brit awards, Back to Black is still an arresting confession of one woman's war with depression, addiction, and romantic despair. But my goodness, how it's elevated in a most euphoric way: the elastic soul swoon and reverential Motown shimmer; girlishly sanguine backing vocals; the searing horns and swinging rhythm section of The Dap-Kings on six of the tracks; and Winehouse's own caustic wit and blunt candor. Perhaps the message of Back to Black was one of tunneling toward light: if Winehouse can make it through this personal hellscape, so could you. That universality hits deep — no wonder her songs are such a bellwether of authenticity for anyone in the depths of melancholy, searching for solace.
Barely 20 when she released her 2003 debut, Frank, Winehouse railed against the label meddling on that record ("Some things on this album make me go to a little place that's f**king bitter") and suffered raging dissatisfaction with forced tweaks to the the final product. While she could have made a second Frank under her own rules, she eschewed being the raunchier British version of Norah Jones and began writing songs that excavated the spirit of the early to mid-Sixties, resonant of Aretha Franklin, Ronnie Spector, The Shangri-Las, and The Crystals — with a dollop of hip-hop too. Her mussy beehive hairdo, belligerent swoops of black eyeliner, and tight, hourglass frocks swathing her frail body played into the music press's cartoonish and often dehumanizing rendering of Winehouse, but the songs that spilled from her mouth were shattering in their cosmic heartbreak and beauty.
She found empathetic collaborators, returning to Frank producer Salaam Remy and also choosing Mark Ronson, a sympatico soul.  On the latter's suggestion, the The Dap-Kings were recruited as a backing band and recorded at Brooklyn's Daptone Studios; that New York moxie perfectly matched Winehouse's own bruising, unconventional style. Sound engineer Tom Elmhirst mixed the album with a nostalgic 1963 mindset.
While megahit, gospel-light songs like "Rehab," charismatic and brassy, came off as almost blithe about her dire predicament, it was Back to Black's deeper cuts that revealed the tough day-to-day negotiations in Amy's life: that voice in her head that got her cleaning the house, not drinking ("Wake Up Alone"), or accepting the crushing futility of a relationship ("Love is a Losing Game"). A triad of songs — the title track, the devastating ballad "Some Unholy War," and the deceptively upbeat "He Can Only Hold Her" ("She's so vacant/Her soul is taken") are not only three of the bleakest love songs on the album, but also point to the versatile wonder of Winehouse's voice, vacillating between prickly barbs, jazzy yelps, and butter-smooth sighs.
"She had an amazing connection to music like no one else I've ever known," says Shymansky. "I'm incredibly proud of her as an artist and as a person. I don't want her to be left in the tatters of the tabloids."
Empathy for Amy's struggle, especially through the eyes of those who loved her, was bolstered by the 2015 Academy Award-winning documentary "Amy," directed by Asif Kapadia. It was not only a compassionate restrospective of her life, but a harsh look at those in her orbit who didn't help her. Nearly a decade after her death at age 27, Winehouse's impact on other musicians expands far beyond her recorded legacy. Artists like Lady Gaga and Demi Lovato—who cite Winehouse as an influence— can speak frankly about depression or substance abuse without the extreme censure, cruelty or ridicule that dogged Winehouse. Organizations, like Britain's Help Musicians, Heads Together, and the Amy Winehouse Foundation (established by her family), strive to end the stigma of mental illness and addiction.
Trailed by a Spin reporter in New York back in 2007 in the wake of Back to Black's resounding successs, Winehouse clarified what she thought of the star-making machinery she'd been thrust into. "I don't care about any of this, and I don't have much of an opinion of myself," she said.  "I don't think people care about me, and I'm not in this to be a f**king role model. I made an album I'm very proud of, and that's about it. I don't think I'm such an amazing person who needs to be written about. And if I did, I'd be a f**king right c**t, wouldn't I? Just ask me a silly question, like, 'What's my favorite flavor of Tootsie Pop?'"
Listen
WFUV's EQFM Album ReCue: Amy Winehouse's Back to Black