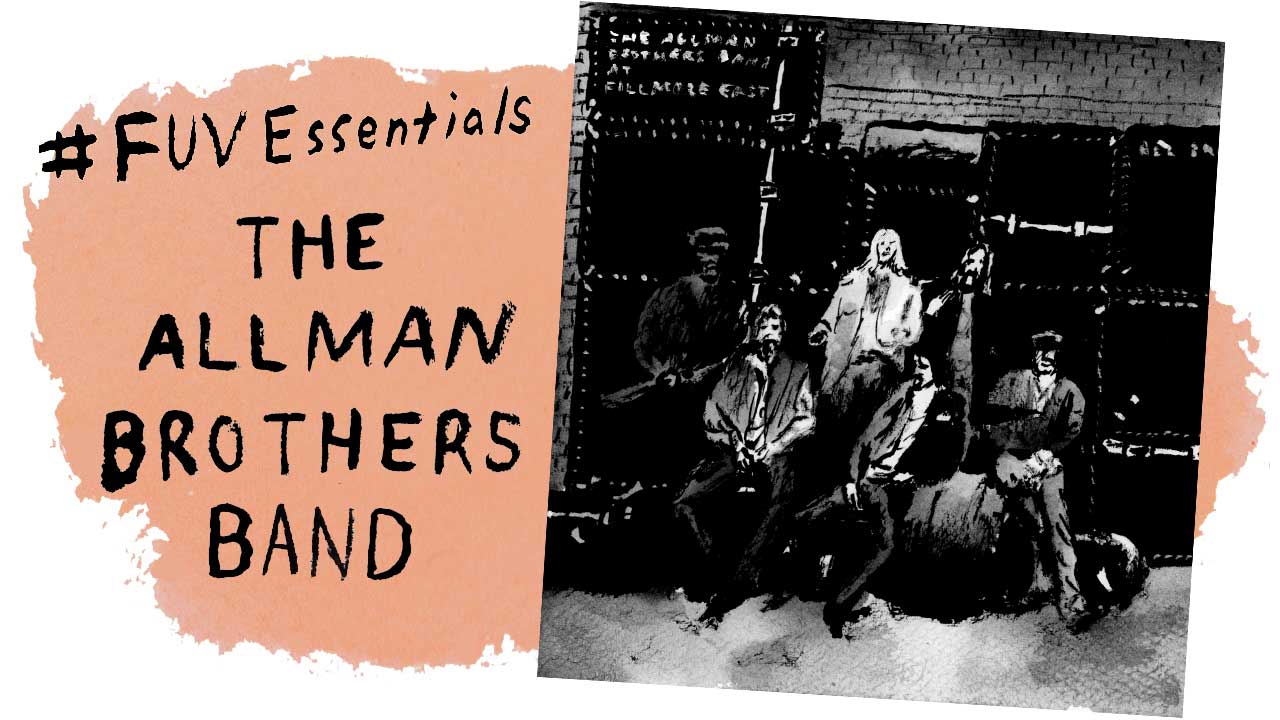 Back in 1973, a 16-year-old Rolling Stone journalist named Cameron Crowe followed a band on the road for ten days, catching them on the cusp of profound change. That cover story — and a teenager's challenging and exhilarating experiences with a crew of hard-living musicians, the Allman Brothers Band — would later serve as Crowe's primary inspiration for Almost Famous, the 2000 film that he eventually wrote and directed (other bands, like Poco, the Eagles and Led Zeppelin, were also filtered into Crowe's cinematic vision.)
Yes, the Allman Brothers Band were the mostly-fictitious Stillwater (and although fiction overtook fact, it's really not that hard to imagine a tripping Gregg Allman bellowing "I am a golden god" on a rooftop). But Crowe's original article explored how a 27-year-old Gregg Allman was keeping the Southern rockers together after two fatal motorcycle accidents that killed both the vocalist's brother, the genius guitarist Duane Allman, in October 1971, and equally brilliant bassist Berry Oakley in November 1972. Both men were only 24 when they died. The truth was far more grim and harrowing than Crowe's Oscar-winning screenplay written over 35 years later. 
"The real question," Allman had explained to Crowe, "is not why we're so popular. I try not to think about that too much. The question is what made the Allman Brothers keep on going. I've had guys come up to me and say, 'Man, it just doesn't seem like losing those two fine cats affected you people at all.'
"Why? Because I still have my wits about me? Because I can still play? Well that's the key right there. We'd all have turned into f**king vegetables if we hadn't been able to get out there and play. That's when the success was, Jack. Success was being able to keep your brain inside your head."
But even before the loss of of Duane and Berry, the Allman Brothers — all brains, brawn, and breathtaking technique— got out there and played for their lives. Over the 45-year stretch of the band, punctuated by ominous hiatuses, legal wrangles, rehab, and lineup shifts, a ferocity churned like a runaway locomotive under the surface of their most beloved anthems, like "Midnight Rider," "Ain't Wastin' Time No More," "In Memory of Elizabeth Reed," "Whipping Post," and the twangy amble of "Jessica." And that's not including the legendary blues tunes they borrowed, strafed, and soothed, like Muddy Waters' "Trouble No More" (1969's The Allman Brothers Band) or Willie Dixon's "Hootchie Kootchie Man" (1970's Idlewild South).
The original lineup — singer, keyboardist and guitarist Gregg Allman, slide and lead guitarist Duane Allman, lead guitarist Dickey Betts, bassist Berry Oakley, and drummers Butch Trucks and Jai Johanny "Jamoe" Johanson — reflected a duality that made them so special: two lead guitarists, two drummers and those two volatile Allman siblings. Their hunger was coiled in the aggravated tension and release of their yearning, bluesy, country-fried, jazzy, funked-up jams, a wonder to experience live as documented forever on their magnificent beast of an album, 1971's At Fillmore East, one of the greatest concert recordings of all time.
And if the three nights immortalized by At Fillmore East was the Allman Brothers' most famous New York residency, the band's final show at the Beacon Theatre on October 28, 2014  — after 35 years of concerts and residencies at that Manhattan venue — was its most emotionally riveting, ending in the wee hours of October 29. Those final moments poetically coincided with 43rd anniversary of Duane Allman's death, a band's resilience and resolve coming full circle that night. The lineup that night were men who'd played together for 15 years and represented another great phase of the Allman Brothers Band: Gregg Allman, Butch Trucks, Jaimoe, Warren Haynes, Marc Quiñones, Oteil Burbridge, and Trucks' nephew, Derek Trucks.
Just three years later, in 2017, both Butch and Gregg were dead within a span of five months at the age of 69. Tragedy never really let go of the Allman Brothers Band. But there is some "Allman joy" in the band's afterlife: Gregg Allman's final solo album, Southern Blood, was released posthumously on September 8, 2017 via Rounder Records, produced by Don Was with the help of Allman's manager, Michael Lehman.
In addition, the Laid Back Festival, co-founded in 2015 by Allman, comes to the New York area on September 21 (New Jersey's PNC Bank Arts Center), September 23 (Connecticut's Xfinity Theatre), and September 24 (New York's Northwell Health at Jones Beach Theater) with Jackson Browne, Steve Winwood, Peter Wolf and others. At the festival's Atlanta's stop on October 14, the Greg Allman Band, led by Scott Sharrard and featuring Allman's son Devon Allman, will play Southern Blood in its entirety. The legacy and influence of the Allman Brothers Band lives on too, via the Tedeschi Trucks Band, Warren Haynes and Gov't Mule (co-founded by the late Allen Woody), and Fame Studios in Muscle Shoals.
All this week, FUV is honoring the Allman Brothers Band and Gregg Allman as FUV Essentials and we'll feature an exclusive interview with Was on Tuesday, September 12 at 1 p.m. EDT and a special, "Greg Allman - Southern Blood: All Access" on FUV Live at 8 p.m. EDT later that evening.
"You've got to consider why anybody wants to become a musician anyway," Gregg Allman told Cameron Crowe so many years ago. "I played for peace of mind."
Listen
#FUVEssentials: The Allman Brothers Band (Spotify playlist compiled by FUV's Carmel Holt)