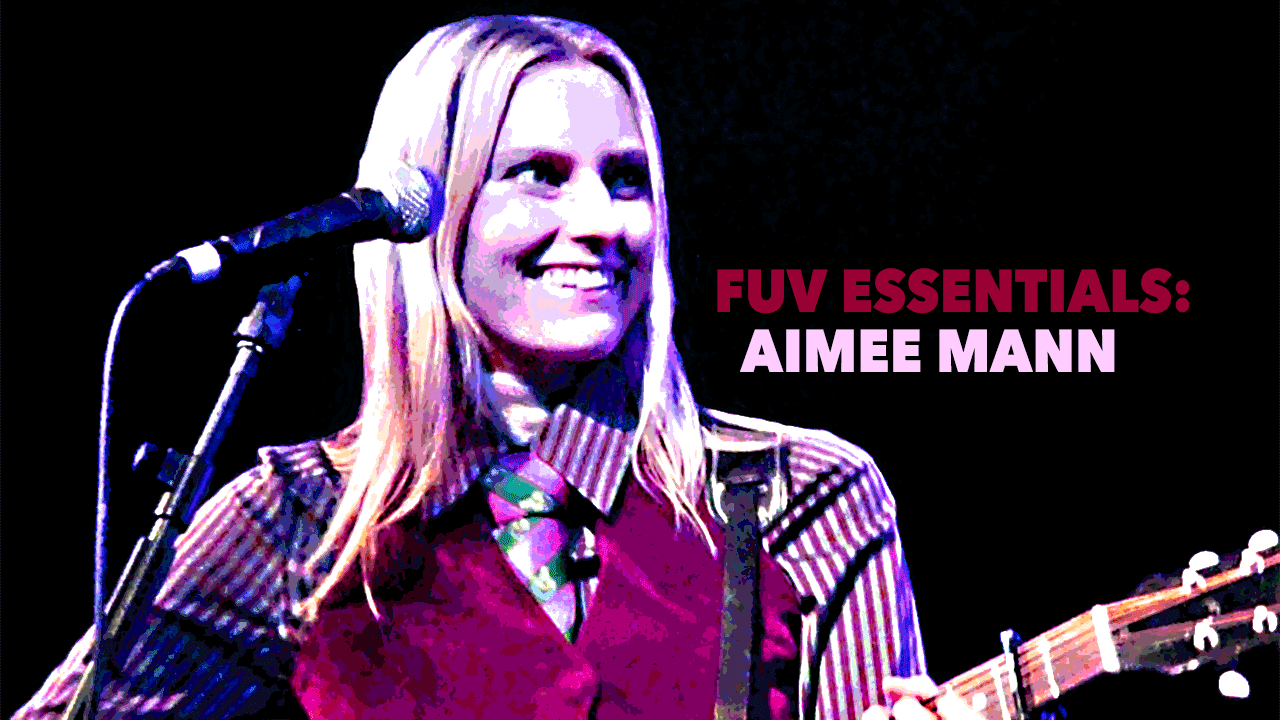 [June 2018 update: Since the station first celebrated Aimee Mann as an FUV Essentials artist back in April 2017, around the time of the release of her album Mental Illness, she headlined the 2017 Holiday Cheer for FUV benefit concert, alongside Randy Newman, Jeff Tweedy and Lo Moon.]
A master of the withering riposte, the witty jab, and the wistful aside, Aimee Mann has always tackled difficult subject matter on her albums: abandonment, betrayal, doubt, and depression. But no matter what melancholy tides might drift into her lyrics, her songs are perceptive and tactical more than gloomy.
Mann has never really wandered far from that ken. She firmly counters treachery in "You Never Loved Me," found on 2017's Mental Illness, her most recent release; more than twenty years earlier, she confronted similar disappointment, with a minor-chord sigh, in "Amateur," from 1995's I'm With Stupid.  Her art of spare lyrical pugilism, and the neatly-delivered blow, even evolved into a concept album, 2005's The Forgotten Arm, a painful story about a boxer and Vietnam War veteran. As a character in her own songs—or as a bystander following another character's narrative—Mann excavates emotional turmoil, but asks logical questions, seeks an adult conversation, and hopes for a reasonable resolution, no matter how deep the anguish might be. With her no-nonsense, thick-rimmed eyeglasses firmly shoved on her nose, she offers solace to the aggrieved and sings in a whisper what others would scream.
A songwriter's songwriter, Mann, a longtime denizen of Los Angeles, has been a confidante for her devoted fans over the course of her 35-year career: she's the wise friend on the telephone line (or FaceTime) with the empathetic ear and a knack for some good advice and tough love. She doesn't shy from raw, tearful vulnerability in her music—devastating epiphanies like "Wise Up," the beating heart of Paul Thomas Anderson's 1999 movie "Magnolia," or "Fourth of July," from Mann's 1993 solo debut, Whatever, are start-to-finish gut punches. There are plenty of upbeat endings too: Mann's recent single and poignant video for "Goose Snow Cone," about an ailing cat, fortunately doesn't end in tears of sadness, but relief.
Throughout Mann's run with 'Til Tuesday in the '80s, her nine solo albums, the career-changing Magnolia soundtrack, and a 2014 side project with Ted Leo as The Both, she has been steadfast in her pursuit of balance in the midst of chaos. It's a neat trick: she teeters on a tightrope in the midst of a gale, singing through storms in her calm, low, clipped alto that rarely wavers and if it does, never loses its cool.
For many of her admirers who've followed Mann since her days in 'Til Tuesday, discovering the the band's first hit, 1985's "Voices Carry," and its heavy-rotated video on MTV, she might always be the furious pigtailed bass player fighting back against a abusive yuppie boyfriend. While the backstory between the song's genesis and the breakthrough video is a hazy one (and a narrative that she cleverly resurrected with Jon Hamm for the 2012 video for "Labrador") it made Mann a feminist icon of the '80s, a distinction she still carries today.
As Mann segued to the Nineties, leaving 'Til Tuesday and establishing a solo career via 1993's Whatever, she found even firmer footing. Her dry sense of humor crackles on scathing pop songs like I'm With Stupid's "That's Just What You Are" (which featured Squeeze's Glenn Tilbrook and Chris Difford playing and on backing vocals) and "The Fall of the World's Own Optimist," co-written with Elvis Costello for 2000's Bachelor No. 2 (Or, The Last Remains of the Dodo). She has a loopy, comedic side too, as fans have caught in her sly appearances on "Portlandia" and her hilarious, all-star Christmas-themed promos for her holiday shows. She's artfully veered between chamber pop, gentle folk, aggressive rock, softer rock, a snippet of country, and stripped-to-bare-acoustic confessions. As a lyricist, she's gloriously articulate, sometimes self-deprecating, often funny and even more often heartbreaking.
Mental Illness, released on March 31, 2017, was Mann's first solo album in five years. She has always been one of FUV's most beloved musicians and a friend of the station. Aimee Mann — gifted musician and spiritual therapist — will always be one of our FUV Essentials.
More:

Martha Plimpton: Five Essential Aimee Mann Songs
Ted Leo: Five Essential Aimee Mann Songs
Aimee Mann: FUV Live 2017
Listen