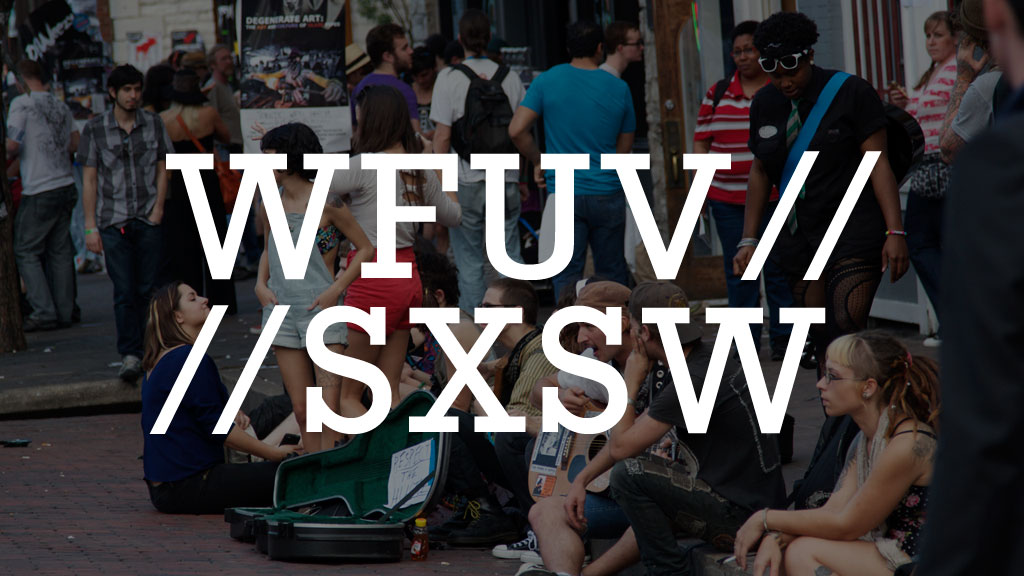 Team FUV wouldn't miss our annual trek to the South by Southwest (SXSW) festival in Austin, TX every year. We try to mix things up each time and bring you the best new music we can find, wherever it pops up.
This year we spent a full day at the South by San José gathering (SXSJ, of course) on South Congress Street, next to our base at the Hotel San José, where an unassuming parking lot gets magically transformed into a wonderland of music, beverages, food and funky shopping every year. We broadcast four bands from Wednesday night, here are some highlights:
Mountain Man [Videos: "Baby Where You Are," "Moon"]
E.B. the Younger [Videos: "On an Island," "Used to Be"]
Robert Ellis [Videos: "Topo Chico," "When You're Away"]
Black Pumas [Videos: "Fire," "Black Moon Rising"]
PLUS of course we invited a few artists to meet us on the grounds of Hotel San José to show you their stuff in video form, as we do each year. (Remember an early Hozier in 2014? Superorganism in the pool last year?) This year we welcomed:
The Nude Party
Barrie
Field Medic
Dig deeper with Team FUV's festival highlights on Instagram (@wfuv) and Twitter (#FUVSXSW). Happy music discovery!
More about the Artists:
Mountain Man
The three voices in Mountain Man have traveled in different directions since their 2010 debut, but fortunately the trio's musical paths have once again aligned. Harmonies (and humor) result when that happens, so for this performance at SXSJ, FUV was not only treated to songs from the trio's latest album, Magic Ship, but also the pure chemistry that continues to bring Molly Sarlé, Alexandra Sauser-Monnig and Amelia Meath together.

E.B. the Younger  
Eric Brandon Pulido has visited FUV before with his bands Midlake and BNQT, but now the Texas native is stretching out, not only solo, but under a new name: E.B. the Younger. Rather than hiding behind his alias, it provides him with even more musical freedom. The result is his brand new solo album, To Each His Own.

Robert Ellis   
We've met Robert Ellis before, as a solo artist and as part of Traveller, but he's now emerged as the Texas Piano Man. Although the album brings a new sound and style, it also feels like Ellis is sounding more like himself than ever, embracing his Texas roots and redefining them. And all in a white tuxedo. The energy on the album is only a taste of what he brings to the stage, even in the Austin sun at SXSJ.

Black Pumas  
Black Pumas won "Best New Band" honors at the 2019 Austin Music Awards, so FUV wanted to make sure you got to hear these hometown faves while we were in Austin too. At the core is the collaboration of producer/guitarist Adrian Quesada and singer-songwriter Eric Burton. Add horns and grooves, and this is a modern soul sound from a band to watch. Catch 'em from SXSJ and then look for the band's debut album out this spring.
 
Barrie   
The Brooklyn-based Barrie has been together for a relatively short period of time, but the band has created a good amount of buzz with their dream-pop sound. While singer Barrie Lindsay is at the forefront of the group, he's brought together members from all over the world (London, New York, Brazil and Baltimore), and has made the band's debut album, Happy to Be Here, a real collaborative effort.

Field Medic
Kevin Patrick has been making music for a few years under the moniker Field Medic and is set to release his new album, Fade Into the Dawn, on April 19. With a lo-fi output and DIY spirit, his music is filled with clever, poignant lyrics that stick with you.

The Nude Party  
This seven-piece band of twentysomethings is a total throwback. Hailing from North Carolina, The Nude Party has released a self-titled debut album full of groove and swagger, conjuring up comparisons to some of your favorite classic rock acts. Fun is the name of the game here.