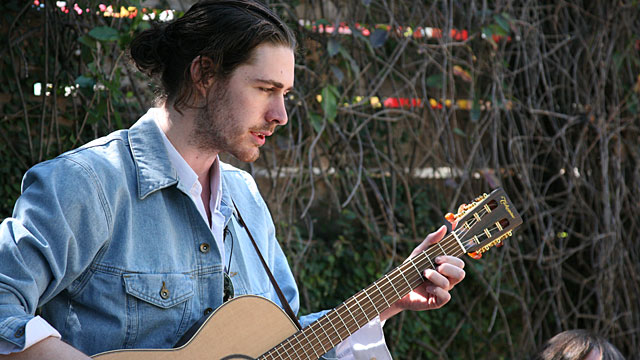 This new voice from Ireland — coming out of a man born on St. Patrick's Day, no less — has floored us with "Take Me to Church," his breakthrough single powered by an interwebs wave over 2 million strong.

Andrew Hozier-Byrne, known as Hozier (@Hozier), has but one EP to his solo career credit after honing his chops as a member of Anúna. So he's no stranger to the touring life, but this is his first SXSW — in fact, this week was his U.S. debut.

There's music in his blood (from his Da), and a distinct power and conviction in his songs that resonates and connects. As he told New York Magazine about the sentiment behind "Take Me to Church": "If you see racism or homophobia or misogyny in a secular society, as a member of that society, you should challenge it. You owe it to the betterment of society."

We're on pins and needles waiting to see what he does next. More at hozier.com.
Like us on Facebook and follow us on Twitter (@wfuv, @FUVRuss, @RitaHoustonWFUV) or Instagram (@wfuv) for all things SXSW.
Funding for WFUV's ongoing coverage of live concerts and festivals comes from The Agnes Varis Trust, supporting affordable access to the arts, education and healthcare.