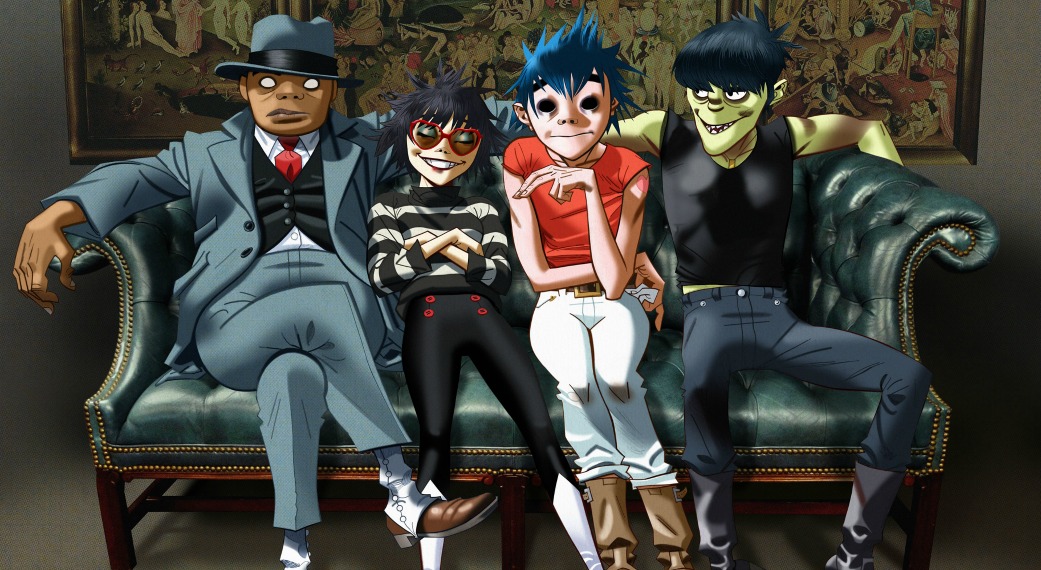 Gorillaz, the shapeshifting, multi-platinum band co-founded by Damon Albarn and illustrator Jamie Hewlett, took over New York City last week in anticipation of the release of their fifth album, Humanz.
The day after their exhilarating, stripped-down show at Rough Trade NYC, the band's first in New York in seven years, Albarn and his bandmates also transformed FUV's studios as Gorillaz' own hideaway for a full day, bringing along their crew, full gear, soundboards and lighting rig. Their six-song set was a marvel, as Albarn sang with Chicago house legend Jamie Principle on the haunting "Sex Murder Party" and the soulful Peven Everett on "Strobelite." The first of the WFUV videos are available below (on VuHaus.com and YouTube), as is my latest conversation with Albarn, followed by the band's full Studio A performance.
It took Albarn a stretch of seven years to record and release Humanz, but it wasn't due to time spent idling. Since the release of Gorillaz' 2010 album, The Fall, he's recorded, released, and toured behind his solo debut, Everyday Robots, and returned with his longtime band, Blur, for their first album in years, 2015's The Magic Whip. (He's chatted with me about both albums for FUV Live.)
Last year, Albarn toured and recorded with the Orchestra of Syrian Musicians for a live Africa Express album; and he also saw his Alice in Wonderland-inspired musical, Wonder.land, produced in London and Manchester. In other words, Albarn has been very busy.
But now Gorillaz is back, and for Humanz, he was inspired by house and hip hop, and up-and-coming artists that his teenage daughter Missy had put on his radar (yes, Albarn wants to be a cool dad too). There's an impressive and diverse lineup of guest artists populating Humanz, like Principle, Everett, D.R.A.M., Grace Jones, Vince Staples, Mavis Staples, Savages' Jehnny Beth, Pusha T, Benjamin Clementine, Kali Uchis, Popcaan, frequent collaborators De La Soul, and even Blur's former Britpop rival, Noel Gallagher, formerly of Oasis.
A few weeks prior to Gorillaz' New York City return, I caught up with Albarn in Tribeca for a conversation. He talked at length about the recording of Humanz and how global events, from Brexit to the presidential election in the States, played a role in his songwriting. And he also revealed the return of his supergroup side project, The Good, the Bad & the Queen, a decade after its eponymous debut album.
Setlist:
interview with Damon Albarn
"Strobelite"
"Saturnz Barz"
"Andromeda"
"Sex Murder Party"
"Busted and Blue"
"We Got the Power"
[recorded: interview 3/28/17, performance 4/26/17]