Yola: Holiday Cheer For FUV 2019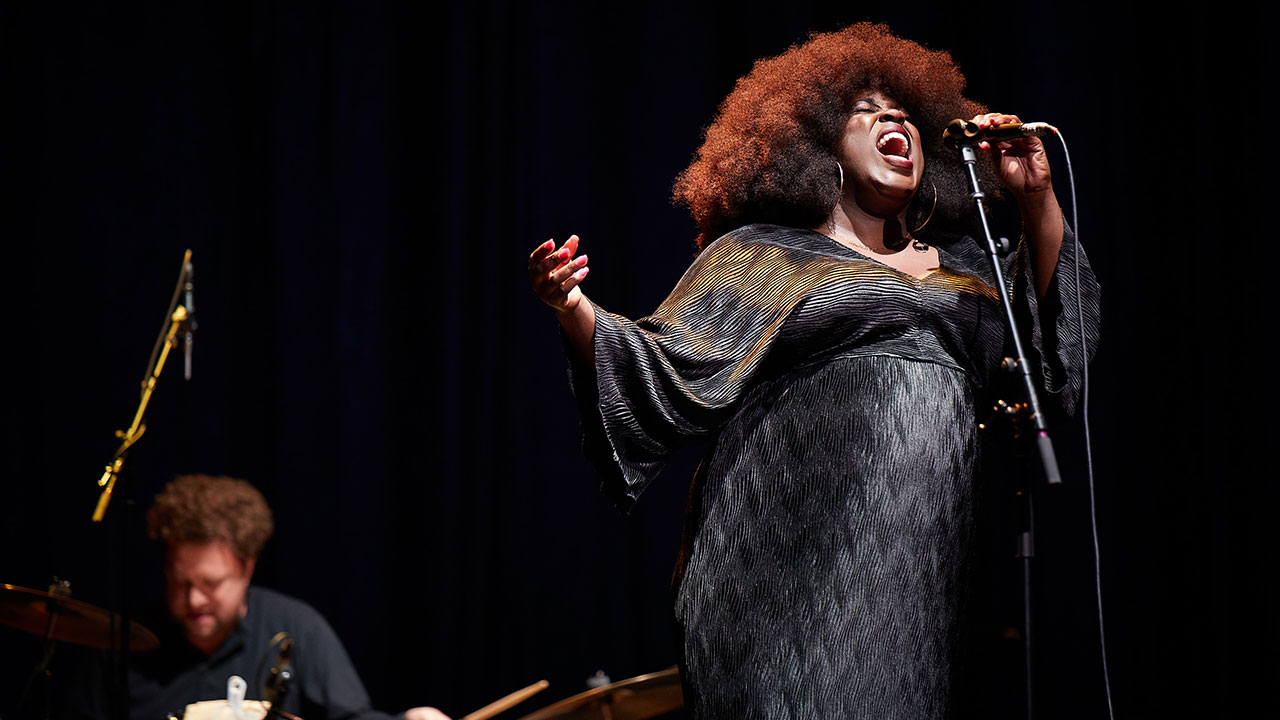 In the winter of 2019, when WFUV program director Rita Houston interviewed Yola for an FUV Live session, Houston and Yola bonded over their mutual love for Mavis Staples. That prescient conversation eventually led to Yola joining her beloved Mavis, Mumford & Sons, and Nathaniel Rateliff for 2019's Holiday Cheer for FUV at the Beacon Theatre on December 10.
The full benefit concert and recap can be found here or listen to each set at your leisure: Yola's performance in the player above (photos below), as well as individual sets from Mavis Staples, Mumford & Sons, and Nathaniel Rateliff. Holiday Cheer for FUV will also be broadcast on 90.7, and stream online, on Christmas Eve, December 24, at 6 p.m. and Christmas Day, December 25, at 1 p.m., all times EST.
Yola is a commanding presence with a preternatural, effortless charisma. Her collaboration with producer Dan Auerbach on her debut album, Walk Through Fire, also included an array of storied Nashville session musicians. The recording of the album made this Bristol-born singer and guitarist a confident time traveler too, sashaying into the lounge-cool of the early Sixties via songs like the torchy, Dusty Springfield rasp of "Faraway Look" or the Stax-punctuated Memphis soul of the brand new "I Don't Wanna Lie," found on the expanded edition of the record.
That reissue also includes a towering cover of Elton John and Bernie Taupin's majestic jeremiad "Goodbye Yellow Brick Road," a 46-year-old song which Yola spins with contemporary reverence, her tempest of a voice lifting the chorus with grandeur, bite, and wistful yearning.
Huskily soft-spoken in her transitions, chatting with the audience, Yola touched on the catastrophic accident in her kitchen years ago, when her dress caught on fire and her house burned down, which inspired "Walk Through Fire" — a song which aptly serves as a metaphor for Yola's own resurrection and resistance. Accompanied by a full band, Yola played acoustic guitar on three of the tracks, including the loping "Ride Out in the Country," a deceptively breezy track about the end of a love affair.
Her voice is a thesaurus of textures and stormy emotional tides — an astonishing instrument that she wields with both tenderness and temerity.
Setlist:
"Faraway Look"
"Ride Out in the Country"
"Walk Through Fire"
"Goodbye Yellow Brick Road" (Elton John cover)
"I Don't Wanna Lie"
"It Ain't Easier"
Special thanks to MSG Entertainment and The Beacon Theatre.
Flickr Gallery