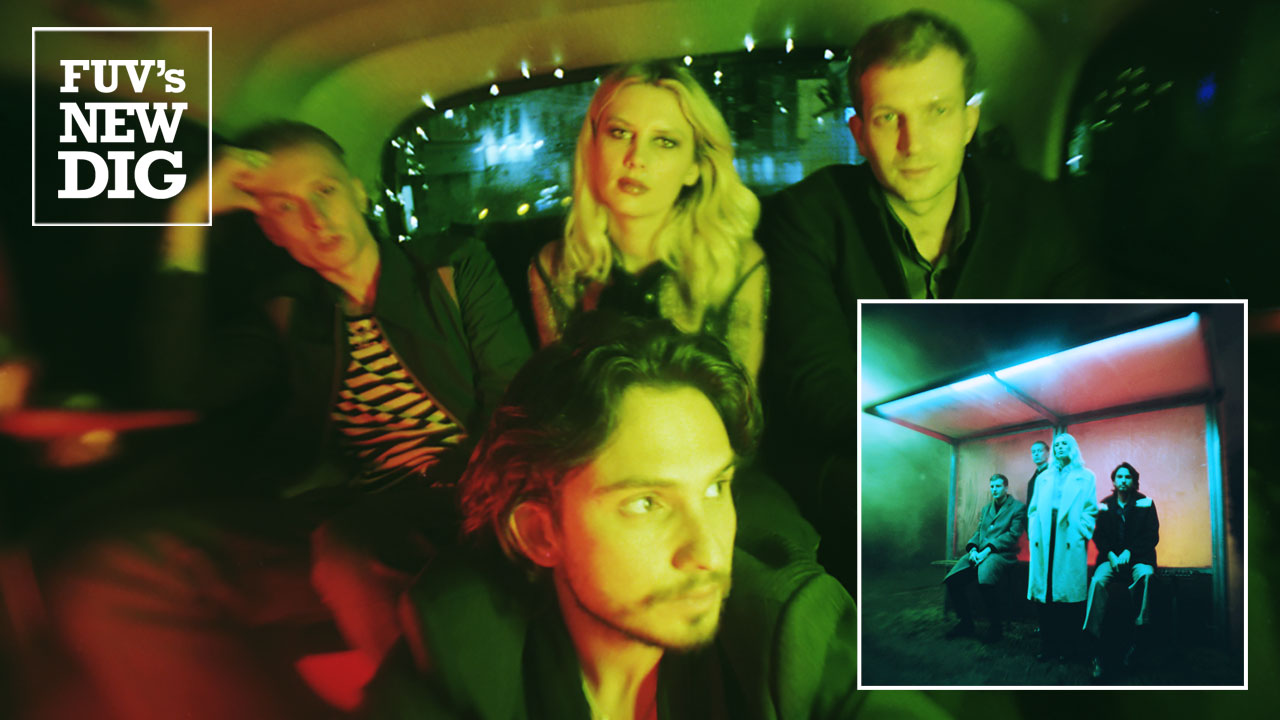 Wolf Alice
Blue Weekend
Dirty Hit/RCA
Why This Album Matters:
Londoners Wolf Alice are already immortalized in Britain — the band won the prestigious 2018 Mercury Prize for their alternately ferocious and tender second album, 2017's Visions of a Life, which pointed to the depth of the group's songwriting and production ideas. They had already drummed up a big following after the release of their early EPs and debut album, 2015's My Love is Cool (which brought them to FUV for the first time too), with a reputation for exciting live shows. The four friends — singer, guitarist, keyboardist and lyricist Ellie Rowsell, guitarist Joff Oddie, bassist Theo Ellis, and drummer Joel Amey — and Arcade Fire producer Markus Dravs took their time recording the new album, partly due to lockdown which kept them in a Brussels studio far longer than expected. The result, Wolf Alice's ambitious Blue Weekend, fluidly shifts between hard rockers, shoegaze, delicate folk, and soaring pop choruses, all buoyed by Ellie's words.
In Their Own Words:
"We didn't have a filter on any ideas," says Ellis in the band's bio. "Any idea was a good idea at that point. And we did everything really haphazardly, but it was just about getting it working again, having a place to convene, getting ourselves into that atmosphere."
"I think these are the best songs Ellie's ever written," says Oddie in the band's bio too.
"['The Last Man on Earth' is] about the arrogance of humans," Rowsell said in a press release about the group's first single from Blue Weekend. "I'd just read Kurt Vonnegut's 'Cat's Cradle' and I had written the line, 'Peculiar travel suggestions are dancing lessons from god' in my notes. But then I thought: "Uh, your peculiar travel suggestion isn't a dancing lesson from God, it's just a travel suggestion! Why does everything need to mean something more?"
"I don't see it as like a huge departure from anything else we've done," Rowsell told host Kara Manning in a May 2021 FUV Live session, "but I do think it is our best work and so I'm really excited for people to hear it. And I really feel proud of us and our team and stuff, because I think we found it quite emotionally taxing in many ways. So, if anything, it just proved how important Wolf Alice is to us."
Highlights:
"How Can I Make It OK," "The Last Man On Earth,"  "Lipstick On the Glass," "No Hard Feelings," "Smile," "Delicious Things"
Why You'll Dig Wolf Alice's Blue Weekend:
It lives up to all the expectations following Wolf Alice's critically-acclaimed Visions Of A Life. The sound is dazzling and expansive, shape-shifting from track to track. There's the sensual, epic "Feeling Myself," which has a spacey flair, and the distorted heaviness of the crowd-pleasing "Smile," all ready for festivals. There's a punk adrenaline rush to "Play The Greatest Hits" and a folky, pastoral air to "Safe From Heartbreak (If You Never Fall In Love)." The beautiful "The Last Man on Earth" surges to grandeur, with Rowsell's angelic vocals.  Her lyrics are sharp and smart, most notably on "The Beach" and "No Hard Feelings." The common denominator running through the album is the mutable voice of Rowsell, who is equally comfortable singing in a hushed whisper or a powerful cry; she also slips into a rap sometimes, as she shows again on "Smile."
Recommended If You Like: 
Nirvana, Elastica, Kate Bush, Cat Power, Yeah Yeah Yeahs, Japanese Breakfast, Daughter, Vagabon, The Dream Academy, Garbage, Blur, The Sundays, Fleetwood Mac, St. Vincent.
FYI:
-  Blue Weekend was recorded at ICP Recording Studios in Brussels with Markus Dravs producing, beginning in February 2020. They remained at the residential studio through the first lockdown.
- In addition to Arcade Fire, Dravs has also worked with Coldplay, Mumford and Sons, Florence and the Machine, Bjork and many others.
- Owen Pallett, a frequent Arcade Fire collaborator, arranged strings on Blue Weekend with Rowsell.
- Rowsell cites Fleetwood Mac, Kate Bush, and The Roches (specifically "Hammond Song") as among the influences on the album's vocals and harmonies.
- Wolf Alice began as an acoustic duo in 2010 featuring Rowsell and Oddie. Several years later, they expanded to a quartet, joined by Ellis and Amey. The band's first single, "Fluffy," came out in 2013.
Listen to a new FUV Live session with Wolf Alice, including a three-song set and a conversation with Ellie Rowsell, on Tuesday, June 15, at 9 p.m., airing on 90.7, streaming online, and available on demand.