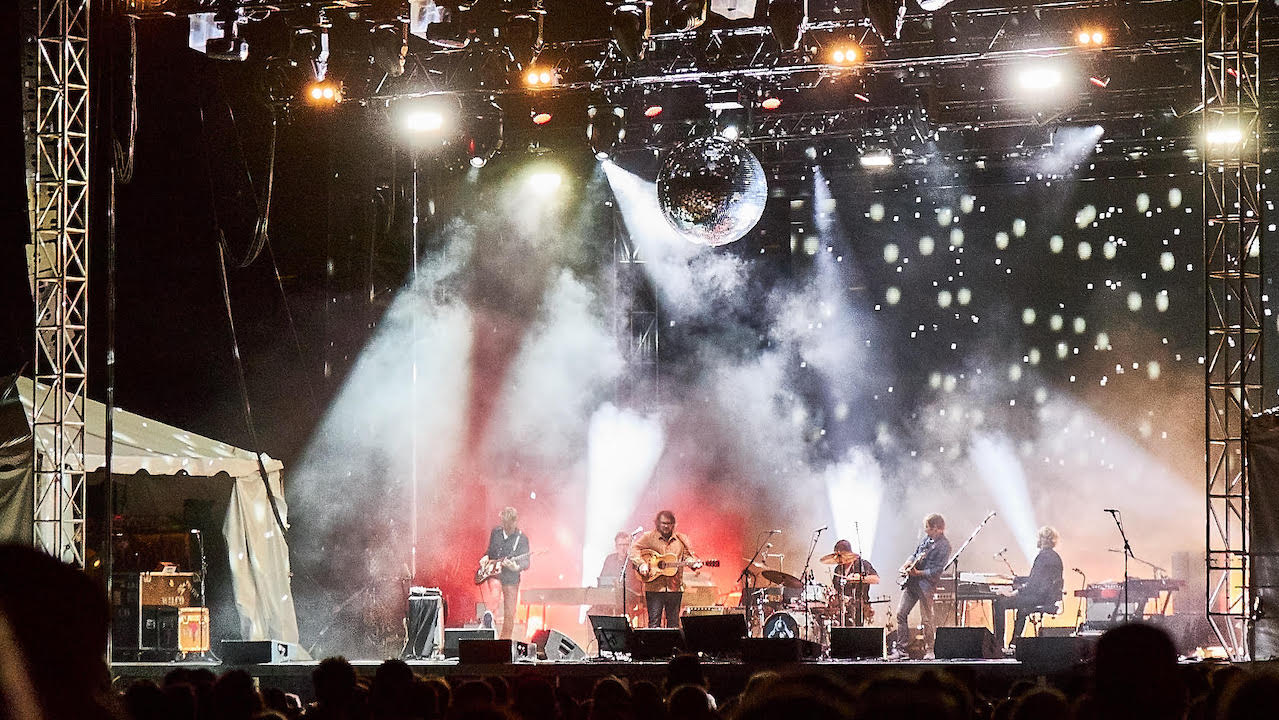 Please note: This performance has not been edited for language and contains profanity.
For Wilco's Friday, June 28 headlining set at the 2019 Solid Sound Festival — which the band stages every other year at MASS MoCA in North Adams, Massachusetts — the band proved how much they care about their fans: They staged a full Wilco karaoke session for their big homecoming show. Wilco and opener Courtney Barnett were broadcast live on WFUV with midday host Alisa Ali and I handling co-hosting duties and having an awful lot of fun, as FUV hit the road on this last weekend of June.
Many of us have been singing along to our favorite Wilco songs for years, thanks to their meaningful and/or memorable lyrics, both biting and loving, set to rocking melodies. They've fueled many a car ride chorus.
In front of an adoring audience, some holding up "Welcome Home" signs, the band took it all one step further, staging an online karaoke contest and encouraging other artists to enter via Instagram. Ten singers were chosen and everyone was invited to front the band for a song during Wilco's set. Lyrics for each song scrolled down the stage's giant backdrop, and the audience of thousands was encouraged to join in.
Jeff Tweedy introduced each guest singer warmly with their first name and hometown, and clearly enjoyed playing a supporting role for a change. Those surprisingly good collaborations made up the middle of the band's set, culminating in guest singer "Courtney from Melbourne" (Barnett, who had played her own set just earlier) commanding the stage for "Handshake Drugs" and trading virtuoso guitar licks with Nels Cline. The crowd was treated to some of Wilco's greatest hits before and after the karaoke performances.
Wilco is back after a nearly two-year hiatus that allowed the various band members to do other things. Tweedy, for one, released two solo records, toured extensively and released a memoir, Let's Go (So We Can Get Back). Though they're based in Chicago, Wilco has a true affinity for Western Mass, and a love for MASS MoCA's world-class exhibits of design and modern art. Bassist John Stirrat even put down roots here, refurbishing and opening a friendly and funky motel called Tourists, just up the road.
This turned out to be a heartwarming, affirming night for the fan community, proving that few bands operate like Wilco, with their democratic ethos and willingness to shake things up. (And in more good news, there's new Wilco music coming this fall, with a tour.)
Set list:
Random Name Generator
Hummingbird
If I Ever Was A Child
Cry All Day
Must Be High
Born Alone
Misunderstood
(Wilco Karaoke)
Nothing'severgonnastandinmyway(again) - with Darlie from North Adams, MA
Heavy Metal Drummer - with Aiden from Albany, NY
I'm The Man Who Loves You - with Brad from Dallas, TX
Poor Places - with Henry from Eliot, ME
Hate It Here - with Courtney from Albany, NY
Wishful Thinking - with Alex from Oberlin, OH
Say You Miss Me - with Kevin from Rochester, NY
True Love Will Find You In The End (Daniel Johnston song) - with Bailey from South Bend, IN
Dawned On Me - with John from Chicago, IL
Monday - with Eben from Brattleboro, VT
We Aren't The World (Safety Girl) - with Yuka C. Honda from Brooklyn and Catherine from L.A.
I'm Always In Love - with Sammy Tweedy from Chicago, IL
Handshake Drugs - with Courtney Barnett from Melbourne, Australia
(Back to Wilco)
Jesus, Etc.
Outta Mind (Outta Site)
California Stars
(Encore)
What Light
The Late Greats
[Recorded: 6/28/19]