WFUV at SXSW: Iron and Wine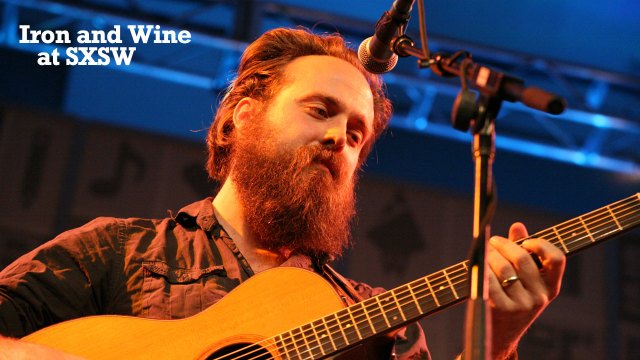 Sam Beam is back again in 2013, but he's wearing a different suit. The absolute master of the hushed and lovely modern ballad, live performances of Iron & Wine (@IronAndWine) have become a more dynamic affair over the past few years, mixing in global influences: African-flavored guitar, Sun-Ra licks.

Each of his albums is like a new chapter (Kiss Each Other Clean has the energy of pop; The Shepherd's Dog is more jazzy, etc.) Two songs have crept out in advance of his upcoming full-length release, and we're all waiting to see how the new material fits together.

Iron and Wine's recent move to Nonesuch Records (home of legacy artists like Emmylou Harris, Joni Mitchell, k.d. lang, Randy Newman and more), known for fostering true artists with long-term careers, bodes well for fans who are excitedly anticipating whatever direction Sam decides to go in next.

For his set at the Public Radio Rocks Day Stage show, Sam gave us several new songs in solo acoustic mode, and was gracious enough to also take requests from the (over-the-moon) audience, bringing several favorites out of the vault.
Watch: "Naked As We Came" from the Public Radio Rocks Day Stage, SXSW 2013, above, and a new one, "Winter Prayer," below.
Listen to the whole set, below.
---
WFUV's South by Southwest 2013 music coverage is graciously supported by TuneIn.
Funding for WFUV's ongoing coverage of live concerts and festivals comes from The Agnes Varis Trust, supporting affordable access to the arts, education and healthcare.