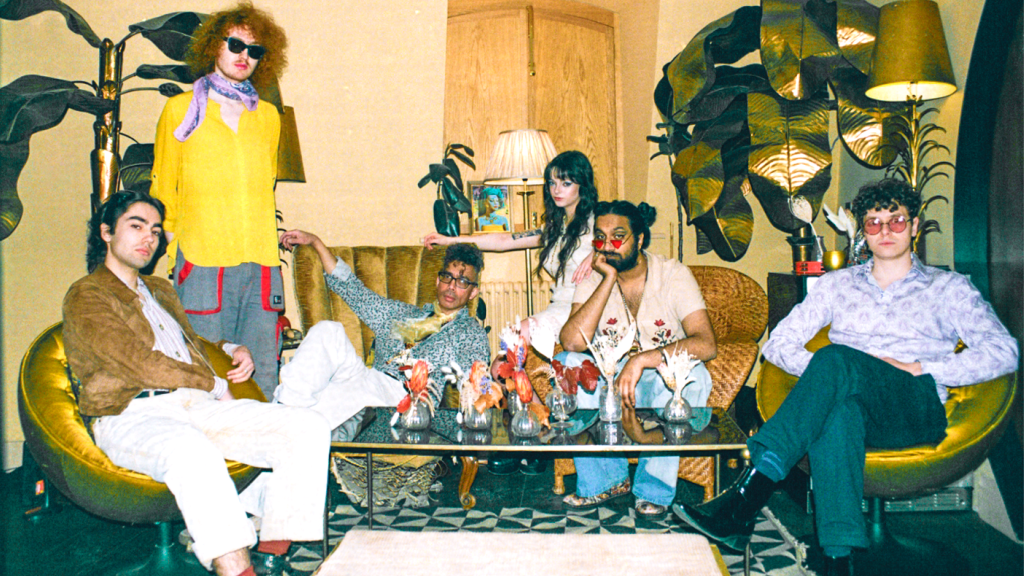 Out of Oxford, but based in London these days, Mandrake Handshake dive headlong into psychedelic grooves, but point to a handful of significant Nineties-era influences: Stereolab and Broadcast ("for their super intelligent and deliberate use of harmonies and rhythms," they told DIY last year) and Brian Jonestown Massacre (who inspired their name) and Spaceman 3 for that swirling kaleidoscope of jammy fuzz. The collective, which numbers nine presently, released their heady debut EP last year, Shake the Hand That Feeds You, and have a second one ahead, The Triple Point of Water, due out on November 18.  I'll get to their first tease from that forthcoming EP tonight on "UKNY" at 11 p.m.
Also ahead, another exhilarating single from The Big Moon, from their soon-to-arrive second album, Here is Everything, plus TSHA nears the release of her debut album, Capricorn Sun, with another single. Beth Orton's new album, Weather Alive, reverberates with quiet majesty, and The Comet is Coming is happily coming to New York for two shows at Bowery Ballroom, October 21 and 22. The trio's new album, Hyper-Dimensional Expansion Beam, blurs all dimensions of genre boundaries for an ecstatic mind-bending voyage.
That and more on "UKNY," Sundays 11 p.m.-midnight, on 90.7 FM, streaming online, and in the Weekend Archives after broadcast.
Songs played:
1. The Big Moon, "Trouble," Here is Everything
2. Nilüfer Yanya, "Rid of Me (PJ Harvey cover)," single
3. Sports Team, "Unstuck," Gulp!
4. Pale Blue Eyes, "Little Gem," Souvenirs
5. Mandrake Handshake, "Emonzaemon," The Triple Point of Water EP
6. TSHA, "Running," Capricorn Sun
7. (Bogotá, CO-Brooklyn, US) Ela Minus & DJ Python, "Kiss You," Corázon EP
8. The Comet is Coming, "Lucid Dreamer," Hyper-Dimensional Expansion Beam
9. David Bowie, "Kooks (Sound of the '70s: Bob Harris/BBC), Divine Symmetry
10. (Tamanrasseet, DZ-Cardiff, Wales) Imarhan feat. Gruff Rhys, "The Distance," single
11. Beth Orton, "Friday Night," Weather Alive
12. Floating Points, Pharoah Sanders and the London Symphony Orchestra, "Movement 4," Promises
13. (Manchester/London, UK-Los Angeles, US) Floating Points, Pharoah Sanders, and the London Symphony Orchestra, "Movement 5," Promises