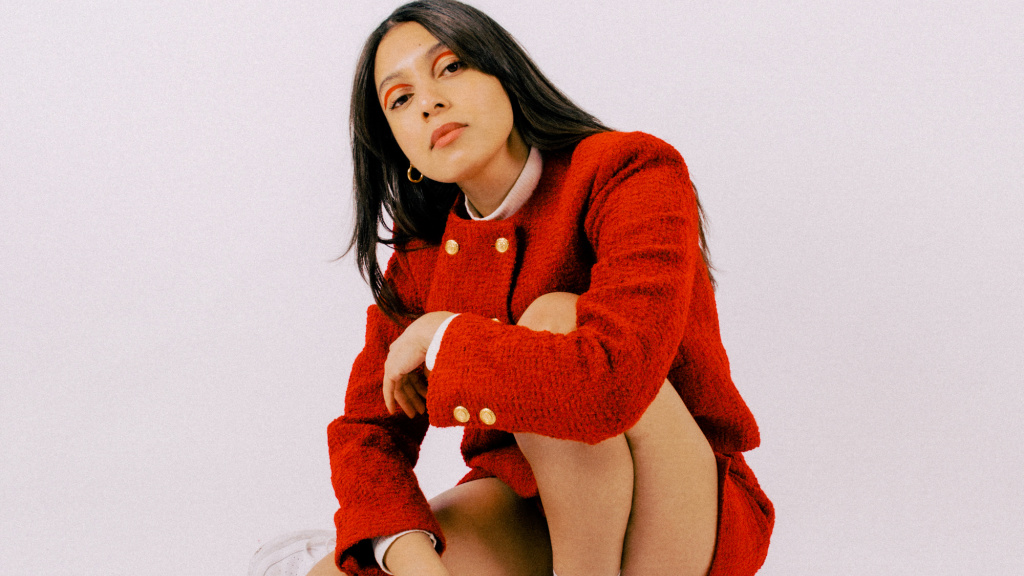 On her debut EP, Milk Teeth, London-based Seraphina Simone candidly explores what she calls her "heavy emotional trauma growing up." The lockdown in 2020 found Simone, whose father is Sananda Maitreya (formerly Terence Trent D'Arby), exploring her own racial identity and what she calls growing up with beauty standards that "inextricably white, with the idealised woman being a gamine, long-limbed, milky-skinned waif."
Simone who began writing songs while studying at the University of Oxford, is a member of Self Esteem's touring band, but will have her first headlining show at London's Paper Dress Vintage on September 28. On "UKNY" tonight at 11 p.m., I'll play the arresting title track from Simone's Milk Teeth, out now on YALA! Records.
Also, in the mix, a breezy, bossa nova-sweetened new song from Icelandic chanteuse Laufey, whose debut album, Everything I Know About Love, is finally released on August 26 — she's already sold out her entire North American tour. London producer SBTRKT returns with an effusive second single for 2022; he's been releasing new music this summer for the first time in six years. (He's been producing Santigold's new music.) Bogotá-born, New York-based Ela Minus and New York's DJ Python have a collabortive new EP on the horizon that's represented by a title that's a heart-shaped drawing, but called Corazón.
More dance euphoria from I. Jordan (formerly India Jordan) and Totally Enormous Extinct Dinosaurs, plus London-based WACO have a thankful — and true — renter's tale about a former Manchester landlord who happens to be an iconic musician.  And remembering the courageous, Cambridge-born Olivia Newton-John too.
British and international releases until midnight on "UKNY," Sundays 11 p.m.-midnight, on 90.7 FM, streaning online, and found in the Weekend Archives after broadcast.
Songs played:
1. Working Men's Club, "Ploys," Fear Fear
2. I. Jordan, "Always Been," single
3. Seraphina Simone, "Milk Teeth," Milk Teeth EP
4. The Orchids, "This Boy is a Mess," Dreaming Kind
5. LIFE, "The Drug," North East Coastal Town
6. (Benin City, NG) Rema, "Calm Down," Rave & Roses
7. (Bogatá, CO-New York, US) Ela Minus and DJ Python, "Pájaros en Verano," Corazón EP
8. Totally Enormous Extinct Dinosaurs, "Never Seen You Dance," When the Lights Go
9. ALASKALASKA, "Still Life," Still Life
10. SBTRKT feat. Leyla, "Miss the Days," single
11. Olivia Newton-John feat. ELO, "Xanadu," Xanadu (original motion picture soundtrack)
12. WACO, "Barry Gibb Was My Landlord," Rock Spirit Absolute Joy
13. (Gothenburg, SE) Little Dragon, "Frisco," Opening the Door EP
14. (Reykjavík, IS) Laufey, "Falling Behind," Everything I Know About Love
15. The Comet is Coming, "CODE," Hyper-Dimensional Expansion Beam