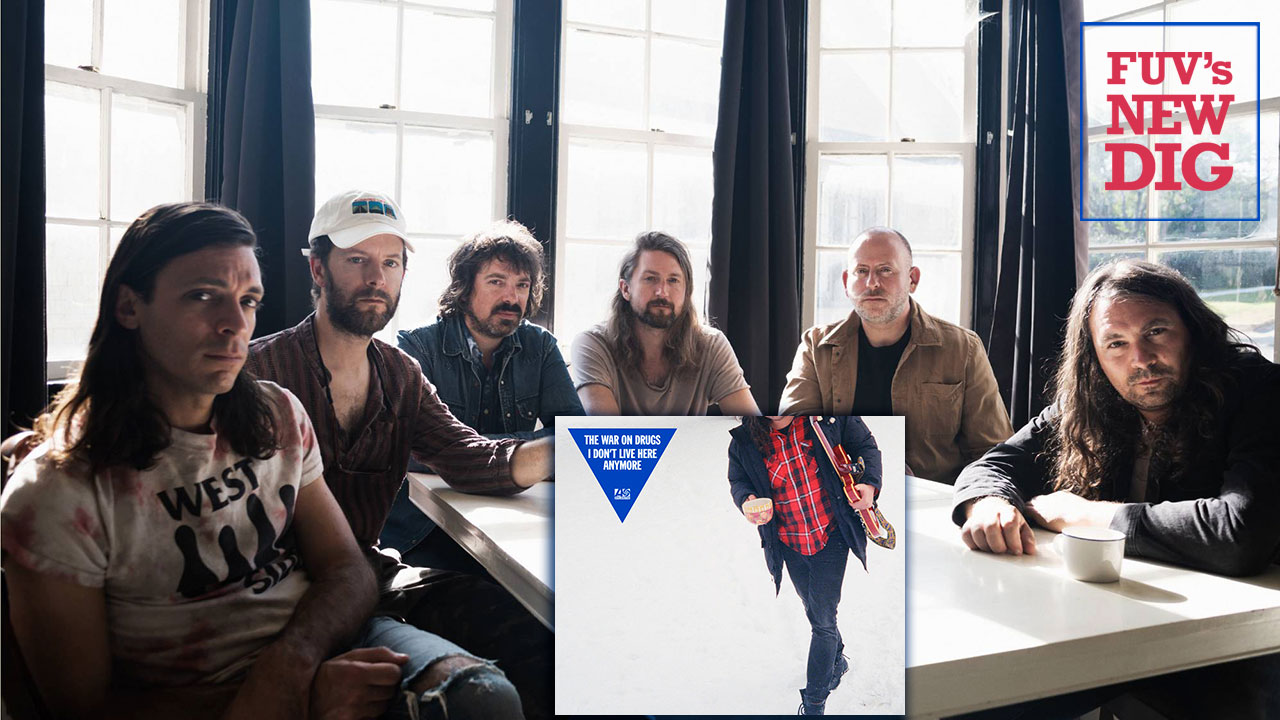 The War on Drugs
I Don't Live Here Anymore 
Atlantic Records
Why This Album Matters:
The War on Drugs continues their upward trajectory that began with 2014's Lost in the Dream, their third album, and continued with 2017's A Deeper Understanding, which landed on Billboard's Top Ten Album chart and won a 2018 Grammy Award for Best Rock Album. Adam Granduciel and his bandmates' fifth album, I Don't Live Here Anymore, has the beautifully expansive sound and scope that has become a part of their identity: They make albums that demand to be taken on thousand mile road trips. Granduciel's reputation for being a meticulous craftsman pays off again.
In Their Own Words
"I tend to write from the place that gives me the most inspiration, which is just feeling melancholy," Adam Granduciel explained to the New York Times. "For the most part, I'm still in the process of learning how to be happy."
"When my son was born, it was definitely a break,"Granduciel told the NME. " I'm so used to writing that I felt like I needed to find those moments. When he was really young, I'd go down to my studio at night for like 30 minutes and put something down just to do something. As he got older, working on the record while watching him explore music was a joy. Watching my son twist knobs, plug stuff in, play synths or harmonica — it made me realize that this was something I was passing down. It reminded me that at any level the music should be filled with wonder. I was filled with that myself trying to get to the heart of a song on this record. When you find it, it excites you and you can't stop thinking about it." 
Highlights:
"Change," "I Don't Live Here Anymore" featuring Lucius, "Living Proof," "Old Skin," "Victim"
Why You Will Dig I Don't Live Here Anymore:
I Don't Live Here Anymore draws on Granduciel's experiences as a new father. His two-year-old son, Bruce (named after Bruce Springsteen), inspired the new album in more ways than one. On the surface, Granduciel adjusted his work routine to fit the responsibilities of being a dad. Long nights spent in the studio were swapped for more a more civilized schedule that allows for bath time and the baby's meals. 
I Don't Live Here Anymore is a glorious feast of soaring melodies, grand themes, and introspective lyrics that play like the soundtrack to a solitary night's drive on a summer night. Glistening guitars shimmer like stars and there's real adrenaline to the rhythmic pace of songs like the propulsive "Harmonia's Dream" and the jangling "Change." Contemplative acoustic album opener "Living Proof" is a highlight, as is the meditative "Occasional Rain." Every note on I Don't Live Here Anymore has an emotional authenticity.
There are several songs that dwell on the father-son connection ("Old Skin," and "Rings Around My Father's Eyes"). Granduciel and his War on Drugs bandmates set a course through life here, providing a road map to maturity and wisdom, even if that does touch on elements of apprehension and fear.
Recommended If You Like:
Tom Petty and the Heartbreakers, Bruce Springsteen, The Killers, Mojave 3, Sharon Van Etten, The National, Shawn Colvin
FYI:
- Formed by Granduciel and Kurt Vile in 2005 in Philadelphia, the War on Drugs debuted in 2008 with the EP "Barrel Of Batteries" and the album, Wagonwheel Blues. Granduciel now lives in Brooklyn.
- After Vile's departure, Granduciel (guitars, keyboards, harmonica, lead vocals) continued with the War on Drugs with David Hartley (bass, guitars), the band's other remaining original member, at his side. Today, Robbie Bennett (keyboards, guitars), Charlie Hall (drums, keyboards), Jon Natchez (saxophone, keyboards) and Anthony LaMarca (guitars, keyboards) fill out the band's lineup.
- I Don't Live Here Anymore was recorded in upstate New York, produced by Granduciel and Shawn Everett and features Lucius's Jess Wolfe and Holly Laessig on backing vocals on the album's title track.
Listen to a brand new FUV Live session with The War on Drugs, airing Tuesday, November 2, at 1pm, streaming online, and available on demand.