The National: BRIC Celebrate Brooklyn! Festival 2019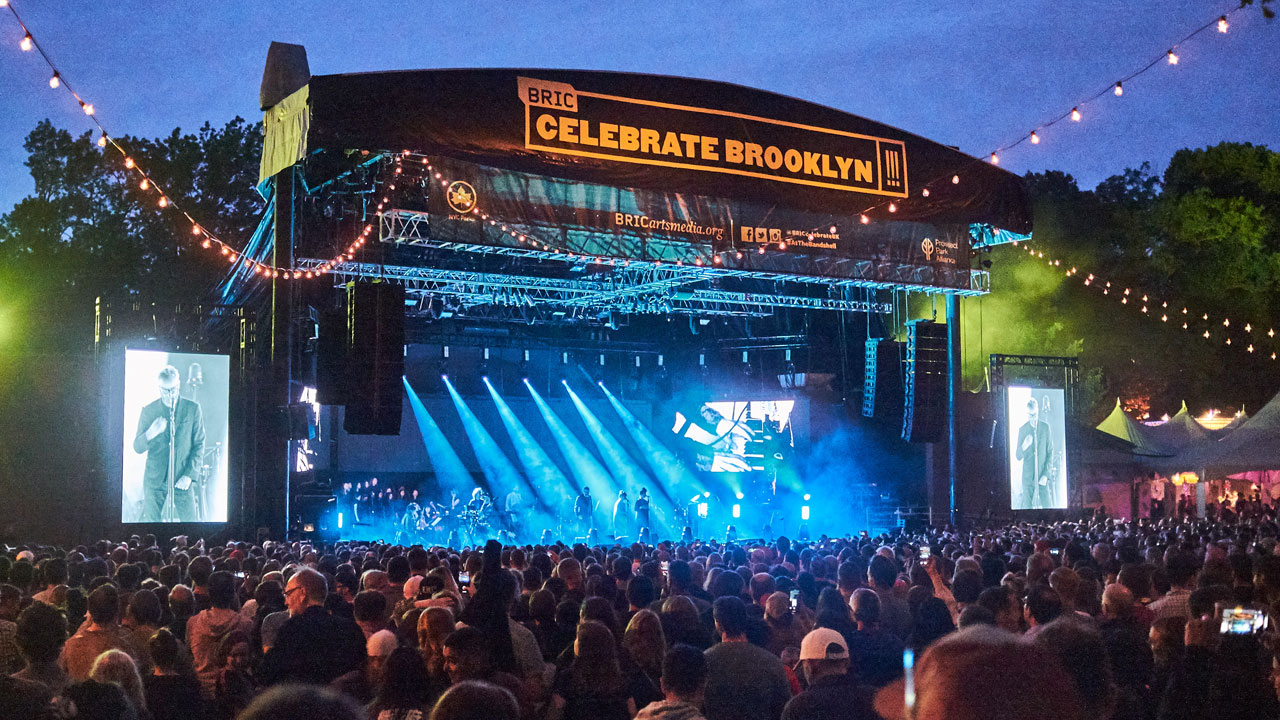 Please note: This performance has not been edited for language and contains profanity.
It was "A Great Night For Crying" at the BRIC Celebrate Brooklyn! Festival in Prospect Park on June 12 as the National, poking fun at their somber reputation, used that Johnny Mathis classic as their walk-on music for the first show of their two-night homecoming run. The National's sold-out concert, which featured the formidable Courtney Barnett as their opening act, was broadcast live on 90.7 WFUV with Russ Borris and me as co-hosts. (And never fear, Barnett fans, FUV will broadcast full sets from Barnett and Wilco, live from the Solid Sound Festival in North Adams, Massachusetts, on Friday, June 28 as part of our ongoing summer festival coverage.)
The National's Matt Berninger, Aaron and Bryce Dessner, and Scott and Bryan Devendorf have long been praised for their emotionally stirring music. The quintet released their ambitious and gorgeous eighth album, I Am Easy to Find, earlier this spring, and their set on this cool night was dominated by songs from it. I Am Easy to Find features some extraordinary female musicians as guest vocalists and true to the record, the concert included some of those artists, like French singer Mina Tindle, This Is the Kit's Kate Stables, and the Brooklyn Youth Chorus. The mix of Berninger's gruff baritone and the breezy voices of Tindle, Stables, and the choir created a spellbinding alchemy and atmosphere. 
As always, the entire band was in top form with the Dessner brothers playing searing guitars, piano, and keyboards and the Devendorfs — Scott on bass and Bryan on drums — bringing a propulsive and driving momentum to the set.
The crowd was also very enthusiastic, eager to clap or sing along with older "new classics" in the National's catalog, like "The System Only Dreams in Total Darkness," from 2007's Boxer, or "Trouble Will Find Me," the title track of their 2013 album. Of course, the National brought out the brass for the guaranteed crowd pleaser from Boxer, "Fake Empire."
The National has also stepped up its game with visuals too — there were six huge screens splashed across the stage. The lighting designer (who deserves a raise in my opinion) illuminated the stage in an incredibly entrancing way. To get a sense of that effect, check out the shots in FUV's Flickr taken by the station's brilliant photographer Gus Philippas. The audio is here too, for your listening delight.
Setlist:
You Had Your Soul With You
Quiet Light
The Pull of You
Hey Rosey
Don't Swallow the Cap
Guilty Party
Oblivions
I Am Easy To Find
Rylan
So Far So Fast
I Need My Girl
This Is The Last Time
The System Only Dreams in Total Darkness
Graceless
Geese of Beverly Road
Where is Her Head
Encore:
Not In Kansas
Fake Empire
Mr. November
Terrible Love
Light Years
[Recorded 6/12/19]