Temples - FUV Live - 2014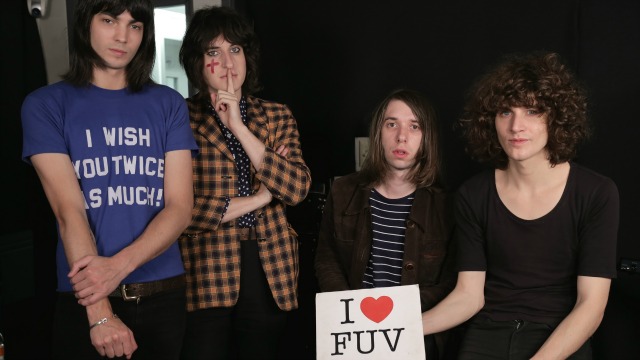 It's not often that the first recording of a young band perfectly conveys that group's promise and mission. Temples, then a duo, managed to do that very thing with their debut single, 2012's "Shelter Song." That delectable slice of woozy psychedelic pop (which got them signed to Heavenly Recordings) led to the eventual addition of two other bandmates and three strong 2013 singles: "Colours To Life," "Mesmerise" and "Keep In The Dark." Last winter, Temples released their handsome, self-produced debut album, Sun Structures. It's been a heady gallop for the band, spurred on by prestigious support slots, sold-out headlining gigs and major festival outings.
Hailing from Kettering in England's Midlands, singer and guitarist James Bagshaw and bassist Tom Walmsley knew exactly what kind of music they wanted to make when the two friends first began working together: songs that acknowledged the lush production textures and sparkle of '60s and early '70s glam rock, Motown and garage pop, but resonated with a very contemporary flair.
Temples, who were part of our Public Radio Rocks showcase at SXSW in March, paid a long overdue visit to Studio A this autumn to play a couple of songs from Sun Structures. The lean, lanky and admittedly tired Bagshaw, his milkweed-like tumble of brunette locks a not-so-subtle reminder of one of his heroes, Mark Bolin, and Warmsley candidly discussed the breakneck pace that the band's been on this year. They also touched on their determination to maintain artistic control of their forward-looking rock 'n' roll revivalism, exhaustion be damned.
[recorded: 10/27/14]
Flickr Gallery