TAS SXSW Preview: Sharon Van Etten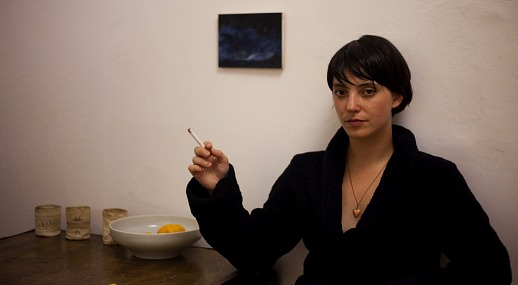 Singer and songwriter Sharon Van Etten quietly released one of the more extraordinary albums of the last year, the mutable and deeply moving Epic, which not only showcased her knack for textured yet organic composition, but her ferocious, pining vocals. Few albums were as simply rendered, but exquisitely executed, as this album which garnered Van Etten not only chiming critical acclaim, but a cadre of new fans.
Currently opening for The National in Europe and preparing for another North American touring beginning this March, an admittedly jet-lagged chatted with The Alternate Side over email while in London and updated us on her road trip, her work with The National's Aaron Dessner on her third album and how she plans on surviving SXSW in a month.
TAS: You're on a relentless tour schedule right now and you're also headlining venues. How has your set list altered and are you including a lot of new material? 
Sharon Van Etten: We have been playing a mix of old and new and really old songs. Now that I have drummer, Ben Lord, and bassist, Doug Keith, to help me reinterpret my older songs as a trio, I am learning how to lean back into the beat a bit and not depend solely on the anxious strum of my guitar.
TAS: You've also flipped from acoustic to electric guitar, correct? How has that adjusted the temperament of your live shows?
Sharon: We've been playing as a three piece and I have been playing mostly electric guitar, as of late. There is more energy than my sit down, acoustic, sad, broken hearted time.
TAS: In February you played one of my favorite venues in London, the Hoxton Square Bar and Kitchen, and you're touring through Europe until March 3, opening for The National and doing some solo shows.  What reactions do you get from UK and European audiences?
Sharon: My touring history overseas is very brief. I have been to the UK twice and I have been received well. I opened for Meg Baird and Great Lake Swimmers. I was solo then. Now it's been almost 2 years and I have a band. The new songs are a natural progression, but different. People seemed to like my solo guitar stuff, but I'm nervous for this time around. I hope it goes well.
TAS:  You're working with Aaron Dessner on your next record. Do you think you'll be doing some work on the road during your European tour?
Sharon: I don't know. I hope so. I have no idea what to expect. Everyone involved with The National has been amazing to get to know and although I am a bit anxious, this is such a special opportunity. My only fear being that it's a bit out of my league and there are places I've never been to....
TAS: What has Aaron, as producer, brought to your process as a singer/songwriter? And what has he shown you about yourself - and your music - that you might not have known before?
Sharon: I like Aaron's process a lot. He trusts my instincts with my basic guitar and moving vocals. It's important to both of us to keep the rawness of the core of the songs. He pushes me to test my comfort level and helps reexamine my songs in the opposite way. It's funny because I'm so used to be being the only one playing, it's hard for me to let go and rely on a band ... experimenting with the guitar strum implied and a church organ in it's place. He's building my confidence in the structure of my songs. He's showing me to how to accentuate my strengths by focusing more on the vocal performance.
TAS:  You also have a really lovely relationship with Megafaun - what work have you been doing of late with them?
Sharon: Brad Cook just came out to our Bowery show and sang and played bass on a couple songs. We're hoping to do some shows together late this year. I know they're releasing the Songs of the South this year. They are such lovely and productive and positive people.
TAS:  The thing that's so striking about your album Epic is the mercurial nature of the album; every song seems to have sprung from a different fragment of who you are as an artist.  What inspires you to mess about constantly with your own sound?
Sharon: I don't know. I just play guitar and sing. I don't know if I'm going to come up with a song or what it will be, I just record it. I have so many failures. Sometimes last year's fail is a song someone else helps me love a year later.
TAS:  What artists or bands have thrilled you over the years? 
Sharon: The last few years there's been so much! Lower Dens, Meg Baird, The Antlers, Tiny Vipers, Low, Orchestral Maneouvres in the Dark, Scary Mansion, James Blake, Patti Smith, PJ Harvey... my list is too long!
TAS:  Of your new songs, what has emerged as a 'favored child' and why?
Sharon: I think "Love More" was the first song people really responded to. It came out before I recorded Epic at Miner Street in Philadelphia with Brian McTear. It was harmonium and vocal centered. Probably my most confessional song to date. I think that's why people respond to it.
TAS:  Given the bluntness and longing of your lyrics, are you quite critical of yourself? Do you find yourself regarding 2009's Because I Was In Love as something quite remote to you now or do you still relate strongly to the person you were when you wrote those songs?
Sharon: It feels very distant. I like that it's like a little Sharon frozen in time. That was me then. Now I am forced to remember.
TAS: I read in an earlier interview you did that while in Tennessee, you were thwarted initially by a boyfriend who didn't believe in your talent and you wrote in secret. Do you regret that phase of your life ... or do you feel that the very secretiveness of your pursuit made it that much more precious to you?
Sharon: I don't regret it. That time definitely had an affect on me, an affect I'm not sure I understand yet.
TAS: You've got SXSW in about a month - a return visit. What are your survival tips for making it through a week there with voice (and health) intact? Any bands or artists you're especially excited to see?
Sharon: Ha ha. Don't drink, don't smoke, don't talk - which is very hard to do... get sleep and pace yourself. Low is a band I'm excited to see. I've never seen them live before.
TAS:  You've been back in snowy New York for a while. What is it about this city that fuels you creatively?  
Sharon: There are so many productive people and it is expensive to live there. It kicks your ass. So many people had it so much tougher way before I was born...
TAS:  What changes do you hope 2011 will bring in your life? Your music?
Sharon: I am hoping to be a more honest, more giving, more confident. I am taking steps to get another band member, step up arrangements.