TAS Live Review: Field Music at London's Koko, November 23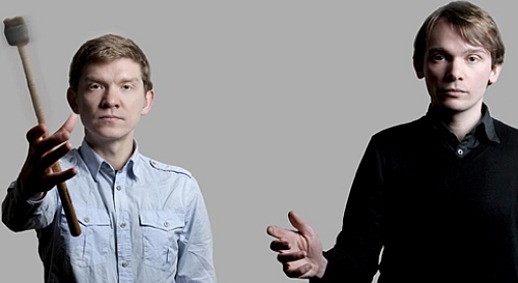 Field Music's David and Peter Brewis tore through tracks from their jittery and majestic album Measure on November 23 in London in an ornate, historic venue that matched the vibrant theatricality of the band's  prog-pop experimentalism. 
The club, the old Camden Theatre which dates back to 1900, has hosted everyone from the youthful, variety-show era Charlie Chaplin to The Clash over the last century and it was that very mix of the past and freshly revamped perspective that paralleled Field Music's own habitual, contemporary reexamination of elements of 70s prog rock and thornier 80s riffs. Every song, from the rhythmically uneasy, but handsome pop gem "Them That Do Nothing" to staccato, orchestral urgency of "The Rest Is Noise," to the warm, fat groove of "Let's Write A Book,"  feels a sharply-drawn sketch of a mood or conversation, segueing, dramatically at times, into gentle or argumentative counterpoints or opinions. 
Although they charged through most of the album,  and brought in a few extras, like David Brewis' "Rockist Part 4" from his solo School of Language 2008 album Sea From Shore, there was a sense of both play and purpose to the now-quintet's set; while David handled the bulk of vocals, the additional band members, including Kev Dosdale and Ian Black,  freed David and Peter to shift between keyboards, guitars and even percussion (both brothers have drummed on tour for each other's solo projects).
It was the band's largest show to date with an appreciative (and seemingly nearly sold-out) crowd and you could sense a degree of gratitude and joy from the Sunderland rockers; long viewed as northern experimentalists (and nearly splitting), they've released what might be one of the most unexpectedly challenging and beautiful albums of the year. Opening act Sweet Billy Pilgrim (sadly, we arrived too late for Dutch Uncles) played a sweeping, heartfelt nu-folk set, with songs like "Future Perfect Tense,"  which trembled with pretty girl/boy vocals, and layer upon layer of instrumental punctuation that boldly decayed at set's end into a tsunami of feedback; singer Tim Eisenburg promised a soon-to-be released third album.
[video: http://www.youtube.com/watch?v=K06H-Zfwq0w]