TAS Live Review: Allison Moorer At Joe's Pub, February 8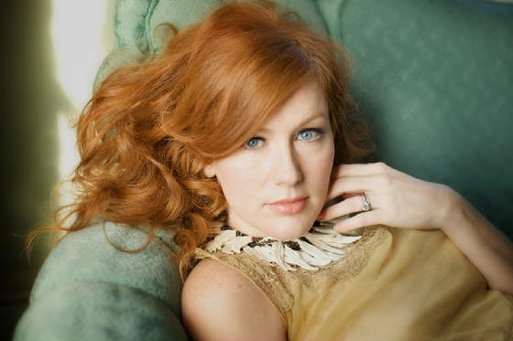 Allison Moorer cast a glow over her audience at Joe's Pub in New York last Monday night. Despite an unfortunate cold, her positive energy shone through as she presented songs from her new and most personal album to date, Crows. If her seasonal ailment found her disheartened, it hardly showed through her music; in fact, it gave her otherwise crystalline voice a husky blues quality that fit perfectly with moody ballads like "When You Wake Up Feeling Bad."
Moorer says Crows is like "looking into a snow globe designed by Tim Burton." Sometimes macabre in subject, yes, but sonically her tunes are mature, ethereal and poised. Such a confessional peek into the singer-songwriter's life reveals an expectant mother's anxiousness ("Sorrow"), a daughter's dreams of her parents ("The Stars and I (Mama's Song)"), and ominous feelings amidst a carnivalesque backdrop ("Crows"). When she says her album is personal, it's as if we're reading her diary set to music. But whatever worry has crept into her songs was undetectable in her performance. She and husband Steve Earle are expecting their first child soon, perhaps another reason for the singer's onstage radiance.
One of the most intimate moments of the show was "Easy in the Summertime," a languid lullaby which recounts childhood summers spent in Alabama. The song's idyllic images of fishing in the river and eating watermelon veil a darkness underneath these memories. Moorer told of the surprising honesty she found in herself to write this song and sang of the escapism that got her through these events to where she is today.
Allison Moorer played with Eleanor Whitmore (mandolin, violin, backing vox), Chris Masterson (guitar), Rob Heath (drums) and Byron Isaacs (bass).
Setlist:
Abalone Sky
Say Goodbye to the Ground
Broken Girl
Should I Be Concerned
When You Wake Up Feeling Bad
Easy in the Summertime
The Stars and I (Mama's Song)
Still This Side of Gone
Like the Rain
Sorrow (Don't Come Around)
It's Gonna Feel Good (When it Stops Hurting)
Crows
Encore: Looking For A Soft Place to Fall
[video:http://www.youtube.com/watch?v=bTvI3d6Q4a4&feature=player_embedded]