TAS Interview: The Middle East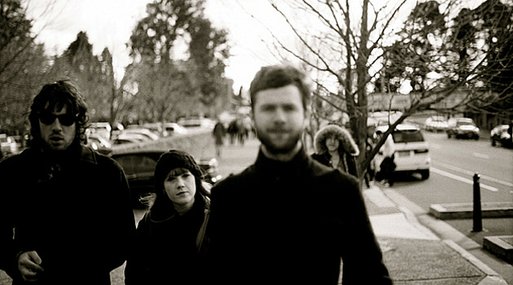 Instrumentally precocious, folk-kissed rock septet The Middle East made their much buzzed-about North American debut at SXSW back in March. They have since won acolytes and abundant critical praise following their powerful sets at Bonnaroo, Coachella and Sasquatch and opening for Laura Marling, Frightened Rabbit and Mumford & Sons.
The Aussie band, whose "abridged" EP The Recordings of the Middle East dropped Stateside in late fall 2009 after a full-length debut album dropped in Australia in 2008, will make their Glastonbury Festival debut this weekend. The Alternate Side connected with singer and guitarist Jordan Ireland via email from the UK and learned about the status of The Middle East's much-anticipated new album and why acoustic guitar might be "done" for the group ... for now:
TAS: You've got Glastonbury ahead this weekend. Any expectations of what that festival will be like? Have you packed your wellies?
Jordan Ireland: I haven't heard anything except that it's huge. Haven't packed any of the old wellingtons. Should I? I suppose i should.
TAS: You also played your first Bonnaroo Festival earlier this month. How did you survive the Tennessee heat? Catch other bands?
JordanWe survived by sweating ourselves to juice. We come from a hot and humid place, so it was kinda hellish and homely at the same time. A few of us had to fly to Europe the next day, and a couple of us had to drive to Dallas that night, so we didn't really get a chance to stick around. We could hear Weezer pretty damn good from where we were attempting to play our quiet songs and they sounded like they were strumming up a storm. i think Jay-Z could have been fun.
TAS: You've been touring quite a bit with UK artists, like Laura Marling and Mumford & Sons, who are part of alternative folk movement in the UK, as well as more alternative rock bands like Frightened Rabbit and Grizzly Bear. The Middle East defies easy classification which seems to be your point - the blurring of genres?
Jordan: I've never really thought of us as defying easy classification. I guess if we are, then maybe it's because we're just a bit confused musically. It's been great being on tour with all of those bands, seeing how other people approach live music. Laura and the Sons are the two bands we've spent the most time with and we really owe alot to them for letting us come along with them and being really supportive.
TAS: I've read that you're actually going more electric of late, especially with new songs you've been introducing Stateside?
Jordan: There's definately been a bit more of the old electric guitar in the mix lately. Acoustic music became a bit done for me and I just feel like strumming some big gritty chords on a 335 or something. It might just be a phase.
TASBack around the time of SXSW you were in the midst of recording a new album. How is that progressing? Any surprising directions you've taken?
Jordan: It's a tough one. We've taken alot of time on it and it hasn't really been coming together too good. It's experience all the same, I guess. There's a few different sounds on there.
TAS: Where are you recording it and when might it see the light of day?
Jordan: So far it's been recorded in Townsville, North Queensland, Denton, Texas, and Birmingham, Alabama. Not sure if all those will make the cut though. Looking like it'll be released in January or February next year. Not sure about a title as yet.
TAS: Many bands from New Zealand and Australia - Lawrence Arabia and The Temper Trap come to mind - find it difficult to base themselves from that area, so far away, and often end up in the States or the UK. Has The Middle East ever considered leaving Australia, or do you consider the music climate fertile for the band?
Jordan: It hasn't seemed to be a problem for us. I don't know why. We're way out on our own up there, where we are. I don't know if we'd fare too well being in the midst of a thriving scene, but maybe we would. There's just no telling.
TAS: Other Australian bands that you're quite keen on these days?
Jordan: There's too many good ones to name, so i'll just say Marf Loth.
TAS: The Middle East broke up for a time after the original release of The Recordings of The Middle East, correct? What led you to split up - briefly - and more importantly, what convinced you to resurrect the band and start anew? What is good advice you can offer for a young band trying to survive?
Jordan: The break was just about space, I think. A few of us felt like doing some other things. It definately made it more exciting when we returned. Oh advice... well, lets see.
I'd say follow your dreams ... and never give up. And ... can't forget to always believe in yourself. And I think that's it.
TAS: It's hard enough for a trio to tolerate traveling in a van together from gig to gig - how to seven people manage not to drive each other crazy?
Jordan: Three months of driving across the United States worked its madness into our souls. Especially because we were sharing on hotel room between seven [people], rotating who gets a bed every night. We've got a ten day break at the moment, before the start of playing the UK, and it is excellent.
TAS: Do you do any covers in your set? If you could choose anyone to cover one of The Middle East's songs, who would it be and what would you hope they'd cover?
Jordan: We don't do any covers. I wish we did, I guess we've just never taken the time to find the right one to play. To play one of our songs, I think I'd choose maybe David Byrne. Or our manager for the U.S., the one and only Rich Schaefer. Actually, just him.
TAS: I read that The Middle East band members were recently able to quit their day jobs to tour the States. Who had the worst day job and why?
Jordan: None of them were that bad. I guess Rohin had to make a 200 sandwiches a day. Maybe that the worst one.
TAS: You have such a busy few months ahead - and return home to play Splendor in the Grass on July 30. What are your plans for the balance of the summer and the fall?
Jordan: I'm not sure. I think we'll take it pretty easy when we can. We have alot of writing and practice to do. I'm going to go hiking when I can. Maybe I'll find gold and disappear.