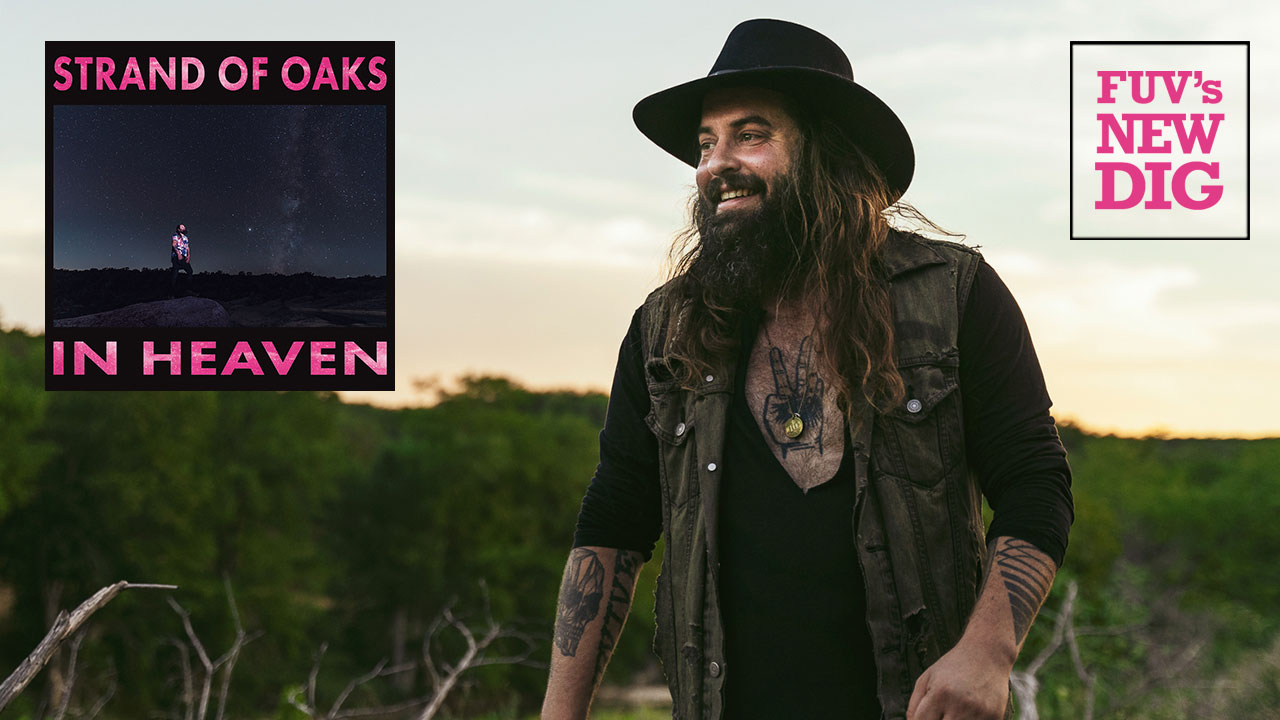 Strand of Oaks 
In Heaven
Galacticana Records
Why This Album Matters:
Strand Of Oaks' Tim Showalter not only wears his heart on his sleeve, but also everything else that infiltrates his world, from his rawest emotions to his insecurities. On his eighth album, In Heaven, he continues to mine personal experiences, taking loss and grief and turning them into uplifting manifestos. Showalter has experienced more than his share of devastating life events. As a young man, he dealt with the shock of infidelity and a devastating house fire. Eight years ago, Showalter was involved in a Christmas Day car crash that left him seriously injured. More recently, his wife lost her mother in a car accident, and the couple's beloved cat was diagnosed with terminal cancer. But while Showalter might carry a heavy load, he transforms those setbacks into profoundly honest, soul-baring, and cathartic music.
In His Own Words:
"This record means so much to me, just 'cause it's the first time I wrote a record where I wanted to not be the main character in my own story," said Showalter during his 2021 "FUV Live" concert from New York's The Sheen Center, available on demand. "And I wanted to make this record for my wife and people I lost and people I missed. It's so liberating to not be consumed by my own problems."
Highlights:
"Carbon," "Easter," "Galacticana," "Jimi And Stan," and "Somewhere in Chicago."
Why You Will Dig In Heaven:
Showalter's album is a healing elixir for these rocky pandemic times. He also quit drinking several years ago, and that sobriety is reflected in these songs of hope, recovery, and reflection. In Heaven is a grand tour de force of well-crafted rock sung with husky vulnerability.
"Hurry" is a mountain of a song of majestic guitars and soaring synthesizers. Synths and overdriven guitars are central to the thunderous "Sister Saturn." Acoustic guitar and violin give "Carbon" a driving passion. Both "Galacticana" and "Slipstream" are good examples of Showalter's ability to take pop melodies and build them into exhilarating monuments of sound. Shimmering guitars adorn pop rockers like "Easter" and "Sunbathers."
In Heaven has two especially heartfelt moments: "Somewhere in Chicago" is a soft, thoughtful ode to the late John Prine and the tender "Jimi And Stan" is a sweet tribute to Showalter's much-loved cat, Stan. In the latter song, Showalter imagines Stan happily hanging out with none other than Jimi Hendrix ("Jimi and Stan in heaven/Making friends going to shows/In my dreams I just hope they're having a blast"). But there's a bigger universal message in that heavenly encounter, fitting for anyone grieving a lost loved one.
Recommended If You Like:
John Grant, Lord Huron, My Morning Jacket, Lucinda Williams, Phosphorescent, The War On Drugs, and cats.
FYI:
- In Heaven is also Showalter's first album since the Indiana native moved from Philadelphia to Austin. It follows his 2019 release, Eraserland.
- The album was recorded in October 2020 at Kevin Ratterman's Invisible Creature studios in Los Angeles.
- Backing Showalter (synthesizers, guitars, vocals) was Ratterman (drums), My Morning Jacket bandmates Carl Broemel (guitars) and Bo Koster (keyboards), Cedric LeMoyne (bass), and Scott Moore (violin). Smashing Pumpkins guitarist James Iha joins Showalter on "Easter."
Listen to a brand new "FUV Live" concert with Strand of Oaks, recorded at The Sheen Center, available now on demand.