Stevie Van Zandt: Unrequited Infatuations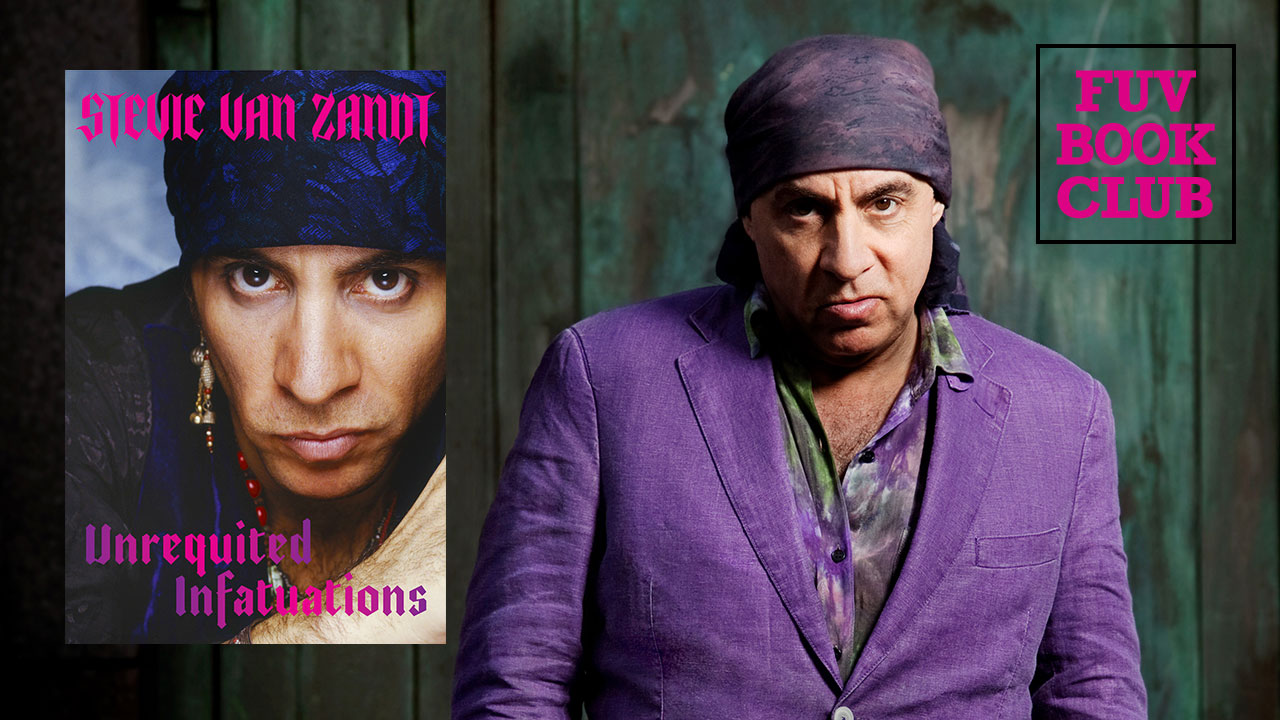 The "FUV Book Club" encourages you to read along with us! Musicians turned literary authors have released some fascinating memoirs in 2021, and so far we've read books by Japanese Breakfast's Michelle Zauner, Rickie Lee Jones, Richard Thompson and Sinéad O'Connor. We'll wrap up the year with a book that host Dennis Elsas was eager to read: the memoir of longtime E Street Band guitar virtuoso, solo star, activist, producer, radio host, and actor Stevie Van Zandt, who takes a look back at his extraordinary life in Unrequited Infatuations. In the player above, listen to Van Zandt read an excerpt from Unrequited Infatuations, courtesy of Hachette Books, and below, Dennis's review.
Elevator Pitch
Unrequited Infatuations is Stevie Van Zandt's memoir, written with candor and humor. As he describes, it's "a cautionary tale." We follow Stevie (as he calls himself now) from his New Jersey childhood to his travels worldwide as a revered rock star and political activist. The narrative is sprinkled with constant asides incorporating Van Zandt's version of the history of rock 'n' roll and its impact on society in ways far beyond just music.
Meet the Author
Stevie (or Steve) is a man of many names, easily switching from Miami Steve to Little Steven and back again, along with his TV character of Silvio Dante, who screenwriter David Chase created as consigliere to James Gandolfini's Tony Soprano in the famed HBO series, "The Sopranos." Van Zandt is best known as a member of Bruce Springsteen's E Street Band, but he also served as a pivotal figure in the formation of Southside Johnny and the Asbury Jukes as writer, producer, and lead guitarist. With his own band, Little Steven and The Disciples of Soul, Van Zandt has been touring and releasing records since 1992. In addition to his career as a musician, he's also a radio host and producer of the weekly, syndicated "Little Steven's Underground Garage" show and the creator and guiding force of two Sirius/XM channels, The Underground Garage (21) and Outlaw Country (60).
The Hook
I've known Steve for a long time and first interviewed him in 1977. Unrequited Infatuations was a fascinating journey, not only through Steve's life and career, but in chronicling a time in the music industry that I lived through and experienced first hand as music director and disc jockey at WNEW-FM. I never realized the extent of Steve's political activism and strong commitment to social justice. And his story of why he quit the E Street Band in 1982,  just as they were achieving superstar fame — which he calls "the biggest regret of his career" — is revelatory.
Soundtrack
"Pretty Little Angel Eyes" is a 1961 hit by Curtis Lee that Stevie describes as the song that brought him to his first epiphany about the power of rock 'n' roll after playing it 55 consecutive times on his record player in his bedroom.
"I Don't Want to Go Home," by Southside Johnny and The Asbury Jukes, is a song that Van Zandt wrote and produced for the band, defining them as "a '60s based R&B band with a five-piece horn section."
"Sun City," by Artists United Against Apartheid, was Van Zandt's massive undertaking in 1985 to protest apartheid in South Africa by calling attention to Sun City, a resort entertainment complex. The song (and video) featured an all-star chorus that included Springsteen, Bono, George Clinton, Keith Richards, Bobby Womack, Bonnie Raitt, Ringo Starr, DJ Kool Herc, Grandmaster Melle Mel, Nona Hendryx, Lou Reed, Rubén Blades, Darlene Love, and Bob Dylan.
Sidebar:
Believe it or not, Van Zandt has two music-themed cruises setting sail next year, The Great Rock 'n' Roll Sea Cruise (featuring The Stranglers, Buzzocks, Graham Parker and more), which makes its maiden voyage in 2022, and Outlaw Country West (with Social Distortion, Lucinda Williams, Los Lobos and others).