Sinéad O'Connor: Rememberings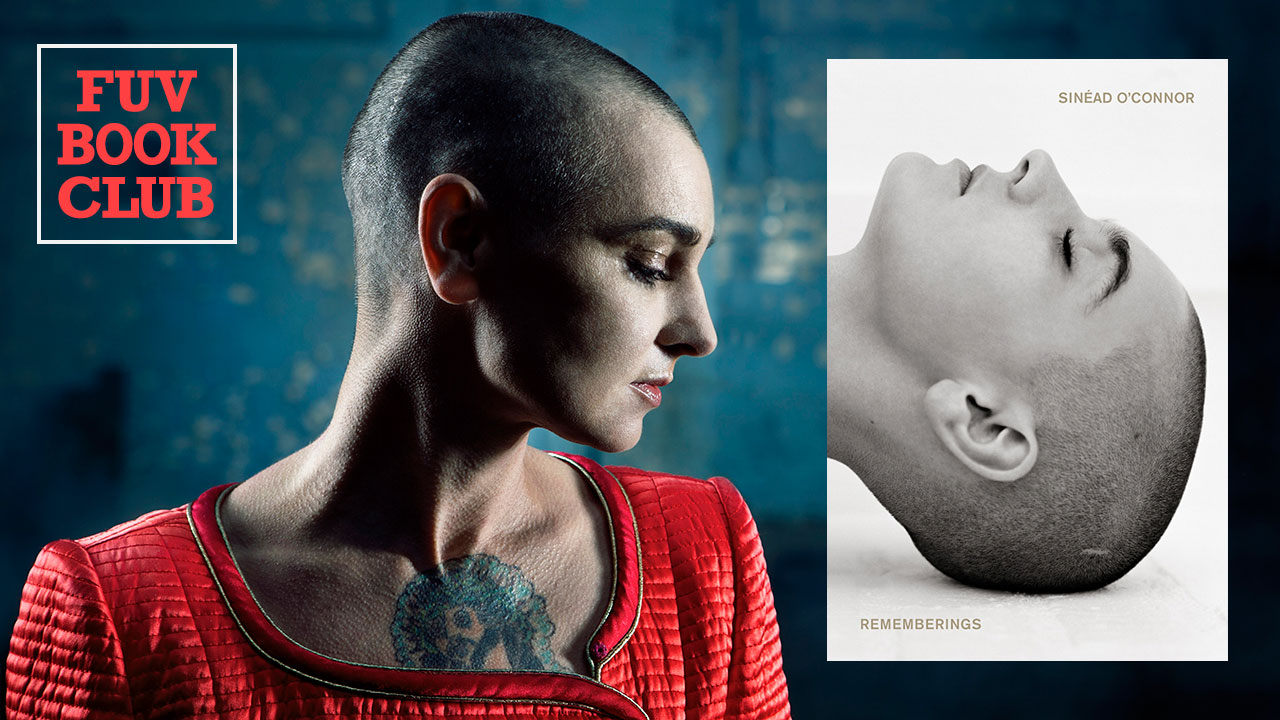 The "FUV Book Club" continues this month — and we're encouraging you to read along with us! Musicians turned literary authors have been releasing exceptional memoirs this year. Sinéad O'Connor's new memoir, Rememberings: Scenes From My Complicated Life, is smartly observant, sardonic, and often painfully honest as she reflects on her struggles and songwriting. In the player above, listen to O'Connor read an excerpt from Rememberings, courtesy of HMH Books, and below, Delphine Blue's review.
Sinéad O'Connor
Rememberings: Scenes From My Complicated Life
HMH Books
Elevator Pitch
The voice narrating Rememberings is so familiar — Sinéad Marie Bernadette O'Connor pulls no punches. You will recognize it in the storytelling on these pages if you are a fan of her songs. The Irish singer, songwriter, activist, Grammy winner, and mother continues to disturb and compel, sometimes deliberately and sometimes not.
Meet the Author
Everything is in this book: her difficult childhood, the Grammy nominations, and that infamous Saturday Night Live papal photo incident in 1992. Reading this book feels like you're sitting with Sinéad in her living room or at the local pub as she regales you in plain speech. There are tales of her record label's reaction to her pregnancy while she wrote, recorded and produced her debut album, The Lion and the Cobra, at the age of 21, and how she dealt with the audience's shocking reaction when she stepped onstage to sing at Bob Dylan's 30th anniversary concert at Madison Square Garden (not long after that SNL appearance). She also recalls her fans' reactions when she posted a cry for help on Facebook in 2016 while dealing with a bipolar episode at a motel in New Jersey.
The Hook
I remember holding O'Connor's debut album, The Lion and the Cobra, in my hands in 1987. I stared at the cover unendingly. Her delicate features beneath a bald crown disturbed me. Her soaring voice and allegorical lyrics compelled me. I mispronounced her name on the air the first time I played something from it!  In Rememberings, she shares her motives and perspective on the controversies that have attended her career.
Soundtrack
She discusses the recording of "Troy," the meaning of "Three Babies," why she sings a cover of Andrew Lloyd Webber and Tim Rice's "Don't Cry For Me Argentina," and who is the "John" in "John I Love You." I won't spoil the parts about Prince, Robbie Shakespeare, Lou Reed, and Anthony Kiedis. She also mentions Marianne Faithful's cover of Shel Silverstein's "The Ballad of Lucy Jordan" as a song she remembers as a child that her mother loved— but Sinéad would be happy "to never hear again."
Sidebar
O'Connor continues to be uncompromising and unapologetic on her journey of understanding self and exploring spirituality. This book won't change anyone's mind: If you love her you will love her more. If you don't, you'll no doubt be of the same opinion. But winning popularity contests has never been Sinéad's game.