Sharon Jones & The Dap-Kings: BRIC Celebrate Brooklyn! Festival 2016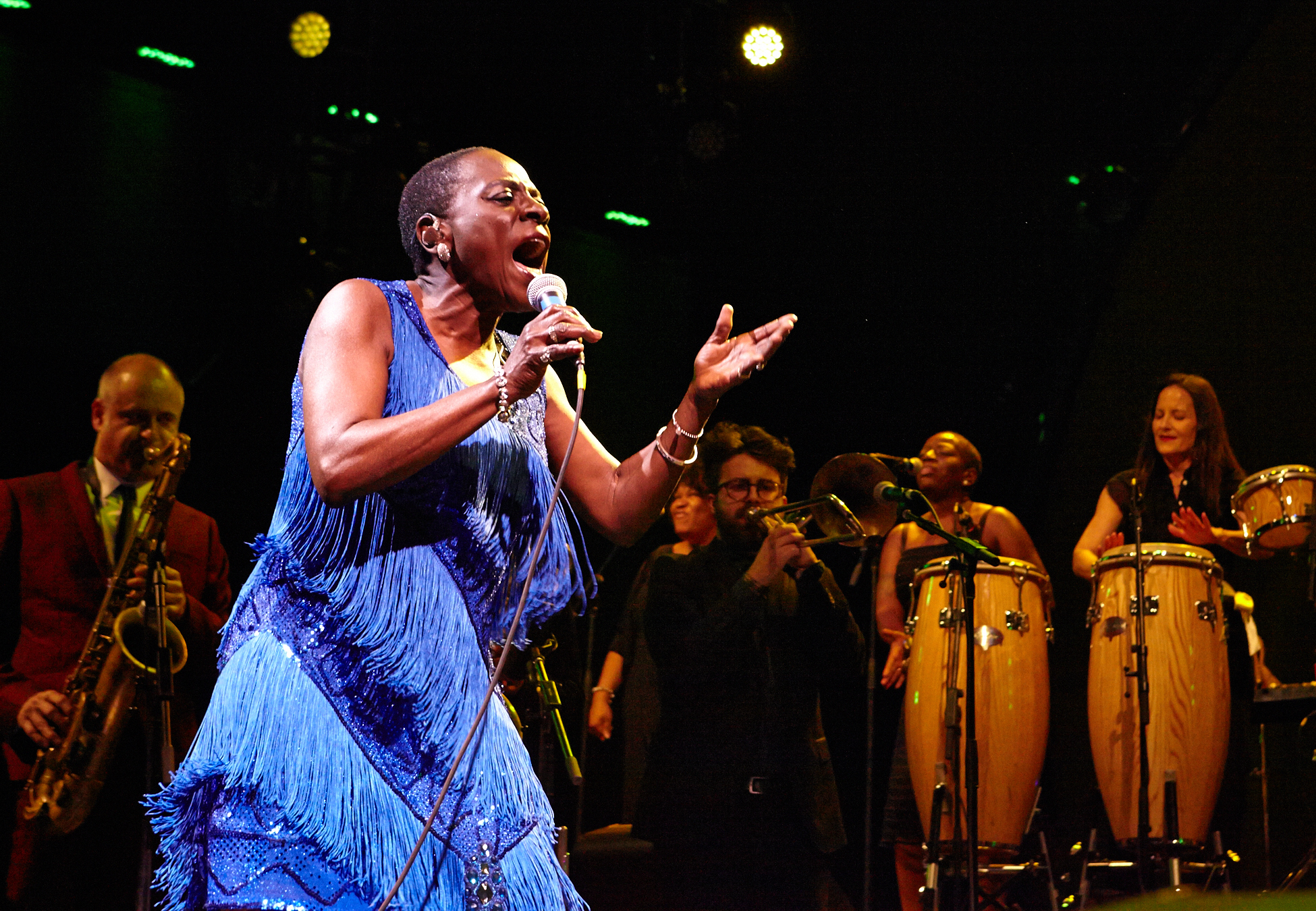 Prospect Park Bandshell in Brooklyn plays host to a diverse and mostly free annual summer music festival, loved by many for its picnic-friendly lawns and tree canopies, as well as stage front seating, great sound and sightlines. Partnering with BRIC's Celebrate Brooklyn! Festival, FUV has broadcasted shows from Prospect Park with Willie Nelson, The National, St. Vincent and others across the last five years, and so we were thrilled to help kick-off the 2016 season with a Brooklyn band near and dear to our hearts: Sharon Jones & The Dap-Kings.
The show started with a rousing and joyful noise as The Dap-Kings' Bosco Mann led some 20 horns, timpani, and more in a "Soul Fugue." Then with all of The Dap-Kings onstage, MC and guitarist Binky Griptite provided the customary fun and funky introduction, bringing out Sharon's backing singers Saun & Starr. The duo treated us to a few songs from their recent album, Look Closer, and then moved into position as The Dapettes.
With the introductory cry of "Miss...Sharon...Jones!" our star of the night came dancing onstage to "Stranger To My Happiness" from the band's last album of originals, Give The People What They Want. Another show highlight from that Grammy-nominated album was "Retreat!" and the set included older favorites too, including "Natural Born Lover," "100 Days, 100 Nights," and even a line or two of the Shirley Bassey-sung classic "Goldfinger."
Sharon has been battling cancer over the past couple of years, which is documented in the recent Barbara Kopple film, "Miss Sharon Jones!" The film trailer was played at the end of the show, spreading the good news that a widespread theatrical release is slated for this summer along with a Starz premiere.
There were candid references to Sharon's health throughout the show, as she explained some of the effects of chemo on her dancing, although you would never know it by watching her. At the end of the set, Griptite accurately reminded us that "you just got your ass kicked by a 60-year-old cancer patient" before Sharon burst back on stage for an encore.
We were reminded once again of the indomitable spirit of the mighty Sharon Jones: inspirational, uplifting, and able to leave everyone sweating and smiling. There couldn't be a better way to start the summer.
Setlist
Soul Fugue
Intro (The Dap-Kings)
Hot Shot (Saun & Starr)
Gonna Make Time (Saun & Starr)
In The Night (Saun & Starr)
Stranger To My Happiness
People Don't Get What They Deserve
Slow Down, Love
He Said I Can
Road of Brokenhearted Men/When The Saints Go Marching In
Retreat!
Giving Up
Natural Born Lover
Got To Be The Way It Is
When You Love Me
My Man Is A Mean Man
100 Days, 100 Nights
Get Up and Get Out
[recorded: 6/8/16]
Flickr Gallery