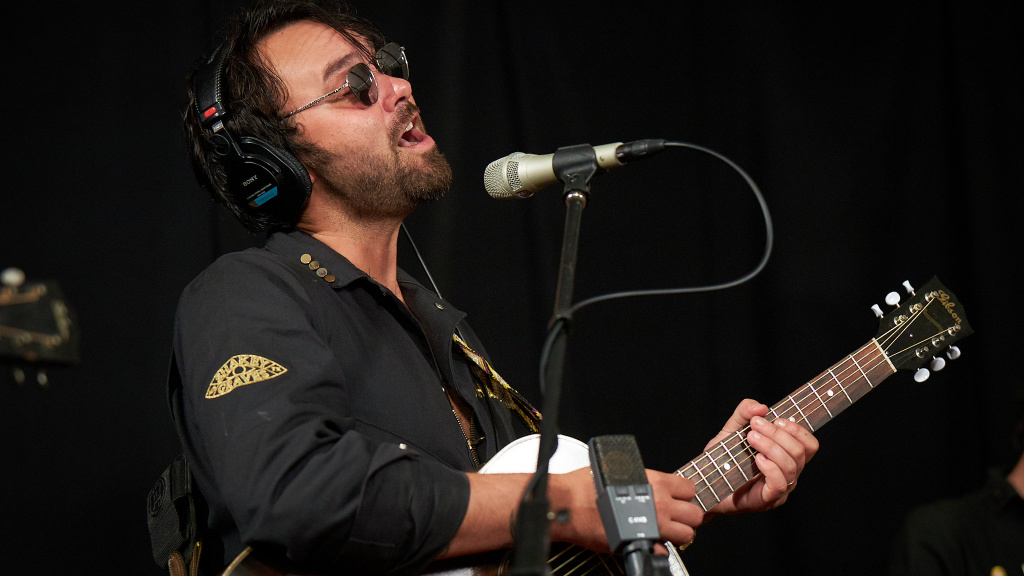 Shakey Graves is the moniker of Austin musician Alejandro Rose-Garcia—a cultural fixture so locally beloved that in 2012 the city's then-mayor dubbed February 9 as Shakey Graves Day.
In September, the artist released his fourth studio album, Movie of the Week, an LP with rather unconventional origins: It began with a series of demos Rose-Garcia created as a film score for a project that didn't pan out. Rather than scrap the song ideas, however, he and his band ran with their melodies, embracing a deeply exploratory process that resulted in hundreds of different recordings as they made it their mission to write a soundtrack for a movie that didn't actually exist.
While just 13 tracks made it onto the physical album (the "director's cut"), others can be unearthed and enjoyed using a custom tool on Shakey Graves' website, where curious and creative fans have the opportunity to make their own Movie of the Week.
The Shakey Graves band—dressed in matching jumpsuits—swung by Studio A to play a few new tracks, and Rose-Garcia shared some insights on the new record, the writing process and celebrating his namesake holiday.
[Recorded: 8/15/23; Engineered by Jim O'Hara, Allen Wang, Erin Merriman; produced by Meghan Offtermatt]