Recap: Holiday Cheer For FUV 2014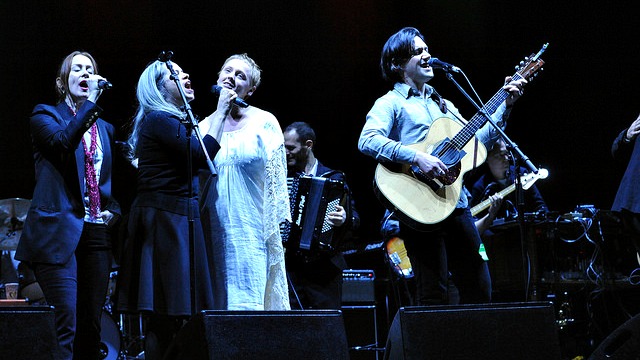 The warmth and exuberance that filled the Beacon Theatre for our sold-out 2014 benefit concert, Holiday Cheer for FUV, was an oasis of peace in unsettled times. The stormy winds of change were blowing just beyond the doors (and an actual Nor'easter was charging up the coast), but as led by Conor Oberst, his band, and observant storytellers like Natalie Merchant, Suzanne Vega, Laura Marling, The Lone Bellow, The Felice Brothers and Jonathan Wilson, the nearly three-hour concert was a robust celebration of the tenacious human spirit.
Ushered onstage by FUV's program director (and fearless leader) Rita Houston, Conor Oberst and his band — Jonathan Wilson, Michael Williams (in resplendent floppy black hat) and Nate Walcott — opened with the blistering "Lenders in the Temple" from Oberst's 2008 self-titled album, a sharp-eyed song of perplexed discontent. That yearning and questioning continued with The Lone Bellow's taut set, introduced by FUV's morning man Corny O'Connell. In a mere three songs, all drawn from the trio's forthcoming album Then Came The Morning, The Lone Bellow's Zach Williams, Kanene Donehey and Brian Elmquist proved why they are such a mighty force of nature. Slipping from the keening "Then Came The Morning" to a brassy "Cold As It Is," then driving everything home with the tender, hymn-like "Watch Over Us," The Lone Bellow transformed the spacious Beacon Theatre into a rousing revival meeting.
The Alternate Side's Alisa Ali introduced three-time Mercury Prize nominee Laura Marling, angelic in flowing white, whose ferocious two-song set was as striking and spare as her close-cropped, Jean Seberg haircut. Armed with just an acoustic guitar and her determined and disarming confessions, Marling delivered "Devil's Spoke," from 2010's I Speak Because I Can with unreserved intensity. She also played "Strange," a brand new song that marvels at a relationship with doubt and pleasure, which will appear on her forthcoming album, Short Movie.
FUV's evening host Darren DeVivo guided the The Felice Brothers to the stage, and the quintet's good-natured, rambling opener "Meadow of a Dream," from their 2014 album Favorite Waitress, brought a summertime serenity to the stage, as easygoing as the cinematically charismatic Butch Cassidy and the Sundance Kid referenced in the song. The Felice Brothers have been supporting Conor Oberst on tour this fall, and Oberst and trumpeter Nate Walcott joined the guys for "Wonderful Life," a hazy song of post-coital contemplation with more movie characters, Thelma and Louise, speeding past to a fateful destiny. The Catskills band saw out their sincere set with "Lion" and "Take This Bread" with serenades of scratchy fiddle, the sigh of the accordion, jubilant handclaps and affable grace. By the time The Felice Brothers loped offstage, Holiday Cheer had been transformed into a steamy July hootenanny.
After the interval, FUV afternoon host Dennis Elsas kicked off the second half of Holiday Cheer with the observation that few songwriters had provided a "soundtrack to New York City" as profoundly as Suzanne Vega. A petite powerhouse in a black jacket, t-shirt, trousers and Chuck Taylor high-tops, Vega took command with two beautiful songs from her 2014 release Tales from the Realm of the Queen of the Pentacles, accompanied by album producer and co-writer Gerry Leonard on guitar.
Explaining that "Horizon (There Is A Road)" was a song about "living by the principle of love" written for the late Václav Havel, the celebrated activist, humanist, poet, playwright and former president of the Czech Republic, Vega didn't need to point out the song's relevance during this tumultuous week in New York. As an empathetic observer of this city's overlooked and forsaken inhabitants, Vega's quiet, crystal-clear vocals cut a defiant path of fortitude. That same beneficence and perspicacity fueled "Jacob and the Angel," which Vega prefaced by saying, "There are times in our life when we are wrestling with something ... until we see the light."
Traveling via songwriter from gritty Manhattan to balmy Southern California, FUV Sunday Breakfast host John Platt introduced Laurel Canyon's Jonathan Wilson, not only Conor Oberst's bandmate this evening, but a solo performer (and producer of Oberst's new album, Upside Down Mountain). Appearing as if he'd stumbled from a festival campground in the early '70s, with scruffy beard, kaleidoscopic shirt and a baseball cap pushed backwards, Wilson and the band, including Walcott on muted horn, unleashed a psychedelic 12-minute dreamscape of a jam called "Valley of the Silver Moon" from Wilson's 2011 debut album, Gentle Spirit. It was a mystical journey, sprawling and ecstatic, punctuated by the lanky singer's husky voice and dexterous, gnarled guitarwork.
As a former Woodstock area resident herself, FUV midday announcer Carmel Holt took particular pride in bringing fellow upstater Natalie Merchant to the stage. All evening long, an overall mood of compassion and caretaking had graced the spirit of the show, and Merchant deftly brought that theme home with her set. She began with the unsentimental "Motherland," the title track of her third album, released 13 years ago. The slyly-rendered "Texas" followed, from her 2014 self-titled record, musing upon a spoiled "golden child." A maternal, strong figure in a black blouse and skirt, her silvery mane of hair cascading down her back like a forest queen, Merchant engaged both musicians and audience in gentle conversation, coaxing us to a more thoughtful place.
She invited Oberst to the stage and revealed that her 11-year-old daughter, who had gone to a conservatory that had "destroyed her love of music," had her artistic flame reignited by Oberst's own songwriting — which made Oberst beam shyly. Merchant, Oberst and fiddler Greg Farley of The Felice Brothers then played "Weeping Pilgrim" together, a traditional song found on Merchant's 2003 acoustic album of covers, The House Carpenter's Daughter. She joyfully concluded with one of the most luminous songs ever written about thankfulness, the sweet "Kind and Generous," from 1998's Ophelia. As she departed the stage to a standing ovation (punctuated by cries of "I love you, Natalie!"), Merchant thanked FUV and admitted that although she could only get the station on the radio "up as far as Newburgh when I'm driving back from the airport," she enjoyed (like a lot of FUV's far-flung listeners) streaming us online.
The man of the night, Conor Oberst, was reintroduced by Rita Houston and settled in for a muscular set to close out the night. He powerfully began with a Bright Eyes song, "Landlocked Blues," from 2005's I'm Wide Awake, It's Morning. Although he made no other comment about current events when chatting with the crowd, Oberst notably tweaked the lyrics of the first line of the song, adding the word "officer" to the opening salvo, "if you walk away, I'll walk away," provoking some in the audience to cheer while others dissented. A man of zealous focus and magnetism, Oberst principally leaned on songs from Upside Down Mountain like "Hundreds of Ways," "Zigzagging Toward The Light" and "Artifact #1," sauntering across the stage like a guitar-wielding preacher, confessing his own sorrows and sins.
Thanking the radio station and all of the artists who had joined him on stage — even admitting that it was the first time he'd ever seen Marling play live — Oberst introduced Vega back to the stage as one of his "personal favorite songwriters." The two shared a slinky duet on Vega's "Headshots" from Nine Objects of Desire. Against the clock and truncating his set, Oberst called The Felice Brothers back—only to find that they were temporarily missing, wandering somewhere in the venue. Laughing, he pressed on with a cover of John Prine's "Pretty Good" without his friends, the song growing in scope and richness as each of The Felice Brothers breathlessly hurried back to the stage, a little late for their cue, but seamlessly jumping back into the fray.
Holiday Cheer for FUV then ambitiously closed with John Fogarty's anthem "Have You Ever Seen The Rain." The song, which appeared on Creedence Clearwater Revival's 1970 album Pendulum, bridged both the personal and political for its songwriter during a time of turmoil and soul-searching in this country and in the band. The depth of its lyrics felt especially poignant as Oberst, flanked by the chorus and band of Merchant, Vega, Marling, The Lone Bellow, The Felice Brothers, Wilson, Williams and Walcott, compelled every single person in the audience to sing along, raising the rafters of the Beacon Theatre with a sentiment as powerful today as it was almost 45 years ago.
It was a brilliant evening for WFUV, and we thank everyone who made our 2014 benefit concert such a beautiful, spirited, thundering success.
We owe all of the musicians a special thanks ... and every single person who bought a ticket to support this radio station. You are our heroes.
Check out all of the photos below from our busy Flickr stream and hear highlights from the show on FUV later this month. The concert will be broadcast on WFUV, 90.7FM and streaming, during Christmas week: Monday, December 22, at noon and Thursday, December 25, at 6p.m. EST
We so appreciate our listeners' support of Holiday Cheer for FUV by joining us or following the evening via WFUV.org, our Facebook page, Twitter stream and Instagram updates.
Set List:
Conor Oberst
Lenders in the Temple
The Lone Bellow
Then Came the Morning
Cold As It Is
Watch Over Us
Laura Marling
Devil's Spoke
Strange (new song)
The Felice Brothers
Meadow of a Dream
Wonderful Life (with Conor Oberst and Nate Wolcott on trumpet)
Lion
Take This Bread
Suzanne Vega
Horizon (There Is a Road)
Jacob and the Angel
Jonathan Wilson
Valley of the Silver Moon
Natalie Merchant
Motherland
Texas
Weeping Pilgrim (with Conor Oberst and Greg Farley of The Felice Brothers on fiddle)
Kind & Generous
Conor Oberst
Land Locked Blues
Hundreds of Ways
Zigzagging Toward the Light
Artifact #1
Headshots ( a duet with Suzanne Vega on her own song)
Pretty Good (a John Prine cover with The Felice Brothers)

Finale (with everyone)
Have You Ever Seen the Rain? (a John Fogerty/Creedence Clearwater Revival cover)