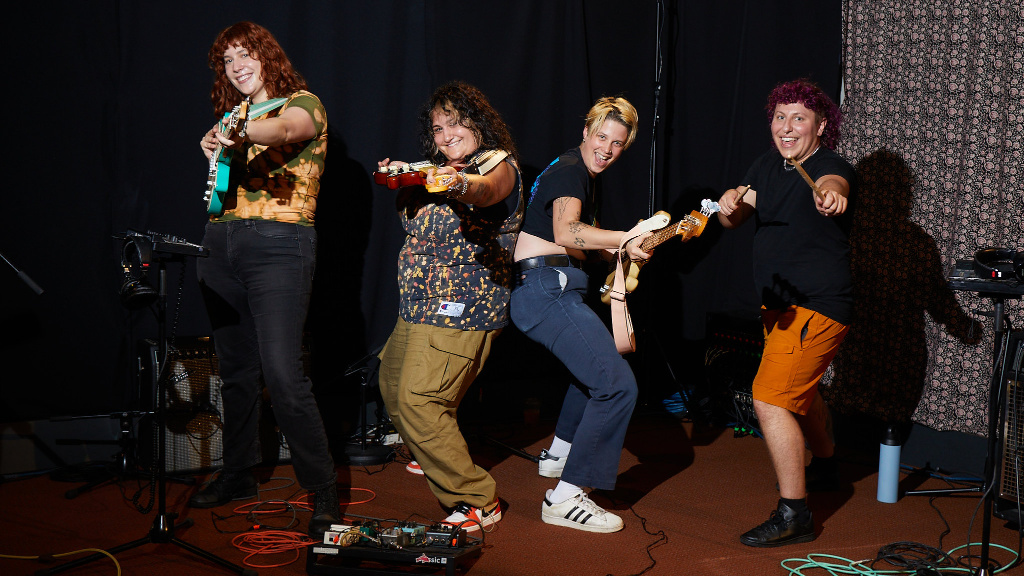 "The Clutch," the blistering first single released from Palehound's fourth album, Eye on the Bat, might claim the most arresting opening salvo of the year:
I didn't wanna see that bloody hand
On your stomach that night
Brutal, honest, funny, heartbreaking — all describe not only "The Clutch," but the whole of El Kempner's songwriting on this new record. In March 2020, Kempner watched their life devolve into chaos; not only had an important tour derailed due to Covid, but a longtime relationship collapsed, leaving them grieving and adrift. But out of that personal storm came shifts in their songwriting. They began writing lyrics that tumbled into autobiographical frankness, woven with wit and heart. Already a phenomenal guitarist, Kempner believes they got even better when they began teaching students during the pandemic.
In their first FUV Live session, El and their bandmates — bassist (and best friend) Larz Broman drummer Jamie Pompei, and guitarist Beck Zegans — played a set from Eye On the Bat that included the title track (and El's mantra of perseverance).
I also chatted with El about that rocky (and revelatory) personal road to the new album and the amazing lengths they went to for the hilarious video for "My Evil," which brilliantly recreates the opening sequence of HBO's "The Sopranos," frame by frame.
[Recorded: 9/14/23; Engineered by Jim O'Hara, Allen Wang, Lauryn Williams; Produced by Meghan Offtermatt, Simone Yañez]
Flickr Gallery