Newport Folk Festival 2012: Day 2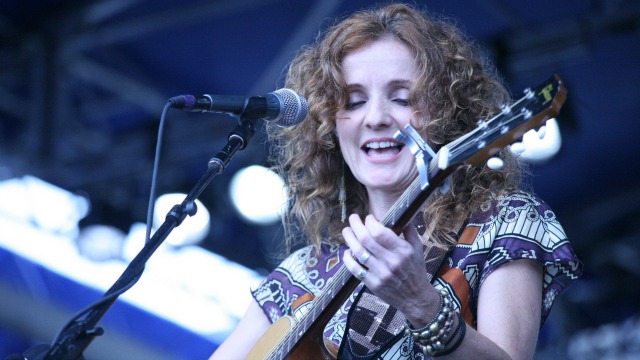 Day 2 at Newport ended with the song "I'm Amazed", and that's also my reaction to the amount of rain that fell to end the day (although I definitely used different words at the time). Lightning and a serious downpour caused the closing My Morning Jacket set to be cut short, but I have to say, lightning may be the perfect lighting for MMJ. I wonder how far Jim James' voice traveled out over the harbor... Hopefully Levon heard his shout out on "It Makes No Difference"!
Brittany Howard of Alabama Shakes and Patty Griffin (pictured above) could probably be heard for miles too. The Shakes delivered a signature non-stop set with live faves "Makin' Me Itch" and "Heavy Chevy", and Patty Griffin nervously stepped onto the main Fort stage solo, but really had nothing to worry about. "Flaming Red", "Heavenly Day", a few new songs, a request for a wedding DJ... and all with that voice.   
I wasn't able to wander away from the Fort stage much, but the couple of City and Colour songs I caught over at the Harbor stage were a definite highlight (and mini meditation) for me. After a crazy line-up of Robert Ellis/Jonny Corndawg/Deer Tick/Sharon Van Etten/Iron & Wine, the Guthrie family took over (and filled) the Quad stage. That family spirit filled the Fort stage too when the Preservation Hall Jazz Band got us all swinging. Blood relation or not—they're musical family—and they dedicated a song to the late "Uncle" Lionel Batiste in case anyone needed proof.
I'm hoping for more spirit and music than rain and lightning tomorrow, but we'll see what the weather gods bring! FUV's Newport Folk Festival coverage starts at Noon and runs 'til 8pm, and Of Monsters and Men, The Head and the Heart, New Multitudes, Charles Bradley, Conor Oberst, and Jackson Browne are all scheduled to perform. In the meantime, check out more pre-rain pics from Day 2 below.