New FUV Faves: Week of September 12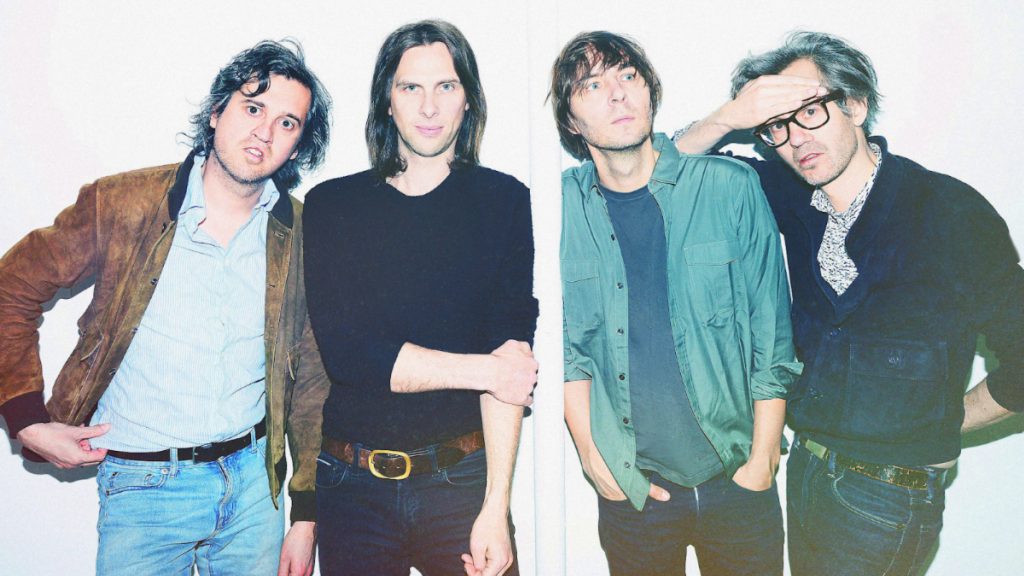 A quick snapshot of some of the new releases you'll be hearing on WFUV this week:
Beabadoobee, "The Perfect Pair"
Beatopia, the second album from Londoner Beatrice Kristi Laus, who records as beabadoobee, has been a summertime soundtrack, full of terrific singles, including "Talk" and "10:36." As we swing to the fall, there's another just-released gem from it, "The Perfect Pair," a more contemplative song brushed with a sultry bossa nova vibe and Laus's lilting vocal, navigating through heartbreak. Laus, a violinist and self-taught guitarist (yes, via YouTube tutorials), calls Beatopia a far better expression of herself than the '90s-reverent first step of her 2020 debut album, Fake It Flowers.
Working with fellow guitarist Jacob Bugden and other bandmates, Laus holed up in a Wandsworth studio in southwest London and filtered through disparate influences in the evolution of Beatopia, from the Chemical Brothers to Cibo Matto. "I've honestly never spent that long working on something," she told The Face. "We just had so much time, so we were like: let's just take the p**s and make it everything that we want in an album."  After postponing her North American tour earlier this year, beabadoobee will be at Brooklyn Steel on October 28.
Michigander, "Stay Out of It"
Nashville-based Michigander is bespectacled indie rocker Jason Singer's alter ego — but yes, he's originally from Kalamazoo, Michigan. Singer has released a string of EPs and his fourth, It Will Never Be The Same, drops on October 7.  The EP, produced by Tony Hoffer (Beck, Phoenix, M83), includes a collaboration with Manchester Orchestra ("In My Head") and this current fave, "Stay Out of It," which drapes Singer's reedy vocals in a catchy, ebullient chorus and dense, dream-pop effects. First launching Michigander as a solo project, Singer has since evolved the project as a band (and even opened for Senator Bernie Sanders at a 2020 campaign event).
"I wrote these songs about the feelings I've had over the last two years," Singer explains in a press release for the new EP. "Socially, politically, and economically, things are different, and on a more personal level, my life will never be what it was. I got married, I moved to a new city and state, and I turned 30. I think there are two ways to look at seasons of change like these. You can either be afraid, which usually results in hostility and frustration, or you can accept the situation for what it is and adapt and grow. Either option is very hard, but I like to think I've chosen the latter."
Michigander lands at Bowery Ballroom on November 4.
MUNA, "What I Want"
If you caught our FUV Live broadcast of Phoebe Bridgers and MUNA from Forest Hills Stadium back on June 16, you know that the Los Angeles trio of Katie Gavin (she/they), Naomi McPherson (they/them), and Josette Maskin (she/they) is fantastic live. MUNA, who survived a major label culling following their second album, Saves The World, released their third, self-titled album on Phoebe Bridgers' Saddest Factory Records back in June too and found their career trajectory taking off. The latest single from that lucky album No. 3, "What I Want," is a synth-pop confection with deep dance grooves.
Queer pride is woven into MUNA's mission, but there's been a real shift in the group's overall perspective too. "When we started as a band, we called ourselves 'dark pop' and there was, and there is, a lot of darkness in the music," Gavin explained to Notion. "That was the main association with MUNA, but it's been really interesting in this new chapter seeing our community, and the people that are using our music, associating us more and more with joy and lightness and moments of feeling free." In addition, "What I Want" is co-written with Leland, who has written with Selena Gomez, BTS, and Troye Sivan, as well as composing for "RuPaul's Drag Race."
MUNA will be in residence at Irving Plaza from September 30-October 2. Revisit their 2016 FUV Live session with host Alisa Ali too.
Phoenix featuring Ezra Koenig, "Tonight"
Were you lucky enough to catch indie-pop maestros Phoenix at Radio City Music Hall on September 9? Then you saw a live version of "Tonight," the jubilant new single from the band's forthcoming seventh album Alpha Zulu (out November 4) which features, on the single itself, Vampire Weekend's Ezra Koenig (the very first Phoenix duet with a guest singer). As punchy and carefree as "Tonight" sounds though, the lyrics do wrestle with regret ("I've played all the games/And lost almost everything").
"When we started making music, the record company was always pushing for remixes, which felt like the most unnatural way to make something interesting," Thomas Mars told GQ. "It's hard to undo all these things that people pushed on us, but when we did it with Ezra, it was exactly what we had in mind — the satisfaction of having a vision for the whole song, and hearing it done even better than you thought."
Koenig concurs. "To me, the song sounded like classic Phoenix, especially the pre-chorus, mixed with some of the Cars or the happy, fun side of 80s post-punk," he told GQ over email. "They seemed to like when I went into a bit of 'anxious new wave' territory with my voice."
It's hard to believe Phoenix is a quarter century old: the quartet emerged from Versailles in the '90s and released their debut album, United, in 2000. There are elements of that lean, effervescent first album filtering through  Alpha Zulu, which follows their 2017 Italian love letter, Ti Amo (which spurred on a fantastic multi-day residency at Brooklyn Steel in 2018). Alpha Zulu is also their first full release since the tragic 2019 death of Philippe Zdar, their longtime collaborator and friend. The pandemic also split the band — Mars is based in New York and the rest of the band in Paris — so coming together to record in a private studio within the Musée des Arts Décoratifs, a wing inside of the Louvre, was invigorating for the group. "I was a bit afraid, when there was too much beauty around us, that to create something could be a bit hard," said guitarist Christian Mazzalai in a press release. "But it was the opposite: we couldn't stop producing music. In these first 10 days, we wrote almost all of the album."
Rhett Miller, "Go Through You"
Longtime FUV pal, Rhett Miller, has been the lead singer and rhythm guitarist for Old 97s since 1992, but he's also released a string of solo albums on the side since 2002. The song "Go Through You" can be found on his latest, The Misfit, released September 16 on ATO Records. The 11-track album was co-written and produced by Miller's Hudson Valley, New York neighbor Sam Cohen (Sharon Van Etten, Kevin Morby, Danger Mouse) — the pair have been working together since Miller's 2018 release, The Messenger.
"Every songwriter has a favorite skin they inhabit, a story they tell over and over again," says Miller in a statement. "For decades I've been writing from the perspective of a sad sack loser, a 'broken guy.' He isn't who I am in real life, but for whatever reason when I sit down to write a song I often become him, picking at old wounds, bemoaning my perceived victimization. The funny thing is that he's, well, funny. I wouldn't want to be the sad clown in real life, but thanks to songs like 'Go Through You,' I don't have to."
Miller plays a solo show at the Towne Crier in Beacon, New York on November 5.