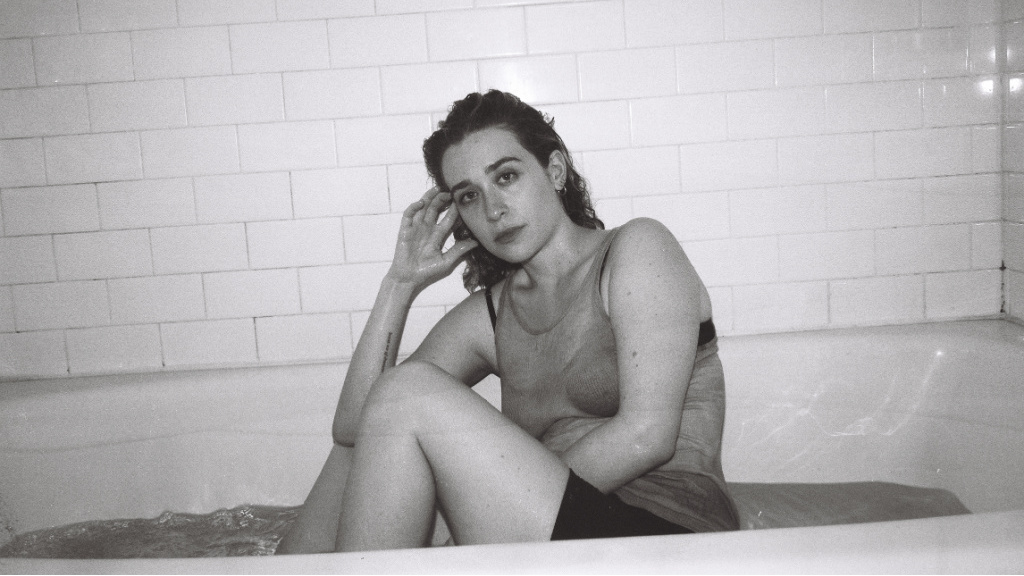 A quick rundown of some of the new songs you'll be hearing this week:
Blondshell, "Joiner"
Los Angeles-based Sabrina Teitelbaum, who records as Blondshell, will release her self-titled debut album on April 7 via Partisan. However, over the last year, she's been releasing an array of singles, including "Olympus" and "Kiss City," building an ever-growing fan base. (She recently toured with Suki Waterhouse.)
Teitelbaum grew up in midtown Manhattan, raised mostly by her single dad, and cites the Rolling Stones and The National — as well as a fake ID which got her into a lot of venues to see and play music — as among her major early influences. She briefly attended the University of Southern California's pop program, dropping out after two years, but she emerged with a foundation on classic and jazz theory, as well as harmonic arrangements. She briefly recorded as BAUM, which had a soul and pop vibe.
Since 2020 and the start of pandemic, Teitelbaum immersed herself down a different path, exploring the music of Hole and Nirvana, reading Rebecca Solnit and Rachel Cusk, playing a lot of guitar, navigating anger, and getting sober. Her alter ego of Blondshell is an epiphany — as are songs like "Joiner" and her debut album.
"The lyrics are really vulnerable and they were scary to say," says Teitelbaum in a statement. "I feel like the shredding guitars are a protective shell."
Blondshell heads to Austin this March for SXSW.
Cuco, "Best Disaster"
If you hear a symmetry between Cuco's latest single, "Best Disaster," and the psychedelic haze of Tame Impala and Pond, you're not far off: this gauzy daydream of a single was co-produced by multiple Grammy winner Alex Pasco (Adele, Beck, Foo Fighters) along with Pond's Nick Allbrook and James Ireland. The Cuco-in-space video was directed and animated by Eric Foster with illustrations by Jake Foreman.
"Best Disaster" is the first taste of new music in 2023 from Los Angeles-based Cuco, who released Fantasy Getaway in 2022, his second album, which followed his 2019 debut, Para Mí.
Ahead, Cuco kicks off his "Interdimensional Tour" in San Francisco on February 27, making its way to Webster Hall on March 30.
Natalie Merchant featuring Abena Koomson-Davis, "Come On, Aphrodite"
It has been nearly a decade since Natalie Merchant has released a new album — but fans of the singer will be very happy to hear that she will release one at long last: Keep Your Courage, due on April 14 via Nonesuch. The first single, "Come On, Aphrodite" features Abena Koomson-Davis, musical director of the Resistance Revival Chorus and, in Natalie's words, is an "invocation to the goddess of love and passion."
There's a lot of Natalie live too. She plays the "Music of Paul McCartney" tribute show at Carnegie Hall on March 15 (as well as a rehearsal show at City Winery on March 14) and begins her own tour with two sold-out shows at Poughkeepsie's Bardovan Opera House on April 14 and 15. She makes her way to New York City's Alice Tully Hall at Lincoln Center on June 2 and 3.
The Revivalists, "Kid"
Although based in New Orleans, The Revivalists are led by two New Jersey natives: singer and guitarist David Shaw and guitarist Zack Feinberg. The octet's effusive new single "Kid," no relation to the Pretenders song, comes from the Revivalists' fifth album, Pour It Out Into The Night, released on June 2.
"'Kid' is about capturing the essence of life," say Shaw in a press release. "We all go through ups and downs. Sometimes, we don't believe in ourselves. We've got skeletons in the closet trying to drag us down. But you've got to believe in yourself. You've just got to live for the spirit. Nothing good ever comes easy. If you don't have hope, what do you have?"
Continues Feinberg: "David and I wrote the bulk of 'Kid' on January 6, 2021. My wife was one month pregnant with our twins and also we were getting real-time updates on the insurrection at the Capitol. There was a lot of intense energy swirling around us that day as we were trying to stay focused on this exciting, beautiful thing we were channeling."
The Revivalists have lined up an array of spring shows, including the New Orleans Jazz & Heritage Festival from April 28-30. This summer, they've booked a co-headlining tours with The Head and the Heart and Band of Horses; they'll play a benefit concert for BRIC Celebrate Brooklyn! in Prospect Park with Band of Horses and The Heavy Heavy on August 10.
Wednesday, "Chosen to Deserve"
Despite their moniker, Asheville's Wednesday have nothing to do with the Addams Family goth girl with attitude and pigtails — although there's definitely a wistful, emo vibe to Karly Hartzman's songs and the yearning twang of her delivery. And there's that evocative pedal steel that drives "Chosen to Deserve," found on the North Carolina quartet's third album, Rat Saw God, released April 7 on Dead Oceans.
As Hartzman explains in a statement: "'Chosen to Deserve' is a writing exercise I gave myself to try to recreate the iconic song by Drive-By Truckers' 'Let There Be Rock,' but with my own experiences from growing up and f**king around and getting into stupid s**t."
The band has a slew of tour dates ahead — including one supporting Drive-By Truckers on April 1 in Athens, Georgia. Wednesday play Music Hall of Williamsburg with opener Tenci on the eve of summer, June 20.