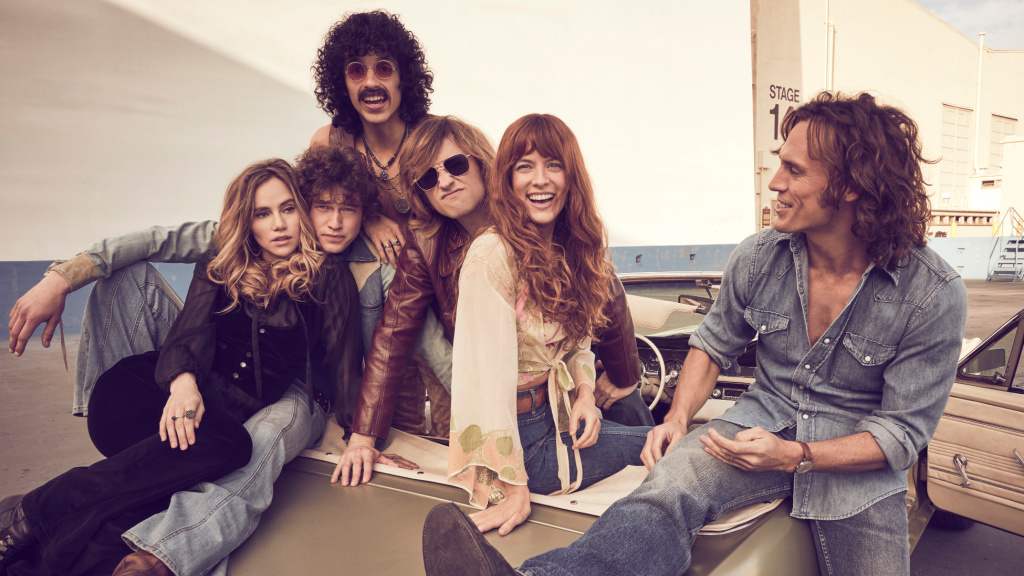 A brief look at some of the new songs you'll hear this week on WFUV.
Daisy Jones and the Six, "Let Me Down Easy"
Whether you're a fan of Taylor Jenkins Reid's novel or the Amazon Prime series, "Daisy Jones and the Six," a faux fantasy of a Fleetwood Mac-like California band in the '70s, has actors and actor-musicians with formidable singing chops — as evidenced on this single. Riley Keough, daughter of Lisa Marie Presley and Danny Keough and granddaughter of Elvis and Priscilla Presley, plays the tempestuous lead character of superstar songwriter Daisy Jones — costumed in gauzy Stevie Nicks frocks should anyone miss the Mac parallels. British actor Sam Claflin plays Billy Dunne, her Lindsey Buckingham-ish counterpart. Suki Waterhouse, who released her own album on Sub Pop last year, I Can't Let Go, is the keyboardist in this made-for-TV band.
The songwriters of the galloping, mid-tempo rocker "Let Me Down Easy" are Grammy-winning multi-instrumentalist Blake Mills, Z Berg, Ali Tamposi, and Maroon 5's James Valentine. Rumours abound (get it?) that Daisy Jones and the Six, who went through an intensive band boot camp together, might eventually tour behind their album, Aurora.
Dave Matthews Band, "Monsters"
On May 19, the group will release its tenth album, Walk Around the Moon, its first in four years. "Monsters," the second single, is a wistful, pretty track from Matthews that dwells on the relentless passage of time. Evolving during much of the lockdown phase of the pandemic, Walk Around the Moon was primarily recorded with producer Rob Evans, save "Monsters," produced by another frequent DMB collaborator, John Alagia (John Mayer, Liz Phair).
The Dave Matthews Band hits the road this spring and summer, headlining Forest Hills Stadium on June 9.
Florence + The Machine, "Just a Girl"
Television looms large in our "New FUV Faves" this week — in addition to "Daisy Jones and the Six," this slow churning, slightly sinister Florence + The Machine cover of No Doubt's 1995 hit "Just a Girl," was used in the preview trailer for season two of Showtime's "Yellowjackets."
As for original songs, Florence Welch and her cohorts also have a new original single, "Mermaids," released last week, a song, says Florence, that evolved from the ecosystem of 2022's Dance Fever.
Foo Fighters, "Rescued"
Foo Fighters have returned with a new song, just over a year since the death of drummer Taylor Hawkins on March 25, 2022. "Rescued," steered by Grohl's shredded, grief-stricken shout of a vocal, will appear on the group's 11th album, But Here We Are on June 2, released on Dave Grohl's imprint, Roswell Records, and RCA.
According to a press release, But Here We Are, produced by Greg Kurstin and the Foos, is a "brutally honest and emotionally raw response to everything Foo Fighters endured over the last year" and the searing intensity of "Rescued" speaks to that bereavement. It's not clear who is playing drums on this track, harnessing the void left by Hawkins' death, but it is likely Grohl himself.
Foo Fighters headline the sold out Sea.Hear.Now in Asbury Park on Sunday, September 17, with support from Weezer, Mt. Joy, Rebelution, and more.
Jorja Smith, "Try Me"
Nominated for a Mercury Prize for her 2018 debut album, Lost & Found, Jorja Smith returns with a new single, "Try Me," now available on her own label, FAMM. It's a moody, lush swirl of a song, with a percussive undertow that propels it with jittery force, that was produced by the French production duo DAMEDAME.
Smith describes the song, and her own return since the release of her 2021 EP Be Right Back, as "Putting yourself out there, in front of a world that has many opinions, as it only ever used to be me really being my own critic." The West Midlands-born, London-based singer and songwriter says that the pandemic afforded her the opportunity to take stock of her own direction as a musician. 
"I like this world that I've just come into. And I'm still figuring things out. Always figuring things out," she says. "This is the first time I'm putting stuff out there that I can connect with right now."
In 2020, Smith also covered St. Germain's "Rose Rouge" for Blue Note Re:Imagined and she also collaborated with the London collective Ezra Collective on their 2019 single, "Reason in Disguise."
MUNA, "One That Got Away"
The trio played both weekends of Coachella and performed this new single, which was released by Phoebe Bridgers' Saddest Factory label after MUNA premiered it via their April 14 set (they were also joined by boygenius for "Silk Chiffon").
"['One That Got Away' is] a bit vengeful and mean, but also fun," explained MUNA's Katie Gavin in a press release. "Once I sent Naomi [McPherson] and Jo [Maskin] the demo they really took the cockiness in the lyric and vocal performance and carried it to the extreme with the production of the track. It became this super bombastic, Janet Jackson–era track. 
MUNA plays Terminal 5 next month with support from Mercury Prize-nominated hard rockers Nova Twins on May 8 and Los Angeles singer and songwriter Lou Roy on May 9.
Thee Sacred Souls, "Running Away"
Thee Sacred Souls made a big splash last year with their self-titled debut and their single, "Love is the Way." Now the San Diego-based trio returns with "Running Away," backed with "Love Comes Easy," recorded at the Daptone label's Riverside studio with producer Gabe Roth (aka Bosco Mann, co-founder of Daptone Records).
Thee Sacred Souls — Sal Samano, Alex Garcia, and Josh Lane — sold out their January show at Brooklyn Steel and have a spring and summer of festivals ahead, including Bonnaroo and Lollapalooza. They'll also open for Portugal. The Man at Radio City Music Hall on July 27.