Nathaniel Rateliff: Holiday Cheer for FUV 2019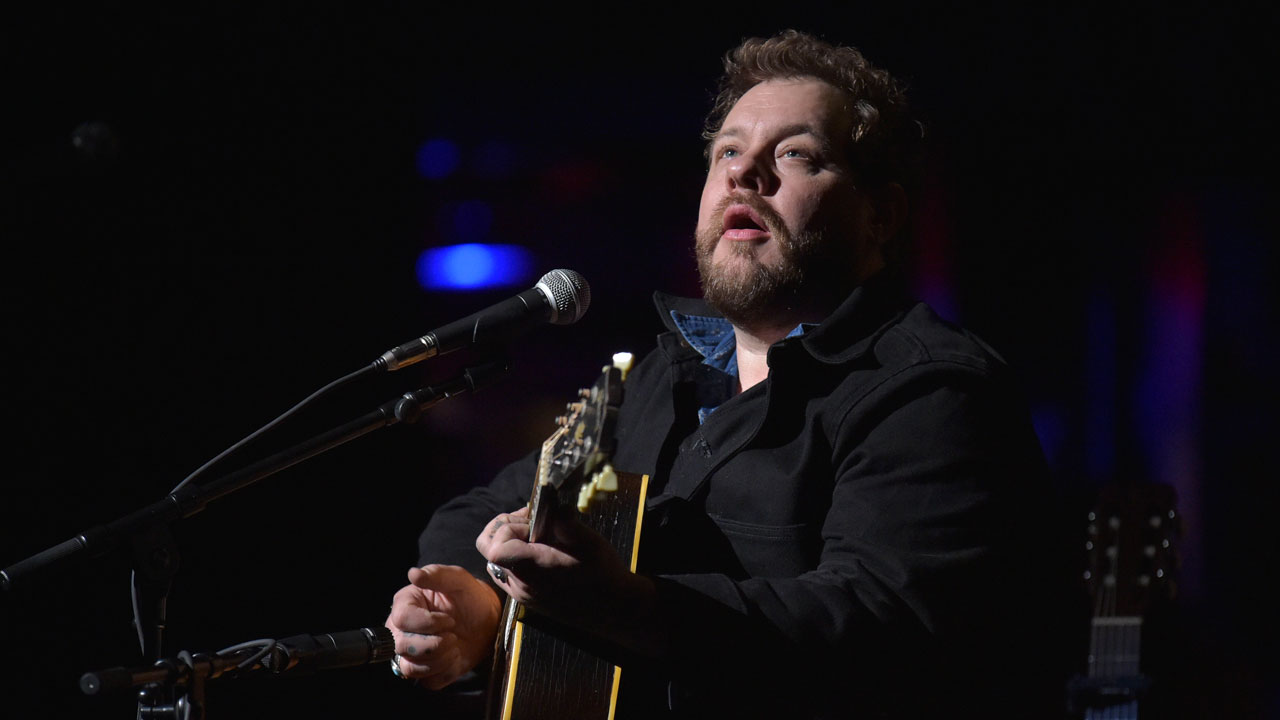 One of the most memorable moments of 2018's Holiday Cheer for FUV was Nathaniel Rateliff's surprise appearance during headliner John Prine's set. That very night, FUV program director Rita Houston asked Rateliff if he might consider doing a full set at 2019's Cheer — and Rateliff happily agreed, joining Mavis Staples, Mumford & Sons and Yola for his own solo set at the Beacon Theatre on December 10.
The full 2019 benefit concert and recap can be found here or listen to each set at your leisure: Rateliff's performance in the player above (photos below), as well as individual sets from Mavis Staples, Mumford & Sons, and Yola.
Rateliff's set couldn't have been further from the boisterous, bluesy sing-alongs found on his work with his band, the Night Sweats, like last year's Tearing at the Seams or the band's self-titled 2015 debut. The July 2018 death of Rateliff's close friend, the musician and producer Richard Swift, has had a profound impact on the Denver-based musician, and his raw grief was evident throughout his Cheer set. (The songs he wrote in that aftermath are collected on And It's Still Alright, released in February, 2020.)
"What he and I went through together," Rateliff explained, wiping away tears several times, "there's something that we shared more than brothers and friends." Rateliff's determination to honor Swift, who was to produce Rateliff's forthcoming 2020 solo album, has spun itself into an arresting collection of songs, like "Time Stands" and "Rush On." Leaning toward Townes Van Zandt or John Prine in mood, Rateliff wrestled with his loss with riveting depth and candor.
The set also showcased another gift— Rateliff is a remarkable fingerstylist, plucking out a flamenco-style tremolo leading into his first song, "Tonight #2," and playing with fiery intensity throughout this performance of all-new material. The three guitars he brought onstage for his six-song set were his conduit to a torrent of emotions, this man in black tenderly grasping a pale blond guitar, dealing with his pain in a way that was courageous and unforgettable.
He seemed shocked when "Time Stands," with its anguished, guttural howls, was rapturously received ("That's a really good feeling," he nervously admitted. "I didn't think that anyone would like that song") and he also spoke to the broader theme at hand: empathy. "We need to start talking about unexplainable emptiness and pain," he said, voice cracking. "It's part of you." The audience heard him and responded with love — at the conclusion of his final song, a lamentation for Swift called "Rush On," he was thanked with a standing ovation. Overcome by emotion, he released his guitar skyward into the wings.
Setlist:
"Tonight #2"
"All or Nothing"
"Expecting to Lose"
"And It's Still Alright"
"Time Stands"
"Rush On"
Special thanks to MSG Entertainment and The Beacon Theatre.
Flickr Gallery