My Morning Jacket Go Live On Letterman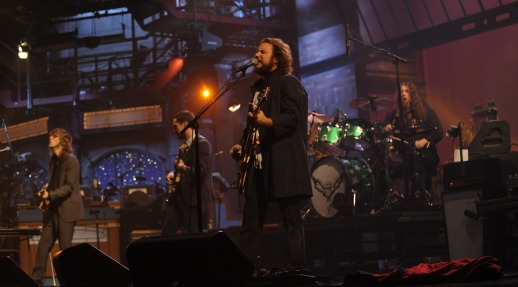 My Morning Jacket rocked the historic Ed Sullivan Theater on Tuesday night for a 50-minute live webcast for CBS Interactive's "Live on Letterman" webcasts. (It seems that "Live on Letterman" is steppin' it up lately with live music; last week's guests were Gorillaz.)
Each song My Morning Jacket performed on Tuesday had me ruminating over whether I made the right decision on what night to see them during their five-night residency at Terminal 5 next week. Beginning on October 18, playing The Tennessee Fire from start to finish, My Morning Jacket will perform one of their albums in its entirety every night. As a longtime fan of this band, I've seen them live countless times and played their records 'til they just can't play no more. I've read and watched an absurd amount of interviews with them. Some may say I was a little obsessed with them - and that would be a fairly accurate statement.
But, music is like the mail. It never stops. So I kind of lost track of them for a while. Until I saw Jim James and company at "Live on Letterman," I hadn't listened to them in a while; they even fell off my radar. However, last night I fell in love with them all over again. Although I've seen them play a ton of times, it still felt like the first time. They are an incredibly tight band. I don't know of they could mess up "Mahgeeta," "Wordless Chorus" or any of their songs if they tried.
Pardon the way-too-obvious pun, but "I'm Amazed" at James' vocal range and showmanship. He walked on stage wearing a Count Dracula-style cape which he threw off as he slid onto his knees, all the while wailing into the mic. He really is a dynamic performer but so is guitarist Carl Broemel who seriously shreds. I was so pleased that he brought the pedal steel with him because we got to hear a great version of "Golden."
All of them - Broemel, James, drummer Patrick Hallahan, keyboardist Bo Koster, bassist Two Tone Tommy -  are really integral parts of the equation that make My Morning Jacket so special. Oh, and I can't forget the honorary sixth member of the band, the bear, who is at every show, usually wearing a party hat or tux.
My Morning Jacket is certainly one of the most succesful bands around right now and there is a reason for that fact. It's because they are extremely talented musicians who consistently put out unique and innovative music. I'm trying not to be too fan girl, but it's difficult. My Morning Jacket is pretty tops in my opinion.
It's also endearing to know that they recognize that they've had some great opportunities in their career. James spoke to the "Live on Letterman" audience, bewildered that they were allowed to not only play more than one song on "The Late Show with David Letterman" set, but a fifty minute gig.  They even moved Dave's desk offstage so they could perform.
Here's the performance. See for yourself what all the hoopla is about.