Mumford & Sons: Holiday Cheer for FUV 2019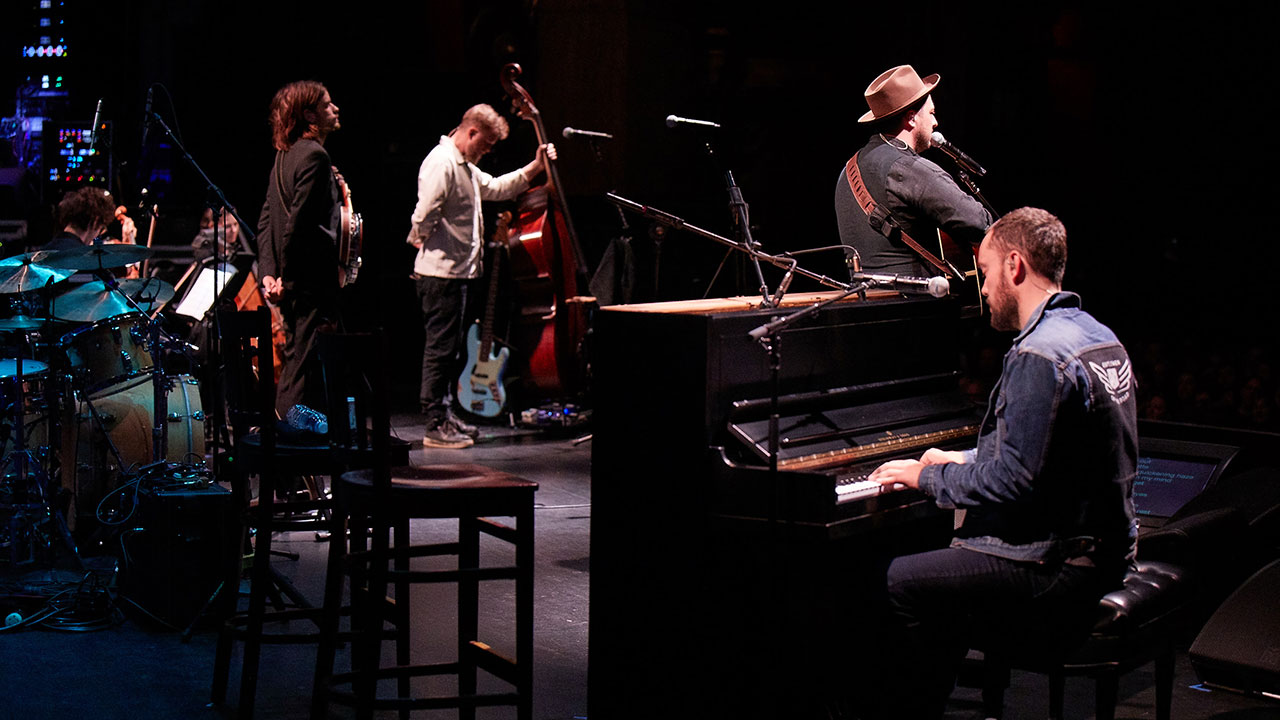 It's no secret that Mumford & Sons and WFUV program director Rita Houston have long shared a friendship: Houston was one of the British quartet's earliest champions in the States and the band has never forgotten. This year, the timing worked out perfectly for Mumford & Sons to finally make their Holiday Cheer for FUV debut, and the guys joined Mavis Staples, Nathaniel Rateliff and Yola and played a gorgeous acoustic set at New York's Beacon Theatre on December 10.
The full 2019 benefit concert and recap can be found here or listen to each set at your leisure: Mumford & Sons' performance in the player above (photos below), as well as individual performances from Mavis Staples, Nathaniel Rateliff, and Yola. Holiday Cheer for FUV will also be broadcast on 90.7, and stream online, on Christmas Eve, December 24, at 6 p.m. and Christmas Day, December 25, at 1 p.m., all times EST.
The announcement of Mumford & Sons' set at 2019's Holiday Cheer for FUV might have only come about mere days before the event, but the quartet's addition has been secretly in the works for a while. Singer and guitarist Marcus Mumford, banjo maven Winston Marshall, pianist Ben Lovett, and Ted Dwane on upright bass were joined by a three-piece string section for a phenomenal acoustic set that nostagically drifted back to the early roots of the band.
Mumford & Sons might regularly play sold-out arenas and gargantuan festivals, but these "gentlemen of the road" are artisans of a perfectly-crafted intimate set. "What a pleasure to finally play this room," said Mumford. "We'll try not to f**k it up too much."
Beginning with the broken heart lament of "Ditmas," from 2015's Wilder Mind, the band's five-song set routed directly back to their folky, early years — Marshall's adroit banjoing and Mumford's wily acoustic guitar always guides their Americana ship. A blissful "Lover of the Light," from 2012's Babel, was made even more luminous by the sweet sigh of strings, and the song, a doleful apology, transcended into a communal moment of shared feelings, one that lifted much of the crowd to its feet.
Two Delta-era songs, "October Skies" (the first time the band has ever performed the song in concert) and "Guiding Light," felt emotionally connected to the night at hand, that search for light in darkness. "The fear of what's to come has been crippling me," sang Mumford in "October Skies" with a gentle earnestness. "So to your silhouette, I turn once more."
"It's a f**king honor to be on this lineup," declared Mumford, also teasing, "We love to work with new artists; we really think Mavis is coming along." And when the band left the stage, the marvelous Ms. Staples was right there in the wings, waiting to embrace Marcus and his bandmates in a loving bear hug. That exchange of happy energy was absolutely infectious.
Setlist:
"Ditmas"
"Lover of the Light"
"October Skies"
"Guiding Light"
"The Cave"
Special thanks to MSG Entertainment and The Beacon Theatre.