Mavis Staples: Holiday Cheer for FUV 2019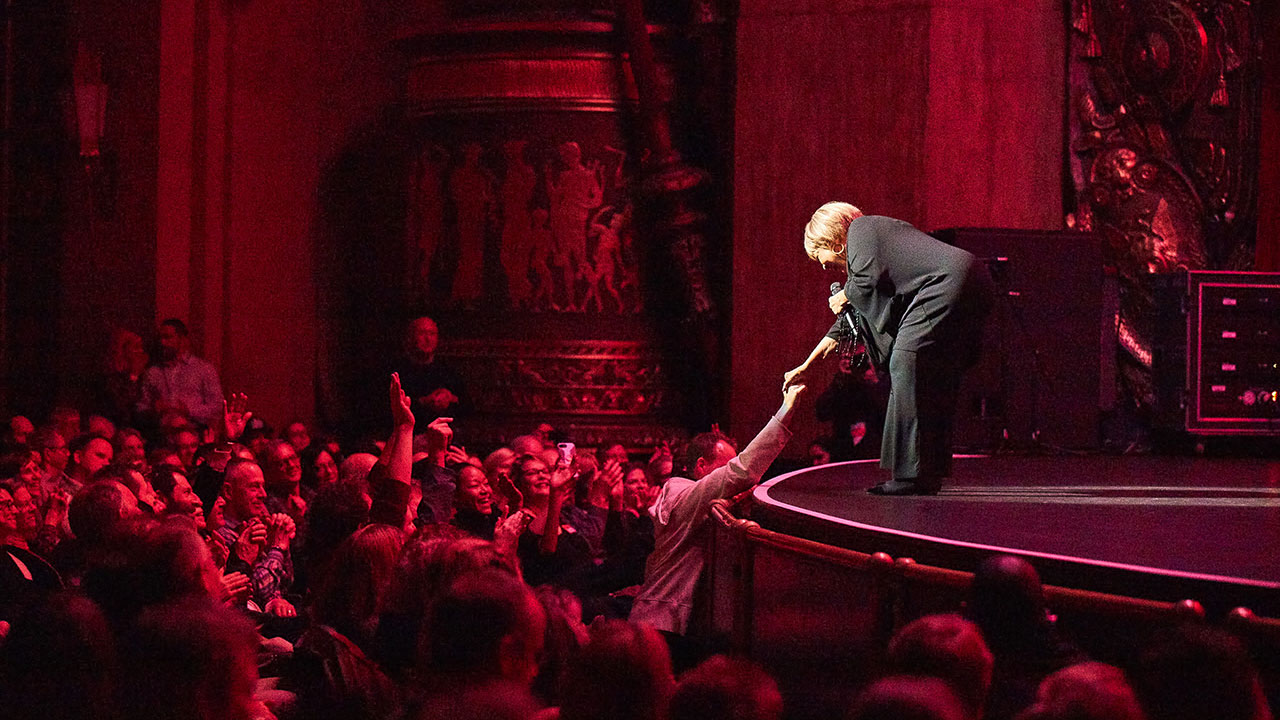 When Mavis Staples first played Holiday Cheer for FUV in 2011 with The Head and the Heart, Dawes, and Josh Ritter, the WFUV family (and listeners) considered ourselves very lucky. That luck was multiplied tenfold again when Staples returned to Holiday Cheer for FUV in 2019, joined by Mumford & Sons, Nathaniel Rateliff, and Yola for a stunning set at the Beacon Theatre on December 10.
The full benefit concert and a recap can be found here or listen to each set at your leisure: Mavis Staples' performance in the player above, as well as individual sets from Mumford & Sons, Nathaniel Rateliff, and Yola. Holiday Cheer for FUV will also be broadcast on 90.7, and stream online, on Christmas Eve, December 24, at 6 p.m. and Christmas Day, December 25, at 1 p.m., all times EST.
An icon — and a civil rights and political activist — Staples has had her share of pain, loss, frustration, and disappointment. But hope is her kick drum and change is her mission. This exuberant powerhouse, an astonishing 80 years young, excels in building her humanitarian message of love and liberty throughout the arc of her set, leading to a galvanizing crescendo of action at hand.
Staples is driven to celebrate the good in people, not proselytizing with anger, but using humor, motherly sass, and joy to make her point. It's the heart of gospel teachings, in its purest form, and Mavis is always an iridescent presence. Being in the same orbit as this legendary woman is a rare gift. Opening her set with the Staple Singers classic "If You're Ready (Come Go With Me)," Staples shimmied, punched the air with glee, and beckoned the crowd to follow her on a transformative ride. "Take Us Back," from 2016's Livin' On a High Note, an exultation about the "people who love me," and her sage cover of Talking Heads' "Slippery People," gently link: Staples' songs all flow like a soulful river to an ultimate destination.
A cover of Stephen Stills and Buffalo Springfield's 1966 call to action, "For What It's Worth," soared as a rallying cry as Staples extended her microphone to the audience for a call and response, and gleefully growled a key line — "a thousand people in the streets, singing songs and carrying signs" — with unabashed relish. (The song has Holiday Cheer history — The Lone Bellow tackled it in 2018 too.)
Mavis involved the crowd throughout her set, dubbing them her "a cappella choir" and warmly shaking hands with fans in the front rows. "We are so happy to be here to party!" she exclaimed at one point, giving an affectionate shout-out to FUV's program director Rita Houston, to Mavis's own hometown of Chicago, and the blues legends of the Windy City, like Muddy Waters, Buddy Guy and Howlin' Wolf. Her backing band for Cheer was guitarist Rick Holmstrom (who frequently played Staples' puckish foil), bassist Jeff Turmes, drummer Steve Mugalian, and backing vocalists Donny Gerrard and Saundra Williams (who used to sing backup with Sharon Jones & the Dap-Kings).
"We got work to do!" Staples preached through "Change," from 2019's We Get By, her 14th solo album, before slipping into "Touch a Hand," found on her 2019 concert release, Live From London. An extended vamp of "No Time for Crying," shared by Williams and Staples, gave Mavis the freedom to invoke her final sermon: As a woman "tired of guns, tired of grown men laying in the street homeless, tired of babies being put in cages," she has an eye to make her way to Washington D.C. and run for President herself.
It's exactly how you'd expect Mavis Staples to go out — fighting with a big, beatific smile on her face. She was glorious.
Setlist:
"If You're Ready (Come Go With Me)" (The Staple Singers)
"Take Us Back"
"Slippery People" (Talking Heads cover)
"Who Told You That"
"For What It's Worth" (Buffalo Springfield cover)
"You Are Not Alone"
"Change"
"Touch a Hand"
"No Time for Crying"
Special thanks to MSG Entertainment and The Beacon Theatre.