The Lone Bellow - Holiday Cheer for FUV - 2014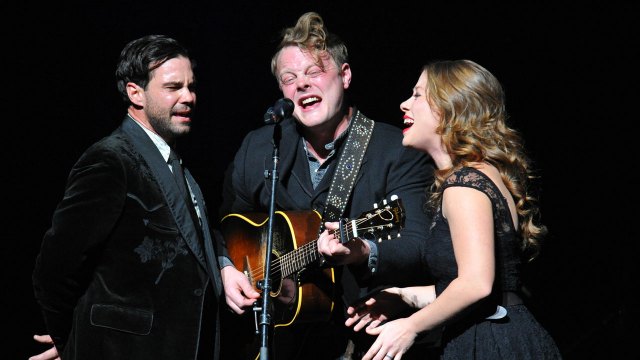 A Brooklyn trio with a heroic take on country soul and the sweetest harmonies in the borough, The Lone Bellow has been on WFUV's radar for a long time. A favorite of our canny program director Rita Houston, she brought them to FUV Live at Zankel Hall in 2013 for their Carnegie Hall debut. In fact, The Lone Bellow's Zach Williams, Kanene Pipkin and Brian Elmquist were originally slated to be part of FUV's Holiday Cheer back in 2012, but were sidelined at the last minute due to illness.
Happily, The Lone Bellow returned for Holiday Cheer for FUV 2014 with Conor Oberst and Friends at the Beacon Theatre, joining a stellar lineup that also included Natalie Merchant, Laura Marling, The Felice Brothers and Jonathan Wilson.
Georgia-bred Zach Williams first began writing his bewildered and often heartbroken lyrics after his wife took a terrible fall from a horse, seeking strands of hope and healing as he sat in an Atlanta hospital during an emotionally wrought time. After he and his wife moved to New York, an early band incarnation as Zach Williams and the Bellow was eventually streamlined as The Lone Bellow.
Word-of-mouth spread on this surprising Park Slope group and their vivacious take on Americana, flush with lamentations which seethed with beautiful, brutal honesty but were robust and catchy. They got early local support from WFUV and built a national profile via NPR Music. By the time The Lone Bellow's self-titled debut album (which was recorded at Rockwood Music Hall in a mere three days with producer Charlie Peacock) was released in January 2013, they were already the subject of a New York Times profile.
Ahead, The Lone Bellow have a sophomore album in the works for 2015, Then Came The Morning, produced by Aaron Dessner of The National.
Hear The Lone Bellow's's performance below, or read a full show recap and listen to all of Holiday Cheer for FUV: Live from The Beacon Theatre. You can also hear individual performances from the rest of this year's Holiday Cheer line-up:

Special thanks to MSG Entertainment and The Beacon Theatre.