Lauryn Hill: The Miseducation of Lauryn Hill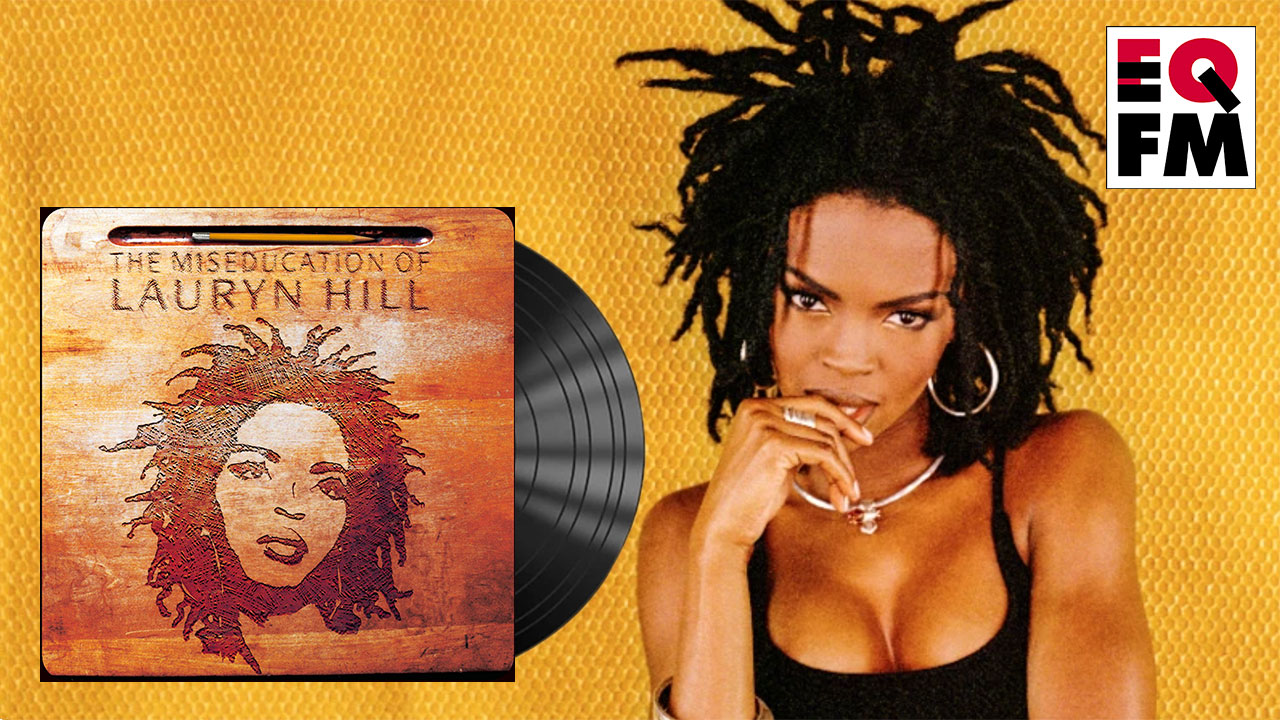 Album ReCue, a part of FUV's EQFM initiative, takes an on-air and online look back at influential releases by women that altered our perspective not only of the artist, but her invaluable impact on music history. Above, listen to a conversation with Alisa Ali and Benham Jones about Lauryn Hill's 1998 solo debut, The Miseducation of Lauryn Hill, and below, Kara Manning's overview.
On February 24, 1999, Ms. Lauryn Hill was the queen of Grammy night, winning five awards for her solo debut, 1998's The Miseducation of Lauryn Hill. The former Fugees singer was the first female artist in history to win five or more Grammys in a single night (she was nominated for ten), including Album of the Year, and her ascent as a rapper, singer, lyricist and neo-soul innovator seemed unstoppable. For the first time, hip hop had gotten the mainstream respect it had long deserved; Hill, who was just 23 at the time of Miseducation's release, was the conduit to that breakthrough.
But there were consequential pressures leading up to her genius release and in its aftermath, from her acrimonious breakup with former Fugees bandmate Wyclef Jean to the relentless strain of fame, exacerbated by the chattering cogs of the music industry's machinery. A lawsuit that challenged the writing credits on the album, and dragged on for years (settled out of court), didn't help either.
So after dropping her mountaintop masterpiece, one of the most influential and visionary albums ever recorded, Hill walked away from it all. Over the last two decades — save an MTV Unplugged live album in 2002, a one-off single, or a flurry of live gigs every so often (most recently a well-received tour for Miseducation's 20th anniversary) — her reclusivity has been the source of endless speculation, although she has a presence on social media. Hill told NPR in 2010 the "support system'' she needed to thrive as an artist was never there in the way she needed. Plus she had five (and eventually six) children to raise.
Even if Ms. Lauryn Hill chooses to grace the world with just one studio album, that's fine. It's a totemic one. The Miseducation of Lauryn Hill shifted the paradigm and potential of hip hop, R&B, soul, and pop, with lyrics as literature and activism. The album was a template of perfection, not just for its seamless mix of rapping and singing, but for its adroit autobiographical braiding of feminism, politics, heartbreak, and biblical devotion ("Now hear this mixture, where Hip Hop meets scripture"). You can hear Hill's indomitable spirit and candor passed like a torch to generations of musicians, like Beyoncé, Solange, Drake, Kendrick Lamarr, Little Simz, Lizzo, Rapsody, Janelle Monáe, Ariana Grande, Kanye West, Jazmine Sullivan, and John Legend (who was a junior at the University of Pennsylvania when he played piano on "Everything is Everything").
"I didn't know how gifted one had to be to accomplish what she did: singing and rapping as a dark-skinned woman with natural hair," Lizzo told Billboard in 2018. "I just internalized the music and thought it was good. But now I respect everything about it, culturally and intellectually."
The husky warmth of Hill's voice and her incisive lyrics eloquently captured the resilience of a strong Black woman, dogged by a racist and misogynistic America. Casual listeners became enlightened students the more deeply they delved into the record: The Miseducation of Lauryn Hill could have easily dropped in 2020 with its potent insights predicting the rise of Black Lives Matter. "If I treat you kindly, does it mean that I'm weak?" she sharply queries in "Forgive Them Father," a song influenced by Bob Marley and the Wailers. "You hear me speak and think I won't take it to the streets."
Hill conceived of an album that paid respect to the breadth of music history and her forebears, from the Sixties-swinging, girl-group swagger of "Doo Wop (That Thing)," to the delicate Latinx filigree of "To Zion," with Carlos Santana (magically) on guitar, a song dedicated to her first child (Hill was pregnant during the album's recording). There's pure poetry describing the New Jersey of her childhood ("Every Ghetto, Every City"); not-so-discreet jabs at a disappointing man ("Lost Ones," "Ex-Factor"); and bold Black feminist positivity ("Everything is Everything").
Last year's release of "Guarding the Gates" on the Queen & Slim soundtrack was Hill's first new music in six years, re-recorded from a decade-old demo. Hearing her measured voice, landing each word with yearning and defiance, is akin to watching a recalcitrant rosebush bloom for the first time in years — a gift worth waiting for.
"Believe it or not, I think what people are attracted to about me, if anything, is my passion," as she explained to NPR a decade ago. "People got exposed to my passion through music and song first. I think people might realize, you know, 'We love the way she sounds, we love the music, but I think we just love how fearless she is. How boundless she is, when it comes to what she wants to do.' And I think that can be infectious."
Listen
WFUV's EQFM Album ReCue: Ms. Lauryn Hill's The Miseducation of Lauryn Hill