Lake Street Dive - FUV Live at Rockwood Music Hall - 2014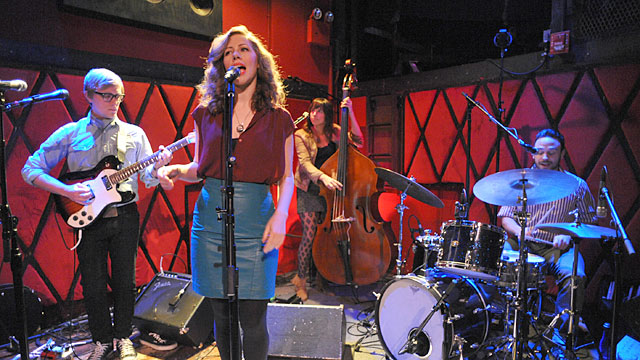 The members of the Brooklyn-based quartet Lake Street Dive each studied jazz at the New England Conservatory of Music, but their songs incorporate a variety of styles from pop to soul. In this Rockwood Music Hall performance, frontwoman Rachael Price had the crowd mesmerized with her stirring vocals and sassy delivery. Mike "McDuck" Olson brought a bit of a New Orleans vibe with his trumpet playing. Bridget Kearney had a shining solo on her upright bass and drummer Mike Calabrese kept the crowd shaking their hips to his beats. They are clearly individual talents, but with an undeniable power and energy as a group.
Although the band's cover songs first got our attention, this set mostly consisted of material from the band's new album, Bad Self Portraits, which was released on the same day as the show. We also heard some even newer songs (which will hopefully be on a future Lake Street Dive album) and a sultry cover of George Michael's "Faith."
[recorded: 02/18/14]
Funding for WFUV's ongoing coverage of live concerts and festivals comes from The Agnes Varis Trust, supporting affordable access to the arts, education and healthcare.