Karl Hyde of Underworld - FUV Live - 2015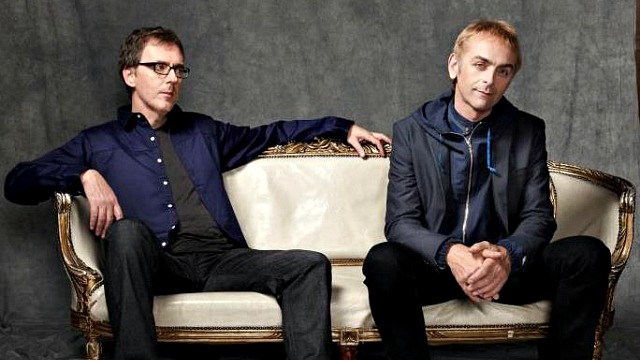 The remastered edition of Underworld's 1994 album, Dubnobasswithmyheadman, was released in October (also as a five-disc deluxe box set), marking the 20th anniversary of this visionary release that bridged electronic, rock and dance music in a bold, original way. The album—and Underworld's forward-thinking approach in the studio and as a live act—became a touchstone for artists as diverse as Radiohead, U2, Björk and Jagwar Ma. The unlikely path that led to the birth of Dubnobasswithmyheadman is a heartening tale for anyone who hopes for a second chance.
Producer and synth master Rick Smith and singer, lyricist and guitarist Karl Hyde—the core partnership of Underworld and collaborators for over 35 years—nearly gave up when the band's first iteration was dropped by its label in 1989. The two friends teetered near bankruptcy, but persevered. Rick and Karl's determined resurrection of Underworld with a new sound, one that smartly tapped into the burgeoning British rave scene of the early '90s, became an inspiring template for any band in pursuit of its true voice.
Although they were content to be part of the underground scene, making innovative electronic music, Underworld had a supernova hit in 1996 with "Born Slippy (Nuxx)" from the Trainspotting soundtrack. The pair's ongoing creative relationship with that film's director Danny Boyle has continued cinematically and beyond, earning Underworld a 2012 Olivier Award nomination for best sound design for their work on the National Theatre's Frankenstein and attention on the world stage as music directors for the Opening Ceremonies of the 2012 London Olympics. Underworld has also been shortlisted for the Mercury Prize twice: for 1996's Second Toughest in the Infants and 1999's Beaucoup Fish.
On this special edition of FUV Live bridging New York and London, Karl Hyde discusses Underworld's storied past and ever-evolving present: he and Rick are in the midst of recording a new studio album, their ninth as Underworld. Karl, who released his solo debut, Edgeland, in 2013 and two collaborative albums with Brian Eno last year, Someday World and High Life, also discusses the impact of New York City on his own artistic life as a musician, writer and visual artist.
[recorded: 11/13/14]