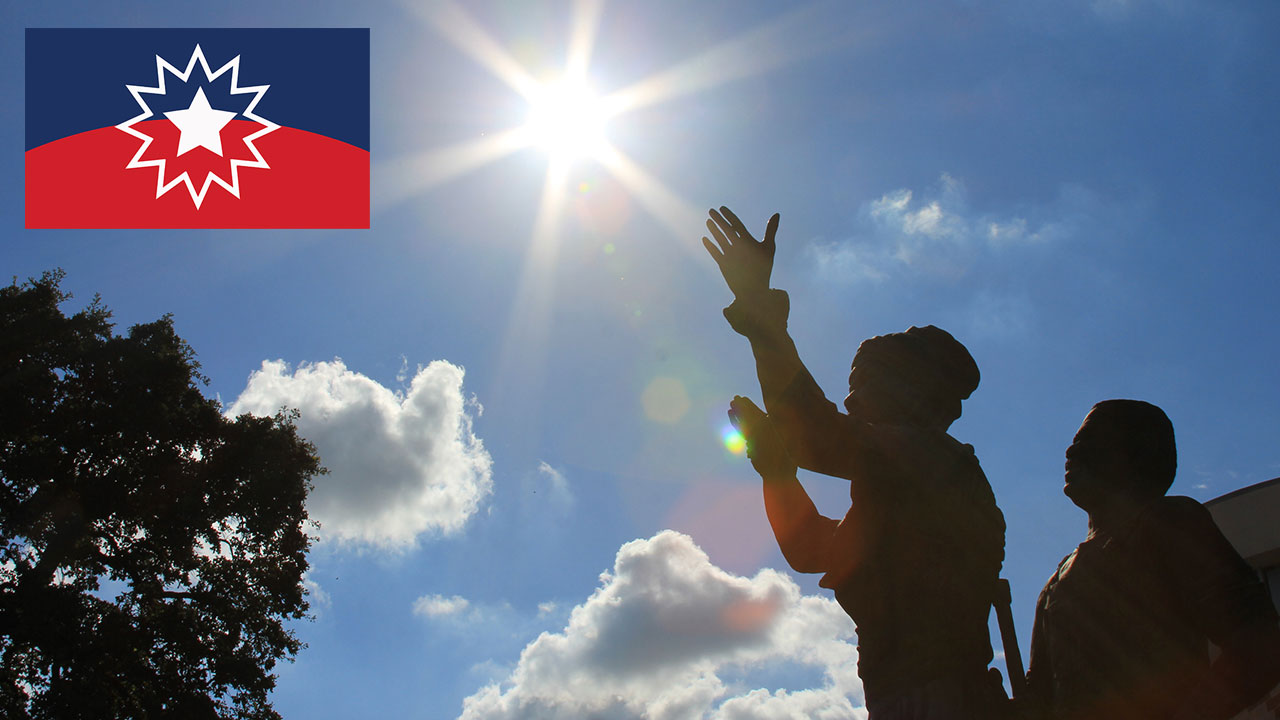 In light of the focused awareness on the continuing damage that systemic racism does to humanity, and in recognition of the Juneteenth celebration of the end of slavery in the U.S., WFUV is spending extra time amplifying the words and voices of Black artists on Friday.
6am-6pm: WFUV Music Mix — Black Voices
We asked some of our favorite Black singers and songwriters if they had thoughts to share with us, and asked them to pick a song to play (one of theirs, or not) to mark the day. You'll hear their songs and messages throughout the day on FUV, and you can hear these artists and their song choices in the Spotify playlist below.
6-8pm: The Whole Wide World with Rita Houston
Program Director Rita Houston can build a music mix like no one else. For Juneteenth she's doing a deep dive into her personal picks of songs she truly loves by Black artists — from the joyful to the thoughtful, covering decades and many square miles. You'll hear Louis Armstrong to the O'Jays, Big Freedia to Whitney Houston, Taj Mahal to Arlo Parks... and you might even get some George Benson. [Available in the Weekend Archives for two weeks]
8pm-10pm: A Little Bit Louder Now
In this two-hour news and music special, FUV midday host Alisa Ali, news director George Bodarky, and assistant news director Robin Shannon talk with community leaders, musicians, academics and writers about Juneteenth and the power of music in working toward social change. [More information]
10pm-2am: The Gospel Roots of Rock and Soul
This documentary, produced by our friends at WXPN in Philadelphia, explores the history of Black gospel music and illustrates its significant influence on the formation of rock and soul music. Hosted by CeCe Winans, the 4-hour series starts with the history and foundation of black gospel from spirituals, and how those songs informed the music of the great gospel quartets. In examining how rock, soul and R&B grew from the roots of gospel, it highlights such highly influential artists as Sam Cooke, who transitioned from gospel to secular music; Sister Rosetta Tharpe and her early rock stylings; and Elvis Presley, who helped expose white audiences to gospel music. Examples of some of the most beloved contemporary pop music of the last 60 years from artists such as Aretha Franklin, Paul Simon, and Ray Charles illustrate gospel music's influence. Gospel Roots of Rock and Soul also features exclusive live performances recorded by WXPN from gospel groups The Fairfield Four, The McCrary Sisters, and The Dixie Hummingbirds. You can find more information on the show's media-rich website.
Plus: Resources
Listen
WFUV: Juneteenth Playlist as selected by Adia Victoria, Benjamin Booker, Bettye LaVette, Devon Gilfillian, Don Bryant, Black Pumas' Eric Burton, Gail Ann Dorsey, The Suffers' Kam Franklin, Keb' Mo', Michael Franti, Tedeschi Trucks Band's Mike Mattison, Ruby Amanfu, Tank Ball of Tank and the Bangas, The War and Treaty's Mike and Tanya Trotter, Valerie June, Bandits on the Run's Regina Strayhorn, Esperanza Spalding, and Vernon Reid.
Artists and song choices:
1. Adia Victoria: Joshua Asante, "Everybody Gets Used"
2. Benjamin Booker: Yves Tumor, "Gospel for a New Century"
3. Bettye LaVette: Bettye LaVette, "Bless Us All"
4. Devon Gilfillian: Devon Gilfillian, "The Good Life"
5. Don Bryant: Ann Peebles, "Fill This World With Love"
6. Black Pumas' Eric Burton: Black Pumas, "Fire"
7. Gail Ann Dorsey: Donny Hathaway, "Someday We'll All Be Free"
8. The Suffers' Kam Franklin: The Suffers "Better" and Marvin Gaye, "You're the Man, Pts 1 and 2"
9. Keb' Mo': Keb' Mo', "Stand Up and Be Strong"
10. Michael Franti: Gil Scott-Heron, "The Revolution Will Not Be Televised"
11. Tedeschi Trucks Band's Mike Mattison: Scrapomatic, "Graveside Blues"
12. Ruby Amanfu: Ruby Amanfu, "How Beautiful You Are"
13. Tank and the Bangas' Tank Ball: Nina Simone "I Wish I Knew How It Would Feel to Be Free"
14. The War and Treaty's Michael and Tanya Trotter: The War and Treaty, "We Are One"
15. Esperanza Spalding: Esperanza Spalding, "How To (hair)"
16. Vernon Reid: The 1865, "Get Out" and Lighnin' Hopkins, "Slavery Time"