Joan Jett & the Blackhearts: 1981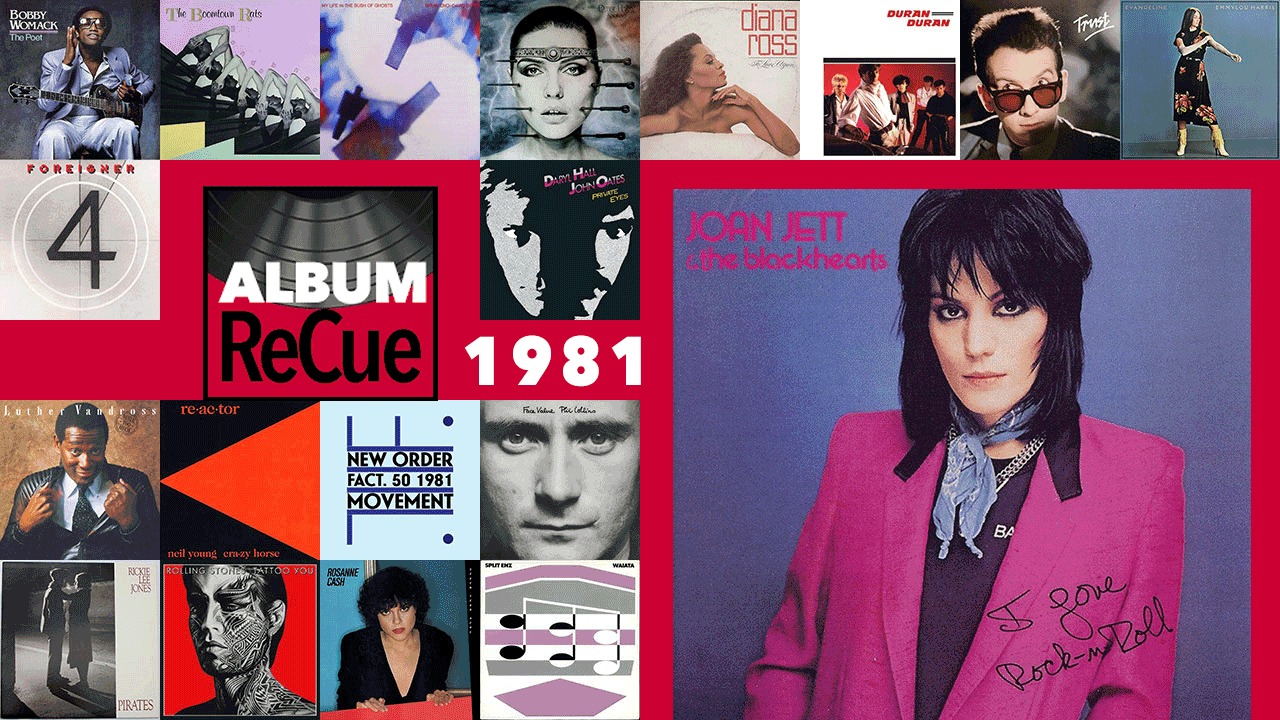 "Album ReCue" for Throwback Thursday celebrating 40th anniversaries: 1981 releases chosen by FUV hosts. Above, listen to Alisa Ali's conversation with Dennis Elsas about Joan Jett & the Blackhearts' multi-platinum I Love Rock 'n' Roll, released in November of that year, and below, Laura Fedele's overview of that release.

Joan Marie Larkin had the fire in her from the start. At age 13 she asked for an electric guitar for Christmas, and like countless teens before her, subjected her family to hearing the same note over and over until she got it right. She was young, and shy, but so determined to get out there and play that she scoured the parking lot hangouts and teen clubs of Los Angeles looking for other girls like her.

Joan Jett's vision of an all-girl band took a couple years to come together, but the Runaways found each other, and found a manager — though a controversial one, Kim Fowley. The stories differ as to how the band's rise and fall took place behind the scenes, but after five albums and a series of world tours, it's safe to say that his decisions eventually contributed to the band's implosion.

All that travelling was a crash education for Jett. Still a teenager, fresh from the glam-freak Hollywood clubs, she made fast friends among England's punk scene, jamming with the Sex Pistols and even recording a few songs (including an early version of "I Love Rock 'n' Roll"). They were huge in Japan, playing for Beatlemania-like throngs of screaming young women. It was heady. By her own admission, she drank too much.

By then she'd gotten over the shyness, finding her voice at the mic and in daily life. "I was angry," she told Rolling Stone in 2018. "I didn't know how to make sense of a world that gave girls sh*t for playing guitar.

"When you tell me a girl can't play rock and roll, you're not saying a girl can't master the guitar, you're saying girls aren't allowed to play rock and roll because rock is a sexual type of music and being sexual is not allowed for girls... I just didn't like being told I couldn't do something I could obviously do."

Wiser for the experience and still just as determined, the Joan Jett who faced starting a solo career in the late '70s found better company. She befriended songwriter and producer Kenny Laguna, who toiled alongside her through a ridiculous swamp of misogyny (and is still by her side). In the face of record label rejection and then mistreatment, they ended up putting their own savings into building a band and a label to showcase Jett's talents: Blackheart Records.

Selling her debut album out of the trunk of a car, they couldn't keep up with demand. It got picked up and released as Bad Reputation, and the Blackhearts hit the road. They furiously honed their act, wrote a few songs, and hit the recording studio. "During the weekdays we'd be in the studio and during the weekends we'd travel around the New York area, the Northeast, doing gigs," Jett told Creem magazine in '82. "So we were doing both without really stopping. Which was good I thought, it really kept us together, it kept us sharp."

The title track of I Love Rock 'n' Roll was a defining choice: Strong, gritty, no-nonsense, with an unmistakable guitar riff and a chorus that just won't quit. The heavy-rotation MTV video shows a bar full of patrons shouting along, which came true in real-life 1982 in every town in America. Number one on the Billboard Hot 100 for seven weeks in a row, it was eventually christened one of the Greatest Songs of All Time by both Billboard and Rolling Stone.

That was just one of the well-chosen cover songs on the album. Tommy James's "Crimson and Clover" was the second single, with its much-discussed same-sex pronouns; Jett's version sets soft-and-sweet, whispery vocals against the grind of her signature Gibson Melody Maker.

The other songs on the album are of two types: Sassy originals that set up Jett as the independent and in-your-face heroine ("(I'm Gonna) Run Away," "Be Straight," "Victim of Circumstance," and the Runaways' "You're Too Possessive") and '50s sing-along covers with renewed punk energy (the Halos' "Nag" and Dave Clark Five's "Bits and Pieces"). They all put Jett up front in the mix, with background vocals and frequent interjections from the male Blackhearts ("Hey! Hey!" "Be straight, be straight!") to show the world this was no all-girl novelty band.

Plus, thanks to the end-of-year release date, we got a bonus holiday track, "Little Drummer Boy," Jett-style.

You could argue, though, that this album wasn't so important because of its songs. It's important because it introduced millions of people to who she is. It made Joan Jett the Queen of Rock 'n' Roll, it placed her among peers like Debbie Harry and Chryssie Hynde. It put her leather-clad, badass, shredding self in front of a young Kathleen Hanna, a young Billie Joe Armstrong. It set the stage for Courtney Love and St. Vincent and Laura Jane Grace and Courtney Barnett, thank goodness.
Jett didn't stop driving forward in the '80s; she's been playing and recording and fighting the good fight ever since. She's been sober for ages and puts her energy into activism: She's a feminist pioneer, an LGBT+ icon and a protector of animals.

The friends Jett made along the way include Miley Cyrus, who had the honor of inducting Jett and the band into the Rock and Roll Hall of Fame in 2015 with these words:

"All of us will experience people who try to tell us who to be and what to be. F**k those people! Instead of changing for other people, if you don't like how the world is, change it yourself. She made the world evolve, her life and her success is proof that we can self-evolve. I want to thank you for fighting for our freedom, Joan, and I love you so much."

It may have been 40 years since she staked out her claim on the rock world, but Joan Jett is not giving up her ground any time soon. You can see for yourself nearby: 9/6 at the New York State Fairgrounds in Syracuse, 9/28 at The Paramount in Huntington,  and 10/29 at the Hard Rock Hotel & Casino in Atlantic City.
Listen
WFUV's Album ReCue: Joan Jett & the Blackhearts,  I Love Rock 'n' Roll