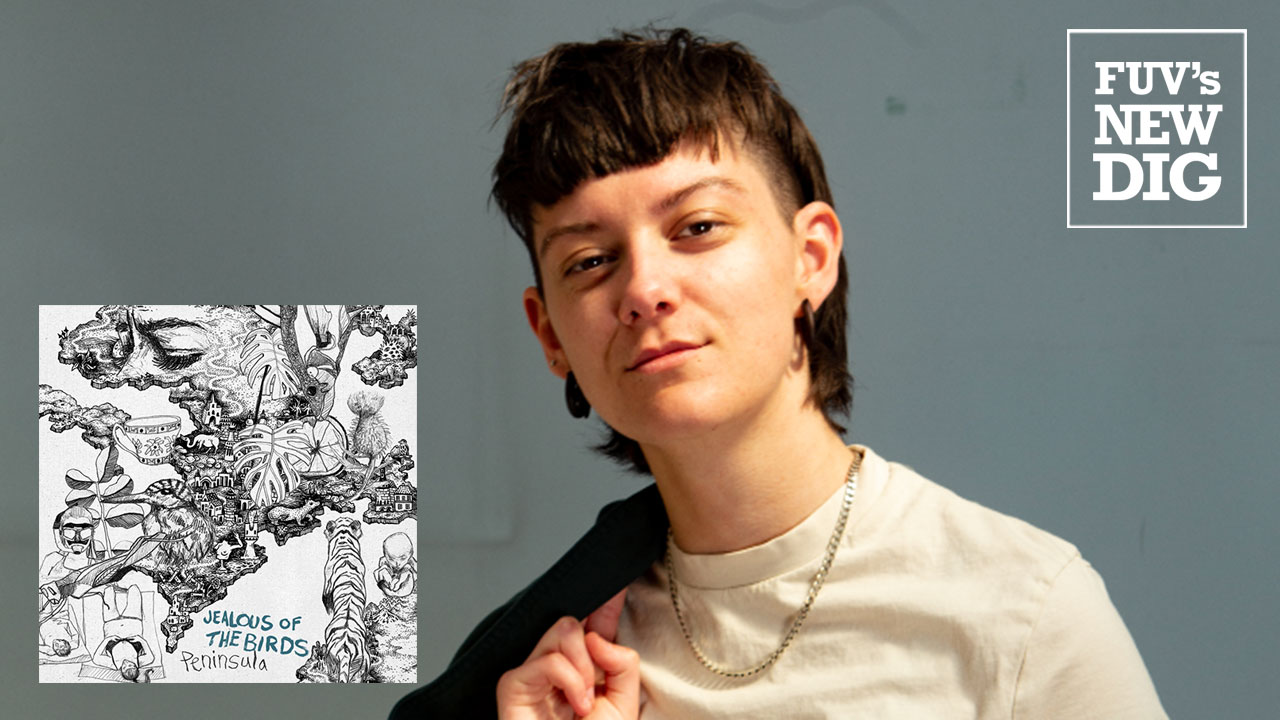 Jealous of the Birds
Peninsula 
Canvasback/Atlantic
Jealous of the Birds is Naomi Hamilton, a singer and songwriter from Northern Ireland. Hamilton, who was born in Portadown in County Armagh and is now based in Belfast, started to develop her musical side roughly five years ago while still in college. It was then that she first emerged under the Jealous of the Birds moniker with her 2015 debut EP, called "Capricorn."
Her first full length album, Parma Violets, was next in 2016, followed by two more EPs, 2018's "The Moths Of What I Want Will Eat Me In My Sleep" and 2019's "Wisdom Teeth." In a press bio, Hamilton referred to those two recent EPs as being "…almost like stepping stones to [Peninsula]. I wanted a much bigger, fuller sound."
But before starting work on what would become her second full-length album, Hamilton released two stand-alone singles, "The Grass Begins to Eat Itself" and "Ode to Fire." The stage was now set for Peninsula.
Hamilton spent late 2019 writing songs, which included a visit to a writing retreat in Lisbon. She then recorded detailed demos of the songs, so by February of this year, she was ready to team up with producer Marta Salogni to further develop those demos. Once she was ready to begin recording, Hamilton turned to two separate backing ensembles for support: her touring band and a group of session players that could add more intricate instrumentation to some songs. In addition to working with Salogni as producer, Hamilton also called on David Wrench to produce parts of Peninsula.
By mid-March, as the sessions were winding down, the Covid-19 pandemic caused some degree of anxiety as pressure to complete work on the album increased. But just as the coronavirus lockdown went into effect, Peninsula was complete.
On Peninsula, Hamilton seeks and finds a musical balance between contrasts: heavier and denser juxtaposed with poppier and smoother. From the start, the grunged-out, guitar-driven "Young Neanderthal" kicks the album wide open, making way for the catchy, lightly jazz-kissed pop song "Something Holy."
"Always Going" gently drifts along, building to a chaotic conclusion, as does "Kodachrome" (no relation to the Paul Simon song of the same name), a melodically atmospheric song which utilizes piano for dramatics, leading to an ambitious and abrupt climax. "Haze of the Hill" marries acoustic guitar with strings creating a sense of expanse. It's a sound further explored on "Shiloh Chandra," which is about a Romani traveler and one of three songs which takes on a cinematic quality, along with "Hadron Collider" and the title track, expanding the scope of Peninsula even further.
The intricately arranged "Pulaski Skyway" and the funky cool of "To The Rind" are also fine examples of Hamilton's desire to develop as a diverse and multidimensional writer. Peninsula reaches its end on the strength of one of its loveliest melodies, "Epistle," which envelops the listener like night settling over big sky country.
Hamilton embraced a concept of "no man is an island" on this album as she sought to make a connection between individuality and the simultaneous need for some degree of dependence. She then used this concept to adorn an album of songs melodically rich with ideas and invention. The result is a kaleidoscope of sound and vision called Peninsula.
Listen to an FUV Live concert with Jealous of the Birds, recorded at Rockwood Music Hall in October 2019 (which included live performances of "Young Neaderthal" and "Always Going") on demand.