Janet Jackson: Janet Jackson's Rhythm Nation 1814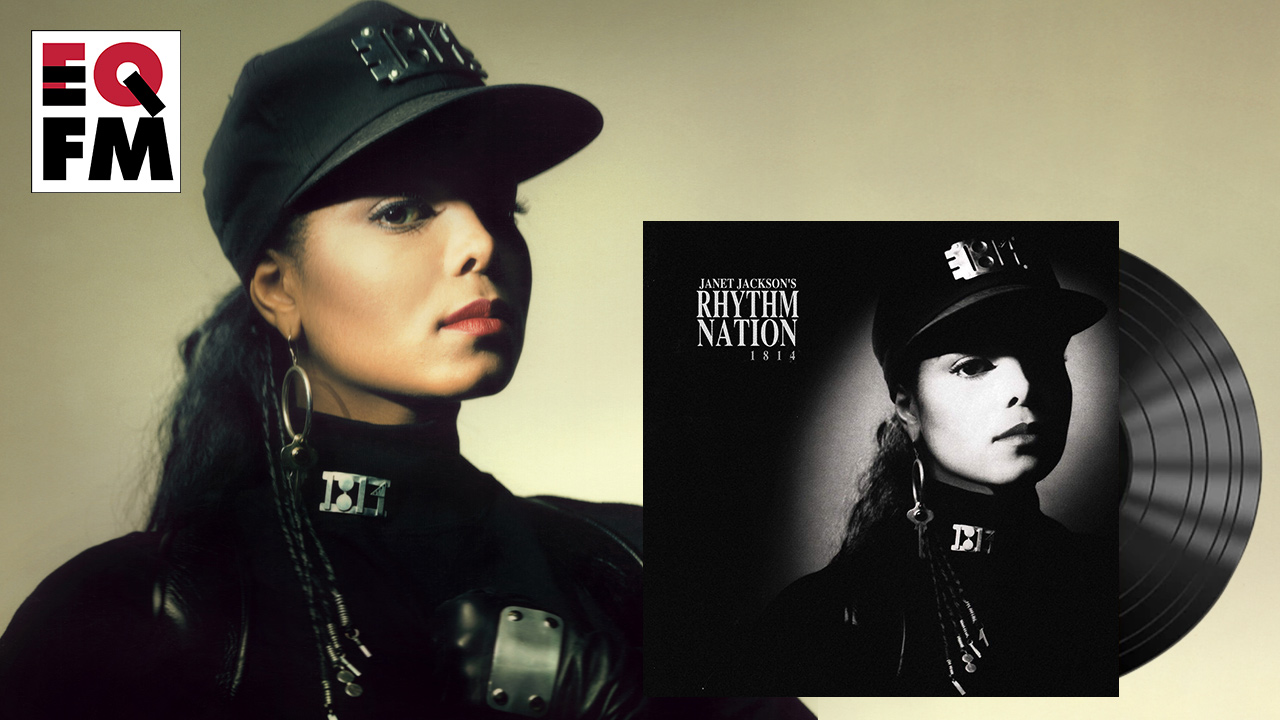 Album ReCue, a part of FUV's new EQFM initiative, takes an on-air and online look back at influential releases by women that altered our perspective not only of the artist, but her invaluable impact on music history. Above, listen to a conversation with Alisa Ali and Kara Manning about the record, and below, Kara's overview.
"Get the point? Good, let's dance." Janet Jackson's cool command was not only the gateway from the "The Knowledge" to the swooning workout of "Miss You Much," but the blueprint for 1989's Janet Jackson's Rhythm Nation 1814, a gargantuan thriller of progressive sociopolitical ideas, Black feminism, and erotic awakening—all elevated by the insatiable lightness of being in the groove.
Jackson's fourth album and her second with her Minneapolis dream team of collaborators, James "Jimmy Jam" Harris and Terry Lewis, Rhythm Nation 1814 was also the second release of an astonishing five-album, multiplatinum, chart-topping juggernaut that also included 1986's Control, 1993's janet., 1997's The Velvet Rope and 2001's All For You. Rhythm Nation 1814 was the first (and still only) album to ever have seven Top 5 hits on Billboard's Top 100 charts and in 1990, Jackson was the first woman ever nominated for a Producer of the Year Grammy in the non-classical category for this album; the longform video that accompanied Rhythm Nation 1814, a visionary passion project for Jackson, did win a Grammy.
Rhythm Nation 1814 was released in September, in the fractious first year of President George H.W. Bush's term, and Jackson and her coproducers had a lot to say about a riven America and systemic racism. As she states in the opening "Interlude: Pledge," the dream was "a world rid of color-lines." In this utopia, education was paramount ("The Knowledge") and equity existed in the unifying credo of music and dance—and there's a dozen dizzying ways to move on Rhythm Nation 1814: The skipping, syncopated canter of "Alright" with its cascading arrangements and fantastical MGM musical-style video with Cab Calloway and Cyd Charisse; the breezy gambol of "Escapade"; and the funked-up, ferocious military tattoo of "Rhythm Nation."
The video for the latter track, the winner of multiple Soul Train and MTV video awards, redefined the genre via the collaboration of Jackson and choreographer Anthony Thomas. There's no way to take in Beyoncé's live performance of "Formation" at the 2016 Superbowl without recalling Janet's precisely synchronized, turned-out routine decades earlier—but Beyoncé is just one of a parade of artists who call Jackson an influence, for starters: TLC, Pink, Kendrick Lamar, Rihanna, Lady Gaga, Christine and the Queens, Sleigh Bells, Britney Spears, Robyn, the Black Keys, H.E.R., Jackson's former backup dancer Jennifer Lopez (you can see Lopez in the 1993 video for "That's The Way Love Goes"), and Janelle Monáe.
"Now I was not gonna get up here and tell the whole world how you have been my phone screensaver for seven years but it is true," said Monáe when she inducted Jackson into the Rock and Roll Hall of Fame at Brookyn's Barclays Center in 2019. "And every time I look at it, I'm reminded to focus, to be fearless in the way I approach art. In fact, when I was writing my last album, Dirty Computer, it was you who gave me the confidence to embrace all of me."
Rhythm Nation 1814 was a totemic achievement, but there are few superstars who have been more grossly underestimated and patronized than Jackson. Coverage of her elder (and troubled) brother Michael always overshadowed her, even though it was clear that she'd fast emerged as the most compelling of the siblings. As Michael's final collaboration with Quincy Jones faded with 1987's Bad,  Janet had already vaulted far ahead of her brother, laying out more adventurous ground a year before with Control, a new jack swing landmark. But the higher Janet soared, the more harshly she was scrutinized. Her multimillion record deals with Virgin were disparaged, and Jackson was forced to defend herself for her own success. (Little wonder she was so reticent in interviews.) The ostracism and deliberate sabotage that effectively derailed her career for over a decade following the 2004 Superbowl debacle were not only textbook sexism, but barely-cloaked racism.
In this transitionary era of Black and female empowerment and elevated voices—basically what Janet envisioned 31 years ago on Rhythm Nation 1814—her remarkable career is finally being appreciated as she's long deserved, including her overlooked albums, like 2004's Damita Jo, 2008's Discipline, and 2015's Unbreakable. The title of the latter album is the perfect way to describe Jackson.
"We have a long and beautiful tradition of rockers and I'm so proud to be a small part of that tradition," she said, accepting an award at 2018's Black Girls Rock! ceremony. "Just as beautiful are these brave, new, young, Black girls who are rocking harder than ever. They give me hope and I love them very much. They stand strong; they stand independent; they demand their own equal place; they will not be intimidated. They will chart their own course, driven by their own burning talent. Yeah, we rock."
(Note: The image used above is courtesy of Guzman, the photography duo of Constance Hansen and Russell Peacock who shot the cover of Rhythm Nation 1814. Read an account of their session here.)
Listen
WFUV's EQFM Album ReCue: Janet Jackson's Rhythm Nation 1814