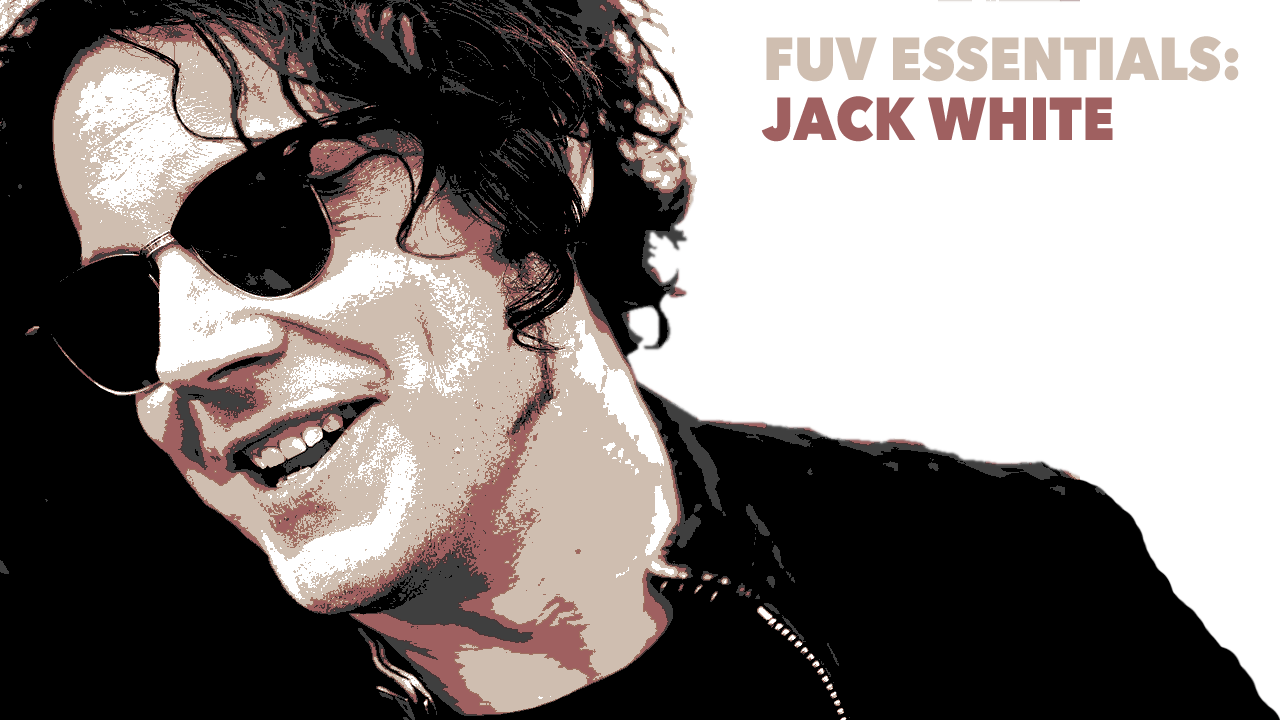 Jack White is a rock and roll renaissance man. He is equal parts singer, songwriter, guitar hero, drummer, producer, folklorist, innovator, record label founder, and marketing guru. Not content with just following the well-traveled paths created by his forebears, White strives to follow his own route, revamping older ideas with new ones.
Born John Anthony Gillis in Detroit, Michigan on July 9, 1975, White is the youngest of ten children. His early exposure to music came from his older brothers and the first instrument he gravitated towards was the drums. His tastes encompassed everything from mainstream rock to blues and, eventually, punk.
Although he nearly attended a seminary school, White graduated from public high school and settled into a job working with a family friend as an upholsterer. The two men ended up forming a band, a duo that they called the Upholsterers. It was here that White switched from drums to guitar.
That experience in the Upholsterers turned White on to a simple band configuration of just guitar and drums — which led to his breakthrough band, the White Stripes. Formed in 1997, the White Stripes featured White on guitar and vocals and his former wife, Meg White, on drums. Strongly rooted in the punk and garage rock of his hometown of the Motor City, the White Stripes was unconventional, but it wasn't just the music that helped the band become big. Coupling their sound with a vision, White engineered a series of marketing tactics to raise awareness and visibility for the White Stripes.
Most notable was the band's spare configuration of guitar and drums, but no bass. Secondly, despite being married at the time of the group's formation (they were married in 1996 with the then-Jack Gillis taking his wife's surname), the couple described themselves as brother and sister for the press. Their breakthrough to mainstream recognition really didn't happen until their third album, 2001's White Blood Cells, with their hit "Fell in Love With a Girl," which sounded like nothing else on the radio. Everything about the band, from their wardrobes to their album art, adhered to a color palette of red and white with touches of black. Following Jack and Meg's secretive divorce in 2000, the White Stripes, always in their peppermint colors, still remained one of rock's top bands. But the pair's interaction petered out by 2007 and they formally broke up in 2011.
Before the White Stripes reached the end of the line, a restless White sought additional outlets to channel his ambitions. In 2005, White and singer and songwriter Brendan Benson invited Jack Lawrence and Patrick Keeler, both of the Greenhornes, to form a new band called the Raconteurs. After two acclaimed albums, 2006's Broken Boy Soldiers and 2008's Consolers of the Lonely, the Raconteurs went on hiatus, allowing White and Lawrence to form the Dead Weather in 2009, with the Kills' Alison Mosshart and Dean Fertita of Queens of the Stone Age. For the Dead Weather, White returned to the drums, and the band has released three albums so far, most recently 2015's Dodge and Burn.
While juggling bands, White also launched a solo career with his 2012 debut, Blunderbuss, followed by Lazaretto in 2014. His third album, Boarding House Reach, was released in March 2018. It's a diverse and frenzied explosion of sound that wildly twists genres like  trip hop, soul, and progressive rock, with a few doses of poetry reading thrown in for good measure. Curiously, color again defines White's vision — the cover art and videos for all three of his solo albums are bathed in blue. It's a neat parallel to his lifelong affinity and respect for the blues.
Along with the blues, White has always been attuned to two other cornerstones of American music: country and folk. The raw and unadorned nature of these genres mirror principles present in the Detroit punk and garage rock that White first embraced.  White Stripes' discography has multiple examples of American roots interpretations, as on the duo's second album, 2000's De Stijl which featured covers of Son House's "Death Letter" and Blind Willie McTell's "Your Southern Can Is Mine."
White also looked to country and bluegrass on his solo contributions to the 2003 soundtrack to the movie, "Cold Mountain." (And White also appeared in the film as the character "Georgia.") White performed several traditional songs for "Cold Mountain," like Walter Vinson and Lonnie Chatmon's "Sitting On Top Of The World," first recorded in 1930 by the duo's band, Mississippi Sheiks.
White's fondness and knowledge of American roots elevated his work with country legend Loretta Lynn. White produced and played on Lynn's Van Lear Rose, released in 2004. The album, which included songs like "Portland, Oregon," became one of the most critically acclaimed works of Lynn's nearly 60-year career. Besides Lynn, White has produced and collaborated with Wanda Jackson, Tom Jones, his second wife Karen Elson (they divorced in 2013), and even Conan O'Brien.
White's love of vintage recordings informed his work with Neil Young on 2014's A Letter Home, recorded in a refurbished 1947 Voice-O-Graph vinyl recording booth housed at White's Third Man Records recording studio in Nashville.
As for Third Man Records, White founded the label in 2001 in Detroit. He opened the label's physical location eight years later in Nashville, which includes a record store and performance space, as well as the label's new headquarters, warehouse, a photography studio, and a master tape storage facility. Engineers can record a live performance in real time, direct to vinyl — it's the only facility in the world with that capability. In 2015, Third Man Records expanded to include a physical location in Detroit, which added a vinyl pressing plant, Third Man Pressing, in 2017.
White's entrepreneurial endeavors through Third Man have gone a long way to reinforce the significance of the physical format as a primary means to preserve and listen to music. Much of the emphasis regarding physical formats has focused on revitalizing the vinyl record, and by opening the pressing plant last year, Third Man has strategically placed itself in a position to play a major role in the production, and survival, of the vinyl record.
To coincide with the release of White's new album, Boarding House Reach, we're saluting this dynamic, restless musician as an FUV Essentials artist — an artist whose considerable reach embraces both the history and the future of multiple music genres.
Listen
#FUVEssentials: Jack White (Spotify playlist compiled by FUV's Alisa Ali)