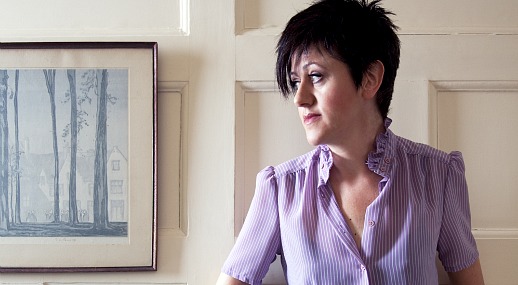 Tracey Thorn released one of the most beautiful albums of 2010, the wistful and wry Love and Its Opposite, but when The Alternate Side had the chance several days ago to send her a handful of random questions, we decided, in honor of spring, to stray from music and query Tracey about one of her personal passions: gardening. Not only did Tracey give beginning gardeners a few handy tips and revealed her nightmarish blackfly issues with beans, but she generously threw in an excellent pasta recipe.
If you missed Tracey's third solo album (her second since the ongoing hiatus of Everything But The Girl), you can find it here or via Merge in the States. In honor of Record Store Day on April 16, Tracey and husband Ben Watt, who also runs the Buzzin' Fly and Strange Feeling labels, will be releasing the Clock Opera remix of her gorgeous cover of The Unbending Trees'  "You Are A Lover" in green (suitably, for her green thumb) vinyl. The track will be available for download on April 26 on Strange Feeling.  Listen via the Guardian.
FUV: Tracey, everyone usually asks you - for good reason - about your music, but since it's nearly spring and you're an avid gardener, what are you planning on planting this spring? Do you have seedlings started in your greenhouse and do you spend January perusing gardening catalogues and ordering heirloom tomato seeds?
Tracey Thorn: No, I am moving house right this minute, and I have to leave my greenhouse behind. I'm going to a smaller garden where I'll have to do lots of gardening in pots, and I'm already planning spots where I can fit a couple of cold frames etc. By mid-summer I'll have a little jungle of tomatoes, herbs and cucumbers out on the decking.
FUV:  Does lettuce raise a particular challenge? What other vegetable has driven you to cussing or flinging soil whilst muttering incoherently?
Tracey: Lettuce can be a real pain in the arse. Eaten by slugs if it's too wet, then bolts as soon as it gets too hot. I now favour cut-and-come-again types in windowboxes, kept up off the ground away from slugs, ripped out after a few pickings. Beans covered in blackfly have also driven me close to madness. I spent an afternoon picking beans and then carefully rinsing every single one ....
FUV: What vegetable or floral success has left you particularly smug and bragging to anyone who'll listen? What's the your key to good gardening?
Tracey: There was a year when my cucumbers were so successful I ended up giving them away in the street, literally. My mammoth basil is also very impressive, though it does smell slightly strange and aniseedy. There is no key to good gardening apart from spending time and paying attention.
FUV: What would be the best advice you could offer to someone who is gardening-challenged, could kill cactus, but who dreams, perhaps misguidedly, of growing corn or pumpkins or even a lone eggplant? What should they start with?
Tracey: It's difficult to give advice, I always recommend things I think are pretty easy - tomato plants for instance - only to find that people's basic lack of knowledge about plants and food and how they grow, is just ASTONISHING. Courgettes [zucchini] are easy, I think. And those little seed tapes you can buy, where you cut off a strip and bury it half an inch in the soil and water it, and then carrots and lettuce grow, I think they actually work very well.
FUV:  What is it about working with plants that makes you so happy? Is there a parallel for you between gardening and songwriting or is one an escape from the other?
Tracey: Gardening is a distraction really, I like the mental simplicity of it. There are rules to be obeyed, and if you do, things follow a sort of predictable pattern, and I think I find that comforting. Songwriting is all a bit hard to control, and it comes and goes, you can't rely on it. I like the reliability of gardening.
FUV: And finally, could you please give us one of your favorite springtime veggie recipes?
Tracey: Courgette [zucchini] pasta sauce. Good glug of olive oil in the pan, then add a couple of whole cloves of garlic and cook for a minute or two. Add sliced courgettes, and dried oregano, and fry them for a few minutes till then soften, and brown a little. Pour over some single cream [light cream] and take off the heat after a minute. Add plenty of black pepper, and parmesan, and stir into pasta.