Indians at CMJ - Live Concert - 2012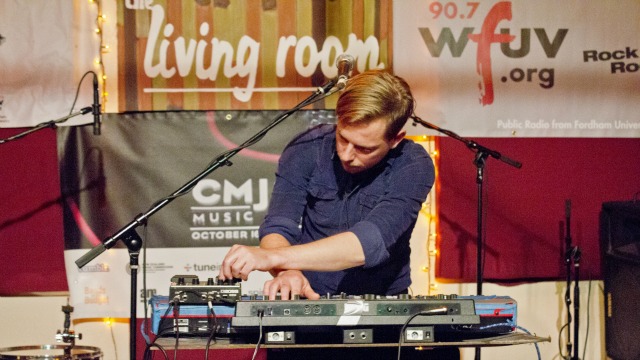 Copenhagen's Søren Løkke Juul, who goes by the moniker Indians, recently signed to 4AD after releasing a spate of well-received singles. His debut album, Somewhere Else, is due on January 29 (January 28 in the UK/EU) and his solo appearance at WFUV and The Alternate Side's CMJ showcase was an early tease: Indians, the full band version, will join Other Lives for a 38-date North American tour beginning in late October.
Juul's Tuesday night set at the Living Room, his first of only three CMJ shows, was a harbinger of very good things to come. He was a mesmerizing presence, accompanying himself — and his strong, clear voice — with keyboads, loops and acoustic guitar for introspectively-drawn, elegant songs like "I Am Haunted." There is a stately, dreamy pace to the songs from Somewhere Else — an apt title for a beguiling, expansive collection of songs. Astonishingly, Juul has only been playing live since last February.
Discover more about Indians here; Juul and his band play Bowery Ballroom on November 28 and Music Hall of Williamsburg on November 29.
See complete coverage of WFUV and The Alternate Side's 2012 CMJ Music Marathon showcase here, supported by TuneIn. Listen to the world.
[recorded: 10/16/12]