Holiday Cheer for FUV 2018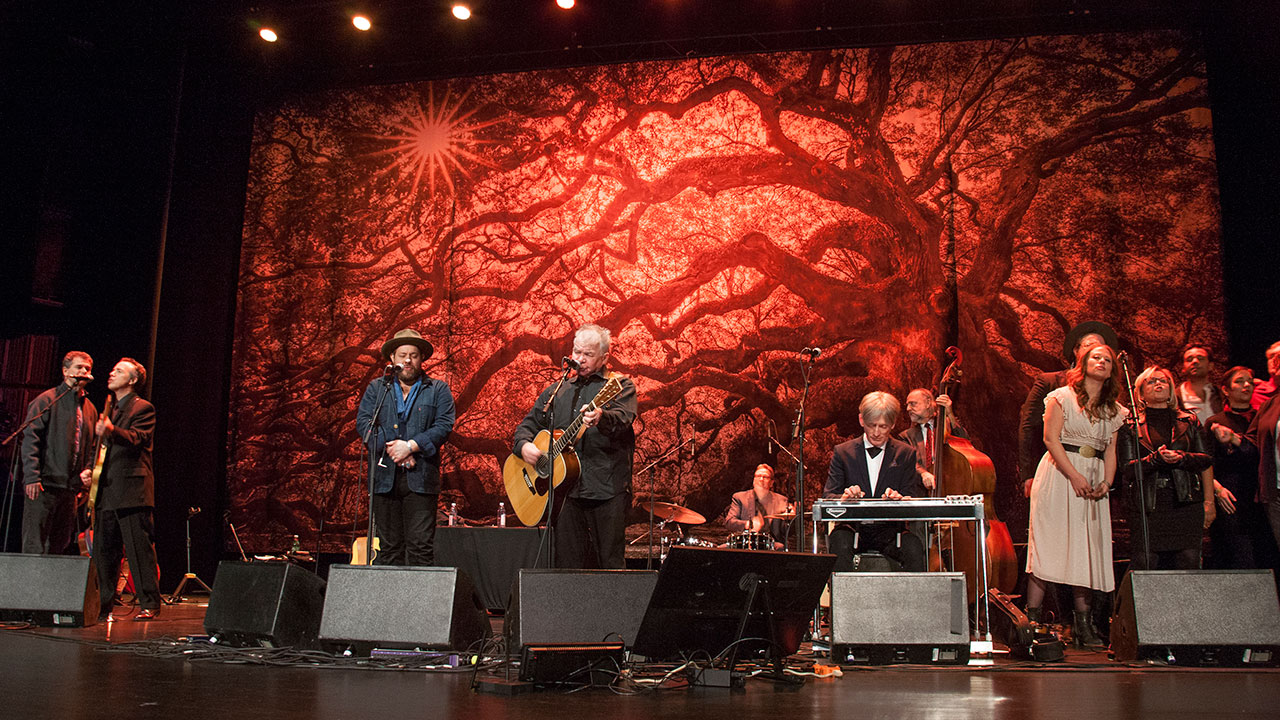 It's been 14 years since the first Holiday Cheer for FUV benefit concert — and the 2018 sold-out edition of the radio station's event, held on December 3 at New York's Beacon Theatre, was a transcendent evening with a Tennessee flair, thanks to three extraordinary sets from the Nashville-steeped John Prine, the Lone Bellow and Shannon Shaw. For those FUV listeners and members who were lucky enough to be in the audience, it was a transportive three hours of songs that touched upon solidarity, survival and the power of love and empathy.
Truth be told, any show is an epiphany when Prine is on a bill, doling out wisdom and bone-dry wit via the twists and turns of his lyrical road trips — and the Lone Bellow, Shaw, and encore special guest Nathaniel Rateliff's clear delight to share the stage with the storied songwriter was warmly evident.
You can get a glimpse of this magical evening on our Flickr stream. To hear the show, listen to WFUV this week — tonight at 5 p.m., Christmas Eve at 6 p.m., and Christmas night at 5 p.m. (all times EST) — or anytime in the player above.
Morning host Corny O'Connell and midday DJ Carmel Holt had the honor of bringing the irresistible Shannon Shaw to the stage, noting the Nashville connection that bonded the night's lineup—the Chicago-born Prine calls Nashville home and the Lone Bellow have also relocated to the Southern city from their former Brooklyn digs. A more recent "Music City, U.S.A." convert, Shaw released her solo debut, Shannon in Nashville, earlier this year. A towering dynamo of a vocalist, Shaw's brassy and sassy garage-punk alter ego, as lead mischief-maker of Oakland, California's Shannon and the Clams, has made her a beloved West Coast fixture for years.
Expanding on her own solo venture, Shaw has found a poignant dimension to that magnetic persona, although the platinum blonde musician did stride onto the Beacon Theatre stage in a jaunty red cap, coal black mini dress, and gold-sequined pinafore—an unmistakably bold presence. Yet she set herself not center stage with her bass and microphone, but off to stage left, in line with her fellow black-and-scarlet clad bandmates José Boyer and Shaun Couture, signalling that she was part of a group rather than the main focus of attention. "It's such an honor to celebrate with everybody," she said humbly, before tumbling into aching throes of "Golden Frames."
Shaw's connection with producer (and fan) Dan Auerbach, of the Black Keys, was a fortuitous decision, matching her on Shannon in Nashville with veteran session musicians who claimed stints with Elvis Presley and Johnny Cash. Auerbach recognized Shaw's desire to revel in her own style too: a gritty distillation of Patsy Cline, Ronnie Spector, and a wailing Patti Smith. Her voice is an unconventional instrument, telescoping grief and lashed with a yearning, caustic rasp that transforms self-doubt or romantic devastation, like "Bring Her the Mirror" or "Cryin' My Eyes Out," into grenades of heartbreak. Cloaked in retro-'60s girl-group pop arrangements or cantering rockabilly, the juxtaposition of Shaw's anguished growl and breezy melodies is riveting.
"Love I Can't Explain" (which she sweetly dedicated to FUV program director and Holiday Cheer music curator Rita Houston) is the tenderest of lullabies, while "Broke My Own" featured a guest turn by two of the Brooklyn Bluebirds' doo-wop vocalists, Joey Twolegs and Andy Animal. "You guys are a deserving and a really unique radio station," said Shaw of WFUV. "I live in California and even I know that!"
Romantic travails are nothing new to the Lone Bellow either. Introduced by FUV's afternoon host Dennis Elsas and evening host Alisa Ali, the trio — Zach Williams, Kanene Donehey Pipkin, and Brian Elmquist — was making a second Holiday Cheer visit, a handful of years after their first appearance at the 2014 concert. The Lone Bellow have always examined the intricacies of love over the course of their career, most recently on their third album, 2017's Walk Into a Storm, and the band's new EP, The Restless. The robust, spiritual lilt of "You Don't Love Me Like You Used To," from the band's 2013 self-titled debut, became a playful, athletic tussle between the three sweetly harmonizing vocalists. But there was definitely an air of political awareness to their stripped-down acoustic set this night: a perfectly-executed cover of Buffalo Springfield's "For What It's Worth" was delivered as a foot-stomping wake-up call, prompting an audience sing-along to the 1966 protest anthem.
Although the Lone Bellow often tour with a backing band, they've been touring as a trio on their current autumn road trip, and on this Holiday Cheer night, standing by a single, stand-up microphone and shifting between acoustic guitars and a cappella arrangements. The three singers possess an intuitive understanding of one another that has only strengthened through the years; the beauty of that intimate interaction was on full display in this set, especially on selections like the prayerful "Watch Over Us," from 2014's Then Came the Morning (which prompted a shout of "Amen!" from the crowd), and their perceptive cover of the National's "Pink Rabbits," found on The Restless. Of course, the barnstorming "Green Eyes and Heart of Gold" got big cheers with its struggling artist refrain of being "broke in New York City."
After an interval, Houston and FUV's music director Russ Borris introduced John Prine and his band. As Houston eloquently pointed out, the equation for a great Prine set was simple — be funny, tell the truth, stay true to your craft, and remember that meatloaf matters. The Beacon Theatre had just hosted Bob Dylan for a weeklong residency, so it was real rock 'n' roll heaven to see an equally brilliant Midwestern songwriter take command of the venue — but in that gentle and more approachable Prine way. There's nothing cryptic or abstruse about this sage storyteller. Dressed head-to-toe in solemn black, he beamed at the crowd as they cheered his entrance, and strummed an acoustic Martin guitar throughout his set: a troubadour of humane observations.
A photo of a gnarled, regal tree and its snaking branches served as the backdrop — a reference to Prine's latest album, 2018's The Tree of Forgiveness, and songs from it, like the elegiac "Summer's End" or the rollicking "Egg & Daughter Nite, Lincoln Nebraska 1967 (Crazy Bone)," for which the musician offered up a droll preamble that involved his wife, fishing trips, a boat, "bull**** stories," and a Nebraska roller rink.
Prine's set also traveled multiple chapters of his 50-year career, from the tragic tale of James Lewis and "Six O'Clock News" from Prine's 1971 eponymous debut to the swagger of "Ain't Hurtin' Nobody" from 1995's Lost Dogs + Mixed Blessings. Two of Prine's touring band members, bassist Dave Jacques and guitarist Jason Wilbur, have been playing with him since those Lost Dogs days.
Five songs from John Prine appeared in the set, each one a testament to the range of Prine's lyrical craft and humanity. "Hello in There," which Prine sweetly dedicated to Rita Houston and her late father, might be the most compassionate song ever written about aging, loss, and respect for the elderly. He also resurrected "Your Flag Decal Won't Get You Into Heaven Anymore," introducing the song, with a sly grin, as something he wrote in December 1968, "when I was three years old," for reasons that were quite clear in his youth.
"This was a protest song because we had a real jerk in the White House at the time," he puckishly explained of the song's ongoing relevance, fifty years later. "What a coincidence."
An encore of the new "When I Get to Heaven" and 1971's "Paradise," the latter which included Prine's pal Nathaniel Rateliff as a special guest, along with the Lone Bellow, Shannon Shaw and her band, and a few FUV DJs, was a very special way to end the evening, but the emotional high point of the night really arrived via "Lake Marie," the song that preceded the encore. The winding epic tale, from Lost Dogs, is a tapestry of folklore, marriage and murder; Prine offered it as a fulsome sacrement, a tribute to his own resilience as an artist, a two-time cancer survivor, and a man very aware of his own mortality. At the song's end, he began shuffle-stepping around the stage in a contained, joyful sway, and then pulled his guitar over his head, set it down, and truly danced, free and exultant. It was a beautiful moment that brought the audience to its feet, cheering him on.
Every year, Holiday Cheer for FUV is a reminder that live music can unite, soothe, and inspire. Over the past twelve months, as this country has grappled with a divided American culture, the power of these three artistic perspectives, abundant with grace, reminded us that Nashville and New York aren't so terribly far apart.
Setlist:
Shannon Shaw
"Golden Frames"
"Bring Her the Mirror"
"Broke My Own"
"Love I Can't Explain"
"Leather, Metal, Steel"
"I Might Consider"
"Make Believe"
"Cryin' My Eyes Out"
The Lone Bellow
"Time's Always Leaving"
"You Don't Love Me Like You Used To"
"Pink Rabbits" (The National cover)
"Watch Over Us"
"For What It's Worth (Buffalo Springfield cover)
"Green Eyes and Heart of Gold"
"May You Be Well"
John Prine
"Picture Show"
"Six O'Clock News"
"Knockin' On Your Screen Door"
"Bruised Orange"
"Your Flag Decal Won't Get You Into Heaven Anymore"
"Caravan of Fools"
"Crooked Piece of Time"
"Egg & Daughter Nite, Lincoln Nebraska 1967 (Crazy Bone)"
"Grandpa Was a Carpenter"
"Hello in There"
"Summer's End"
"I Have Met My Love Today"
"Ain't Hurtin' Nobody"
"Angel from Montgomery"
"Lake Marie"
Encore:
"When I Get to Heaven"
"Paradise" (featuring Nathaniel Rateliff, the Lone Bellow, Shannon Shaw and friends)
Special thanks to MSG Entertainment and The Beacon Theatre.