Holiday Cheer For FUV 2015: Recap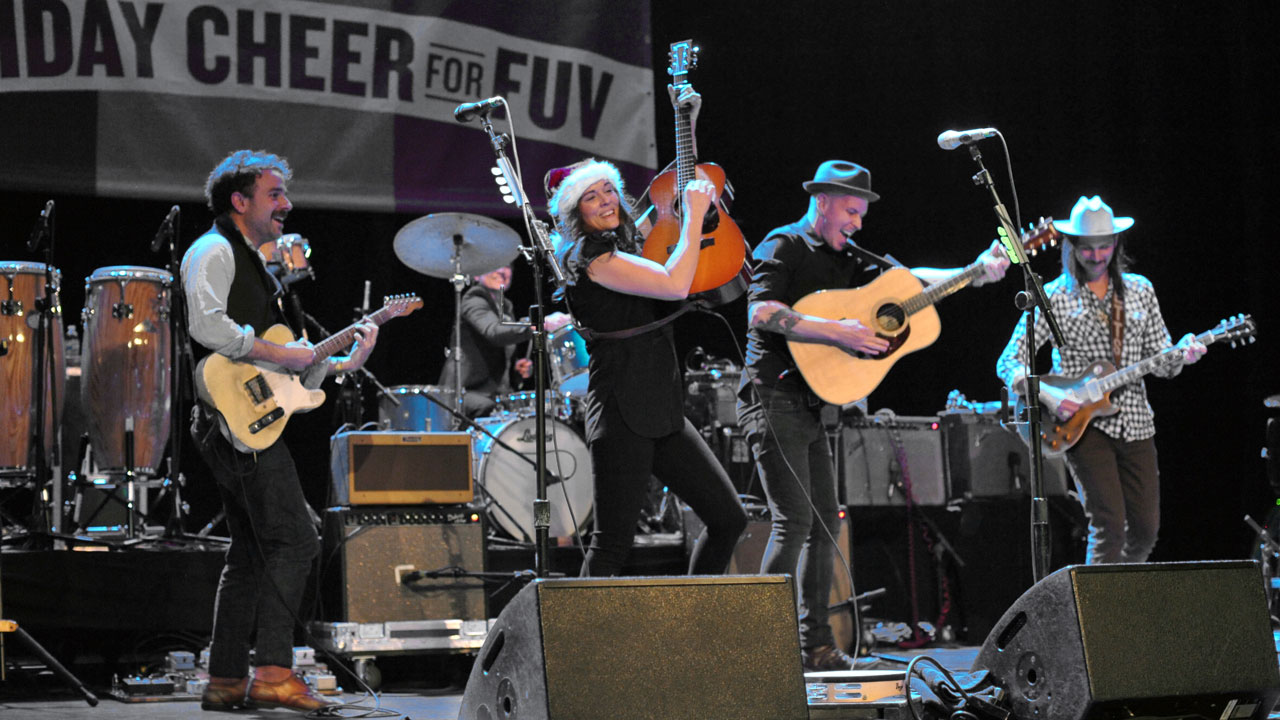 Holiday Cheer for FUV at New York's Beacon Theatre hit all of the high notes: dynamic performances, a happy crowd, memorable moments, Christmas caroling and even a funky Hanukkah song. Thanks to this year's stellar lineup of Brandi Carlile, Dawes, Sharon Jones and The Dap-Kings, and Lucius, the show, which benefits WFUV, was a sold-out and exuberant three hours. There was a lot of love and respect in the house.
After a welcome from FUV's program director and concert co-producer Rita Houston (promotions director Janeen Shaitelman also co-produced), Brandi Carlile, donning a Santa Claus hat and playing an acoustic travel guitar, opened with a cover of Joni Mitchell's "River." Delivering Mitchell's wistful ode to missing home with husky longing, Carlile's interpretation felt especially poignant and personal.
FUV music director and The Alternate Side host Russ Borris brought out Brooklyn's own Lucius. The quintet is on the brink of releasing a second album, Good Grief, in March. Holly Laessig, Jess Wolfe, Dan Moland, Peter Lalish and Andrew Burri included a new song from that album, "Dusty Trails," in their punchy set along with two older songs, "Two of Us on the Run" and "Turn It Around," from 2013's Wildewoman. Always playfully quirky with their fashion sense, Wolfe and Laessig, now sporting ginger quiffs, sparkled in sequined, multi-hued sheath dresses, like twins wrapped in tinsel.
Following Lucius, FUV late night host Darren DeVivo offered a warm salute to afternoon host Dennis Elsas who, in turn, brought out Dawes. The Los Angeles band was making its second appearance at a Holiday Cheer for FUV show; they appeared back in 2011 with Mavis Staples, Josh Ritter and The Head and the Heart. This year for their career-spanning set, the band brought along guitarist Duane Betts, son of the Allman Brothers' Dickey Betts, who joined Dawes as a touring member earlier this year. Betts's sinewy, robust solos on songs like "Somewhere Along the Way," from Dawes' latest release, All Your Favorite Bands, and "Most People," found on 2013's Stories Don't End, raised the game for this popular California group.
Frontman Taylor Goldsmith commandeered the venue like a traveling preacher at a tent revival, leading the crowd in a rowdy sing-along to "When My Time Comes," from 2009's North Hills. He blithely described "A Little Bit of Everything" as a song with the unlikely catalyst of "contemplating suicide, overeating and getting married" and Betts's solo expanded it into an twangy epiphany. Dawes has always filtered elements of the Eagles and Jackson Browne with a freewheeling take on folk-rock, but as a live band with the slouching, cowboy-hat-clad Betts in tow, they've taken on a bluesy, jam-heavy groove that's uplifting and irresistible.
Goldsmith is already looking to the future with Dawes, confessing the band's "collective dream" to play the Beacon Theatre on their own one day. FUV evening host Alisa Ali thanked Dawes and introduced general manager Chuck Singleton who spoke of the import of the radio station—a sentiment that would be echoed by many of the bands on this night.
Following intermission, FUV midday host Carmel Holt brought on Sharon Jones and The Dap-Kings. Jones's crafty bandmates kicked off with the instrumental "God Rest Ye Merry Gents," a track found on the collective's brand new album, It's A Holiday Soul Party. Maestro and guitarist Binky Griptite introduced Sharon Jones who sauntered onstage—a triumphant moment. Jones has been very public about her battle with pancreatic cancer and the singer's assured entrance, wearing a beautifully patterned white frock like a benevolent snowflake, was as much about courage as it was her undeniable charisma.
Whether sweetly and soulfully crooning Charles Brown's 1960 classic "Please Come Home For Christmas" or belting out the funky and fun "8 Days of Hanukkah," Jones is a powerhouse. Joined by longtime backup singers Saun and Starr, she invigorated the cheerfully risqué "Big Bulbs" with plenty of sassy strut. The group's brassy and bountiful set ended with the resonant and affecting "Ain't No Chimneys in the Projects," originally released in 2010, which Jones said was inspired by James Brown.
Following Sharon Jones and The Dap-Kings, FUV morning host Corny O'Connell brought on Brandi Carlile and her collaborators and bandmates, the twins Tim and Phil Hanseroth. Carlile has often said that she is more a band than a solo artist and that is evident in performance: the trio of longtime friends stood shoulder to shoulder bearing acoustic guitars, Carlile still jauntily wearing her Santa hat.
Carlile devoted their first song to Rita Houston, "Raise Hell" from 2012's Bear Creek and the singer later noted, before playing "The Story," the title track of her 2007 album, that WFUV was the very first radio station in the country to spin one of her songs. A plaintive and pretty "Wherever Is Your Heart" from this year's release, The Firewatcher's Daughter, again touched on homesickness, seemingly a theme for Carlile this evening, and she and the Hanseroths gave "The Things I Regret" a footstomping bravado. Although Carlile's voice can be a mighty volcano, she briskly declared that "there's no such thing as a lead singer" and proved it with the twins on "The Eye," also from The Firewatcher's Daughter, with stunning harmonies from the trio.
For the encore, Dawes joined Brandi Carlile and her band, including drummer Allison Miller, for a ferocious cover of Johnny Cash's "Folsom Prison Blues." After that outlaw song, Christmas returned with a powerhouse version of "Silent Night" with Carlile, Jones and the Dap-Kings deftly turning a somber carol into a sultry, sexy anthem: the two kinetic singers transformed the words "heavenly peace" into a pacifist's battle cry.
Finally, in the last song of FUV'S Holiday Cheer for 2015, Carlile and the Hanseroths lowered the stage lights and softly sang "O Holy Night" as if it were almost an echo, reverberating across the entire venue. That choice, musically and aesthetically, was a moving finale to an evening that embodied the spirit of the season. Most of all, it reflected the camaraderie of the musicians that WFUV has long supported and the invaluable support of FUV's loyal listeners, especially those lucky enough to be in the audience on this special night.