FUV's New Dig: Father John Misty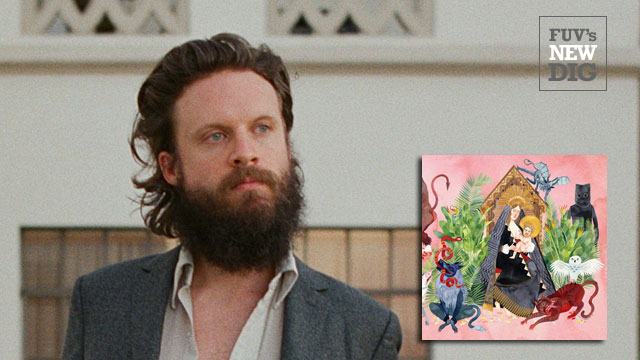 I Love You, Honeybear
Father John Misty
Sub Pop (US) and Bella Union (Europe)
-----------
Father John Misty, the singer and songwriter Josh Tillman, has returned with an adventurous second album under that moniker that reinforces the fiercely inventive promise of his 2012 debut, Fear Fun. This sophomore effort, I Love You, Honeybear, is a song cycle about love, but don't expect sappy sentiments. Instead, Tillman offers declarations that are slightly askew and far from typical, but always soulful and deeply personal. The songs are filled with an intense honesty that celebrates the grandeur of love, but refuses to hide the darker side of relationships.
As Father John Misty, Tillman pulls no punches on I Love You, Honeybear. He openly shares his naivety, vulnerability, and flaws. He reveals his deepest emotions and gives equal time to both giddy elation and underlying reservations about relationships. Tillman also isn't shy about pointing out his partner's same qualities.
I Love You, Honeybear was inspired by Josh's recent marriage to photographer and filmmaker Emma Tillman. The couple collaborated together on the video for the album's first single,  "Chateau Lobby #4 (In C For Two Virgins)," filming it on their wedding anniversary.  In fact that quirky love song, complete with bleating mariachi horns, kicks off the album and may even refer to John Lennon and Yoko Ono's avant-garde opus, Unfinished Music No. 1: Two Virgins.
As was the case with Fear Fun,  Josh collaborated with Holiday Cheer for FUV alumnus and producer Jonathan Wilson on this new album.  The result is rich with lush melodies and ambitious arrangements that draw from many influences but still sound completely unique. Occasionally, the production nudges things a bit over the top, but this is intentional and completely effective. A mix of orchestral strings, brass, acoustic and electric instrumentation, synthesized beats, and gospel, soul and country-influenced arrangements craft a richness that references the work of Phil Spector, Brian Wilson, and even Josh Tillman's former band, Fleet Foxes.
The songs are equally eclectic, evoking a storyteller's perspective. The Nashville vibe of "Nothing Good Ever Happens At The Goddamn Thirsty Crow" sounds like a late night honkytonk lullaby after one too many beers while "The Night Josh Tillman Came To Our Apartment" reveals a couple getting under each other's skin, yet clumsily stumbling into each other's arms. Tillman passionately reveals his shortcomings and exorcises his demons in the stomping "The Ideal Husband."
The ultimate strength of I Love You, Honeybear is its ability to combine the sometimes torturous and euphoric emotions stirred by love and relationships with melodies that are sweet, glorious and flow by with great ease.
But, isn't that what real love is all about?
More:
Father John Misty—Studio A Session—2015
Father John Misty—Studio A Session—2012
Preview songs and/or buy 'em (all purchases benefit WFUV):